The NFL Has Taken a Risky Reactionary Approach Reducing Player Concussions
May 11, 2012

Donald Miralle/Getty Images
Over the past year or so, it has been hard to escape the debate about concussions in football and the long-lasting effects that it could have on a former athlete.  As a former athlete myself that has made several hundred head-to-head collisions ever since the tender age of six, now that I am 31, I look back and say to myself "wow what a career I had". 
I managed to take my talents to the collegiate level and even had the opportunity to try out for a couple of pro teams in 2004 as a fullback.  Going back to my high school years I knew the risks of playing the game that I loved and I knew of the potential rewards: earning a college scholarship, popularity at my school and within the community, and most importantly, girls. 
As I entered college, the game did become more business-oriented. This was fine with me, but it did mean that one injury and you're demoted to the back of the depth chart. Ankle sprains and mild concussions flew under the radar for much of us because we wanted to keep our place on the depth chart. 
My career ended due to my lack of drive to make it to the next level, not because of an injury. 
Looking at the NFL and its reactionary approach to concussions, many wonder if the league is worried about player safety or their profit margins or both.  I say they are worried about profit margins mostly.
Here's why. 
This league was built on the backs of the players from the 60's through the mid 90's.  Those guys could have only dreamed of making the type of money that JaMarcus Russell blew as a No. 1 draft pick. Players in past eras made decent salaries. Meanwhile, the NFL was slowly but surely becoming the greatest, most profitable sports league in the world. Currently, the league is bank rolling profits like never before, and with record-breaking television contracts and new fans around the globe, popularity has never been higher. Yet the pensions for retired players has remained almost the same for 30 years.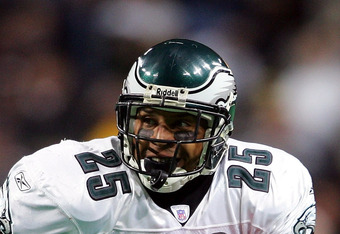 Elsa/Getty Images
Retired players feel disrespected by the league and current players have now resulted to suing the league for injuries incurred during their playing days. As a legal maneuver, the league has decided to change the way the game is played by outlawing high-impact hits.  I have been asked the question "if I had a son, would I let him play football?" and my answer was always "yes, if that's something that he wants to do." What I will also do is educate him about the risks of the game and what he will need to do to protect himself. 
No one wants to see their child lying motionless on the field after a 300 pound defensive lineman who runs a 4.3 40 makes head-to-head contact with him.
Is there a way to prevent violent collisions in football?  Not unless you decrease the protection the players wear. If a player has less protection covering his head, he will be less likely to lead with his helmet when making impact. 
Today, players have enough protection to where they have absolutely no fear of impact. But if the league wants hits only below the neck, than this is something that may be an option.  I know that player safety is a topic that everyone has an open opinion about and I welcome the conversation, but please keep in mind that when James Harrison makes a bone-crushing hit, the league takes a still photo of that hit and places it on the internet for profit.