Phil Taylor's Injury Is a Setback the Cleveland Browns Can Handle
May 11, 2012
Matt Sullivan/Getty Images
It seems that year after year, the Cleveland Browns just can't catch a break. From injuries to personnel issues, it seems as though the Browns take two steps backward for every one forward, often through no fault of their own.
The latest small crisis hit the team yesterday, when starting second-year defensive tackle Phil Taylor tore his pectoral muscle. Taylor will have surgery next week and will be out no less than four-to-six months and perhaps the entire 2012 season.
It's not as though the Browns cannot solve this problem—they can rotate in two of their recent draft picks, John Hughes and Billy Winn at the position and it's possible that Taylor will return mid-season. But in an offseason that is equally imbued with as much optimism as it is paranoia that 2012 will be more of the same, Taylor's injury easily touches some already-frayed nerves.
The frustrating thing about football is that so much controlled by humans is still completely subject to arbitrary moments that cannot be completely planned for or reined in. These setbacks continually put the Browns in the situation of having a make-or-break season year after year, and progress seems incremental at best.
At the risk of contributing to the rhetoric—this truly is a make-or-break season for Cleveland. They've been on a long-term rebuilding process since 2010, and in 2012, the Browns have taken an aggressive stance toward making improvements in the past weeks.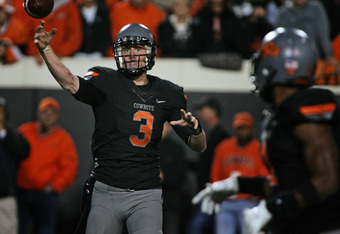 Brett Deering/Getty Images
They're primed to move on from starting quarterback Colt McCoy, replacing him with the newly-drafted Brandon Weeden. They selected the top running back in the draft, Trent Richardson. They added players to boost their struggling run defense.
If this latest push to build a competitive roster falls flat, it's likely to lead to another series of rebuilding seasons—it just doesn't seem like Head Coach Pat Shurmur, General Manager Tom Heckert and team President Mike Holmgren will all three survive the attrition that would result from another failed season.
So there's clearly reason for Browns fans to be holding their breath in guarded optimism about the approaching NFL season. There's quite a bit more going for the team than against it, but it's early, and anything can happen, as the Taylor injury demonstrates.
But for every cloud, there is a silver lining. Taylor is hurt, yes, but the two rookies are already working to fill his role at minicamp this weekend. At the same camp, Weeden is looking like the first-round talent the Browns hoped he'd be. 
If the Browns can handle every step backward by brushing it off and moving forward, it may not be enough to end the season above .500—but that's the only way they can be assured that they don't get mired in these disappointments.
There are bad football teams, and there are bad circumstances, and sometimes the Browns have dealt with being handed both at the same time. Right now, the Browns have encountered another bad circumstance, but they aren't a bad football team—at least, at this early point, they don't seem like one—so while a setback like Taylor's injury is never welcomed, they have the tools to overcome it.
As long as more injuries to key players don't befall them in the coming months, they'll enter the season in a better position than they have in years.