2011-12 Pittsburgh Penguins: Not Signing Jaromir Jagr Was a Good Thing
May 11, 2012

Justin K. Aller/Getty Images
Remember how much fun #JagrWatch was during the 2011 offseason? Remember how Penguins fans were glued to their televisions, Twitter feeds and their favorite blogs trying to figure out where the returning Jaromir Jagr was going?  
On the podcast, T.J. McAloon and the Sports Half Hour, we spoke with Derek from the PensBlog about what it was like during Jagr watch was during that offseason.  
However, after missing out on Jagr to the Penguins rival, the Philadelphia Flyers, it turned out to be a good thing for the Penguins, as they signed Tyler Kennedy to more than a one-year contract, instead of blowing $3 million for a player who only scored 54 points last season.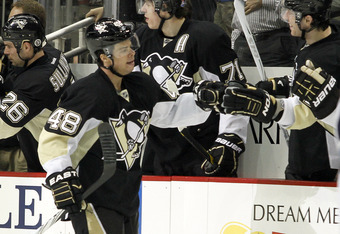 Justin K. Aller/Getty Images
Plus, Kennedy brought more to his team in the postseason than Jagr. 
In only six games for the Penguins, Kennedy provided quality goals along with assists posting six points. While for the Flyers, Jagr was held to only one goal and six assists.  
After Jagr's seven-point explosion against the Penguins, he was held to only one point in the second round against the New Jersey Devils. 
During the second round, Jagr was demoted off the team's top power-play line, which didn't seem to sit well. From Prohockeytalk.com, they have some quotes from Jagr and Flyers reporters:
Mind you, No. 68 didn't sound entirely happy with how he was utilized in Philly.

Randy Miller of the Post-Courier notes that Jagr "wants to see how the Flyers would use him before deciding to stay," and "felt he would have been better this season if Lavvy [Peter Laviolette] had given him more ice time."

(Jagr's quote: "Sometimes I felt I can be better if I played a little more than I played.")
Seeing Jagr in a Penguins jersey once more would have been a fitting way to end his career. However, Jagr doesn't look like he's going to call it a career after this season.  
It looks like he's going to test free agency, which would have sent Penguins fans back into #JagrWatch mode for another summer.  
With the Penguins strapped for cash—according to CapGeek.com, they're $330,023 under the cap entering the offseason; Philadelphia has $0—it more than likely would have sent Jagr away from the club in the offseason.  
Penguins fans can continue to boo Jagr whenever he steps onto Pittsburgh ice. However, it was a better thing that he didn't sign with the club during the summer of '11. 
Be sure to subscribe to the show on the home page for instant updates on future podcasts. Also comment, rate and download on the iTunes home page.