London 2012: Olympic Outlook for the U.S. Men's National Volleyball Team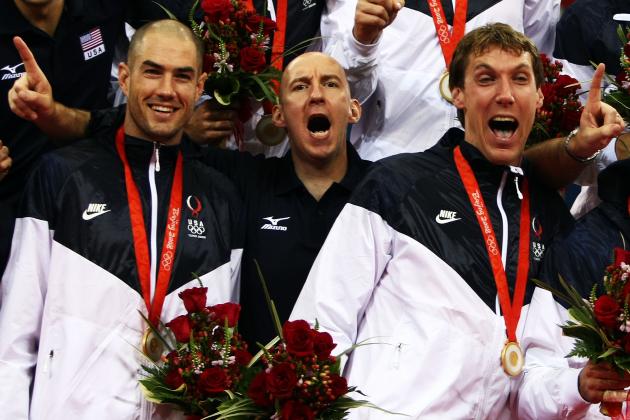 Jonathan Ferrey/Getty Images

Ranked sixth in the world at the start of the year and coming off a disappointing sixth-place finish at the 2011 FIVB World Cup, the U.S. Men's National Volleyball Team faces long odds in their quest for a second consecutive gold medal.
But if you think this bunch is running scared, you've got the wrong team.
Half of this year's squad was on the 2008 outfit that managed one of the more remarkable and resilient triumphs in recent Olympic history.
After finishing off the podium at three consecutive Olympics and four consecutive World Cups, the U.S. didn't lose a single game in Beijing. The Americans' gold medal game victory over world No. 1 Brazil was one of the Games' most stunning upsets in any sport.
Off the court, they overcame even greater adversity.
Just a half-day after the opening ceremony, a knife-wielding stranger stabbed and killed then-head coach Hugh McCutcheon's father-in-law at a popular Beijing tourist attraction.
On the eve of his greatest coaching challenge, McCutcheon (at center in the photo) faced an unthinkable grief. Somehow, he and his team persevered, finding both the courage to compete and the resolve to triumph.
Like I said, no supposed long odds will faze this crew.
They've faced longer.
Begin Slideshow

»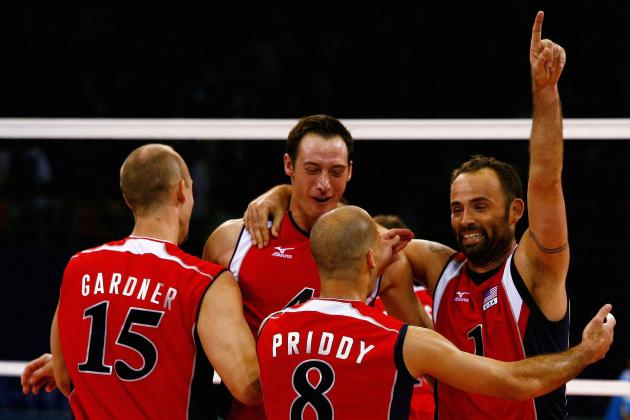 Quinn Rooney/Getty Images

Below is the roster Team USA sent to the NORCECA (North, Central American and Caribbean Volleyball Confederation) Olympic Qualifying Tournament in May.
Players who did not participate in the 2008 Olympics are in Italics:
Matt Anderson (Outside Hitter, 6'10", Penn State, age 25)
David Lee (Middle Blocker, 6'8", Long Beach State, 30)
Rich Lambourne (Libero, 6'3", BYU, 37)
Paul Lotman (Outside Hitter, 6'7", Long Beach State, 27)
Donald Suxho (Setter, 6'5", USC, 36)
Reid Priddy (Outside Hitter, 6'5", Loyola Marymount, 34)
Ryan Millar (Middle Blocker, 6'8", BYU, 34)
Riley Salmon (Outside Hitter, 6'6", Pierce College, 36)
Brian Thornton (Setter, 6'3", UC Irvine, 27)
Russell Holmes (Middle Blocker, 6'8", BYU, 30)
Clay Stanley (Opposite, 6'9", Hawaii, 34)
David McKienzie (Opposite, 6'4", Long Beach State, 33)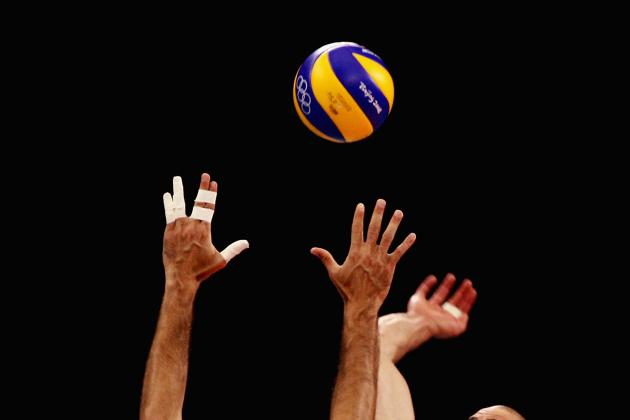 Quinn Rooney/Getty Images

Clay Stanley (Opposite)
The MVP of the Beijing Games has been playing for Team USA since the early aughts and, at 34, remains one of its premier talents. He was named the 2011 USA Volleyball Male Indoor Athlete of the Year after leading the team in aces and finishing second in kills, blocks and digs.
Reid Priddy (Outside Hitter)
Priddy, like Stanley, belongs to that select breed of elder statesmen who continue to play an important, on-court role. Named team captain in 2010, Priddy finished third on the team in scoring (kills, blocks and aces combined) despite missing several tournaments due to injury.
London will mark his third Olympic appearance.
Matt Anderson (Outside Hitter)
The tallest and youngest member of Team USA has emerged as an offensive force. During international competition last year, he led the Americans in both points and sets played.
On a team characterized by veteran grit, Anderson is the rare rising talent.
Rich Lambourne (Libero)
The 37-year-old iron man is Team USA's oldest member and still its best digger. As the team's libero (defensive specialist), Lambourne will be key to stopping offensive juggernauts like Brazil and Poland.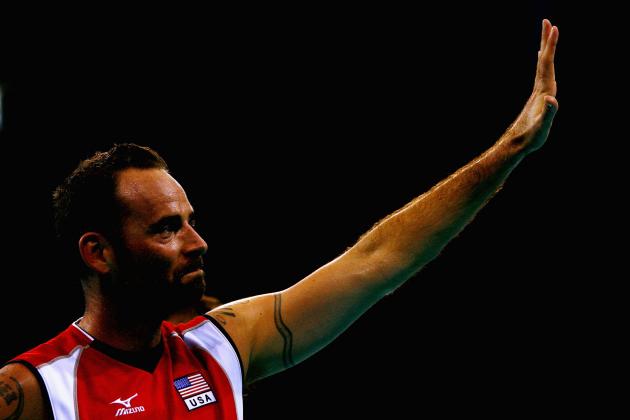 Quinn Rooney/Getty Images

Perhaps "replace" is the wrong word; you don't really replace a talent like Lloy Ball.
Prior his retirement in late 2008, Ball was perhaps the world's best setter and a longtime centerpiece of Team USA's roster. In 1988, he became the youngest man ever to play for the national team, and he would go on to compete in four Olympic games over an illustrious 20-year career.
The search for his successor has been one of coach Alan Knipe's top priorities in the lead-up to these Games. According to Sports Illustrated, Donald Suxho, Brian Thornton and Kevin Hansen are the prime candidates for the role. Suxho seems to have the inside edge, having started for Team USA during the NORCECA Olympic Qualifying tournament.
Whoever emerges from that bunch, it will be crucial that he seamlessly steps into the role of offensive maestro and forms a quick bond with Team USA's outside hitters.
Without that synergy, scoring can become a mighty struggle.
Al Bello/Getty Images

Brazil
As in 2008, Brazil enters the Olympic tournament ranked first in the world. Led by legendary outside hitter Giba and ace libero Sergio Santos, Brazil has medaled at every major international competition since Beijing.
Poland
At just 23, star outside hitter Bartosz Kurek is already one of the best spikers and servers in the world. Kurek spurred a young Polish squad (six players on the current roster are younger than Team USA's youngest player) to a silver medal at the 2011 World Cup, proving in the process that this up-and-coming team has arrived.
Russia
A world titan since the Soviet days, Russia hasn't missed the Olympic podium since 1996. A first-place finish at the 2011 World Cup, headlined by Maxim Mikhaylov's MVP performance, proved that the Russians are as strong as ever.
Cuba
Sitting fifth in the FIVB standings, Cuba is the only team in-region with a higher world ranking than Team USA. Eighteen-year-old Wilfredo Leon Venero is the team's most electrifying talent, a prodigious leaper still growing into his imposing 6'7" frame.
If Cuba can earn a berth in the Olympic field, Venero has a chance to shine.
Other Contenders: Serbia, Italy, Argentina, Bulgaria
Jonathan Ferrey/Getty Images

In the best-case scenario for London 2012, Clay Stanley and Reid Priddy prove they have one last great run in them, all while providing young giant Matt Anderson the tutelage he needs to emerge as a bona-fide star.
Gritty wins against Serbia and Poland in the quarterfinal and semifinal rounds lead to a title game rematch with the Brazilians, where Team USA once again proves to be Brazil's bugaboo.
And really, how can I set the ceiling any lower with this team?
As implausible as first place seems,—with age and recent form hinting at a decline—this core group has proven its mettle in far bigger moments.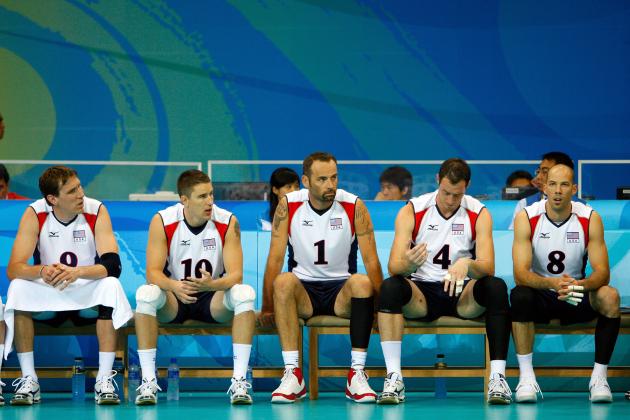 Cameron Spencer/Getty Images

Without Lloy Ball to hold things together, Team USA shows its age in a worst-case scenario for the London Games.
All the experience in the world can't help 34-year-old former stars Clay Stanley and Reid Priddy overcome quicker and more bouncy foes. After wheezing through preliminaries, the U.S. falls to a European power in the quarterfinals and settles for a seventh-place finish.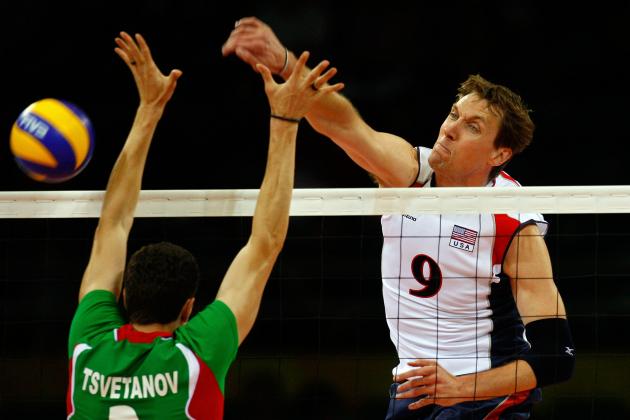 Cameron Spencer/Getty Images

The U.S. Will Finish...
Third.
Why Third?
Based on talent and recent international results, it'd be hard to argue that the U.S. has one of the three best teams in the world. But the Americans seem to hit a second gear when the Summer Olympics roll around, and they proved that again this year with a convincing victory in the NORCECA Olympic Qualifying tournament.
Needing a first-place finish to assure an Olympic berth, the U.S. surged past Cuba in the semifinals and Canada in the finals to prove that it is a serious contender in London.
I expect that resolve to manifest itself once more this summer, carrying the Americans to a bronze medal victory. It would be a fitting swan song for Team USA's veteran leaders—the last little upset for a group forged by adversity.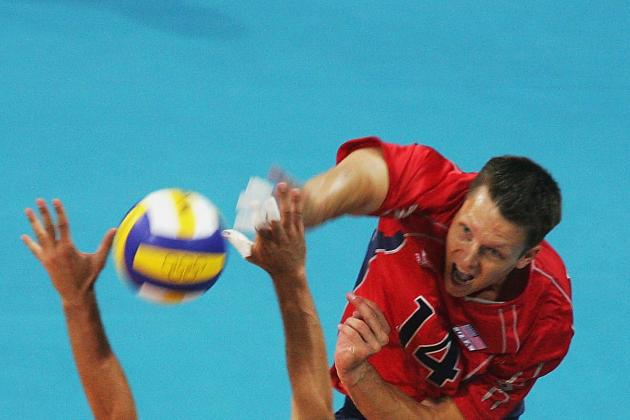 Al Bello/Getty Images

Coach: Alan Knipe
How They Qualified for the Olympics: Won NORCECA Olympic Qualifying tournament
Most Represented College on Qualifying Roster: Long Beach State, BYU (three each)
Leading Scorer in 2011: Matt Anderson
Leading Blocker in 2011: David Lee
Guy You're Most Likely to Confuse with an NBA All-Star: David Lee
Got Highlights? Of course. Here is a behind-the-scenes look at one of the team's practices from 2011.
Fun-ish Volleyball-Related Fact: London will be Team USA's eighth consecutive Olympic appearance. America had missed the three Olympics prior.