Tiger Woods Is Either Really Slumping or No Longer Good at Golf
May 11, 2012

Mike Ehrmann/Getty Images
The good news for Tiger Woods this week is that he finished the first round of the Players Championship tied with notable champions like Hunter Mahan, Graeme McDowell and Ernie Els.
The bad news for Tiger Woods this week is that he finished the first round of the Players Championship tied with those notable champions in 100th place, nine shots off the lead after just 18 holes.
Woods has an afternoon tee time on Friday, giving him the benefit of knowing what he will have to shoot to make the cut at the Players.
But does knowing what he needs to card even matter?
Woods missed the cut at the Wells Fargo Championship just last week and is in position to miss back-to-back cuts for the first time in his career. Knowing what he needs to shoot and actually shooting have become more disparate by the round.
How rare is it for Woods to miss a cut? In his 281 PGA Tour events, he has made the cut 262 times. To make that stat even more incredible, those numbers include the tournaments he entered as an amateur. As a professional, Woods has missed fewer than 10 cuts in his entire career. 
Mike Ehrmann/Getty Images
If history is any indication, Woods will pull his game together and grind out a round to get him to the weekend at the Players. That said, the Tiger Woods playing right now isn't the same Tiger Woods we are used to seeing. History is in the distant past for the best player of all time.
Woods has withdrawn from the Players in each of the last two seasons, so even finishing the tournament would be somewhat of an accomplishment this year. The guy who was a favorite to win the Masters could miss back-to-back cuts a month later. It has gotten to the point that just finishing this tournament could be seen as an accomplishment. This is incomprehensible. This cannot be Tiger Woods. 
Woods has almost always responded in the tournament after missing a cut. Woods has missed just six cuts since 2005. That year, he missed two, finishing in second and third in those subsequent tournaments. In 2006, he missed one cut and finished tied for second in the next tournament before winning each of the next seven events he played. 
In 2009, Woods missed the cut at the British, and everyone thought he was done. Two weeks later, he won the Buick, then the Bridgestone International the week after that before finishing second at the PGA and the Barclays.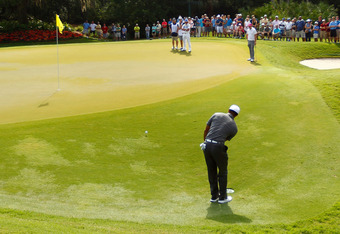 Mike Ehrmann/Getty Images
Then Woods stopped bouncing back. In 2010, Woods missed the cut at the Wells Fargo and was forced to withdraw from the Players the week after. At the time he pulled out, Woods was four-under par and essentially in contention but was unable to continue.
Last season, Woods withdrew at the Players after nine holes and didn't return to the PGA Tour for nearly three months. A week after his return, Woods missed the cut at the PGA Championship, then took another two months off before finishing tied for 30th at the Frys.com Open. 
Looking at the results of the last two seasons, it makes sense to completely write Woods off. He has faced too many issues that have clearly derailed his game—both physically and in his personal life—that he is just not the same player he was. No matter how well he plays in short bursts, it's impossible to believe Woods will ever be back to the consistent, dominating force we remember.
The sad thing is, we have been through this twice already in 2012. First, when Woods shot 62 in the final round of the Honda Classic to finish second behind Rory McIlroy, people declared Woods "back" to his old self. He withdrew from the Cadillac Championship a week later.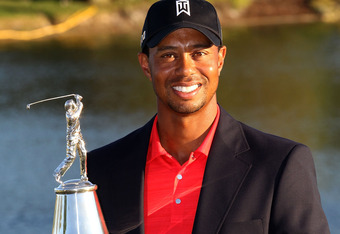 Sam Greenwood/Getty Images
His next PGA Tour event was the Arnold Palmer Invitational, which Woods won in dominating fashion, leading people to proclaim him as the favorite heading into the Masters. Respected golf journalists were so convinced Woods was "back" they pulled out the old "Tiger vs. the Field" conversation the week leading up to Augusta.
In the end, Woods finished tied for 40th.
Woods did not card a round under par at the Masters for just the second time in his career (the other time was in 2007, when he finished in second place).
His next tournament was a month later, last week, when he missed the cut at Quail Hollow. He is suddenly in danger of continuing a downward spiral his career has never known.
Now, this is the time in any Tiger Woods column where the author is required to spin this into a larger context of "what this means" for Woods or golf or American sports in general. 
The truth is, I don't have a clue what this means.
Woods may never win another tournament in his life. He may win all of them. The fact remains that when he is at the top of his game, nobody in the world has as much talent at hitting golf balls as Tiger Woods. However, what is the top of his game at this point? It's not 2002 anymore. Heck, it's not even 2009 anymore. Woods is a different player but still shows flashes of brilliance, giving golf fans hope that he still has it, that he can still come "back" once again.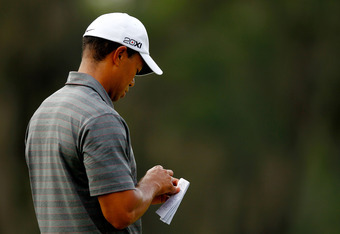 Mike Ehrmann/Getty Images
Maybe he doesn't have it, though. Maybe Woods can't continue to come "back." Or maybe he can shoot in the low-60s on a course that seems rather birdie friendly this week and not only make the cut, but get back into contention at the Players. 
Will it happen? Probably not. However, no matter how he plays, the expectations will always be different for Woods. Nobody is writing a story about why Els, Mahan or McDowell are tied for 100th—some players just have bad rounds or bad weeks, and the best players in the world can miss a few cuts. It just means something different when it's Woods, which is why the sport needs him to get back to where he was three years ago.
Even if he got back to where he was in March, it would be better than where he is now—for him, and for golf.