NBA Playoffs 2012: Top 10 Memphis Grizzlies Plays This Series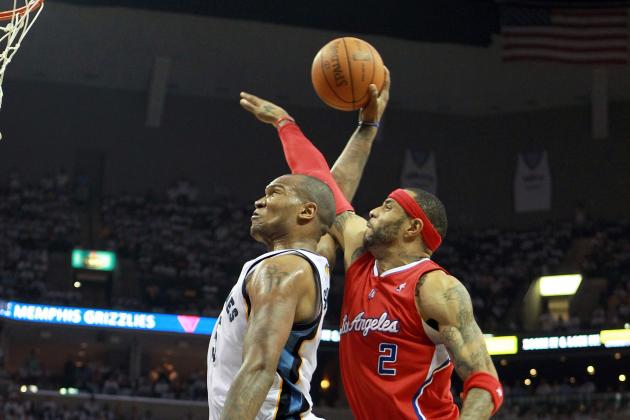 Andy Lyons/Getty Images

The Memphis Grizzlies have their share of show-stopping players. Rudy Gay can go end-to-end and put down highlight-reel dunks. Marc Gasol can also throw it down. Mike Conley can knock down long-range shots. They've all made a fair amount of plays in the series against the Los Angeles Clippers, even though Memphis trails L.A. 3-2.
As a team that prides itself on intense defense, the Grizzlies have made several great plays on that end of the floor. Just as well, they've had a good amount of big scoring plays.
While Blake Griffin has punched in his fair share of dunks, the Grizzlies have countered with plenty of big plays.
Following are the best plays the Grizzlies have put together this series.
Begin Slideshow

»
Tony Allen has terrific defensive awareness. He demonstrated that perfectly on this play, following the pass to Mo Williams in the corner. Then, Allen ensured that the ball went in the opposite direction of that which Williams intended.
That block, which came late in the first quarter with the Grizzlies leading by nine, helped Memphis keep their energy going towards a 14-point lead and the end of the first quarter.
The Grizzlies love to run with the ball in transition. In this first quarter play, they're doing their best to get a quick bucket in transition. Mike Conley does a great job here threading the ball through the passing lane to reach Gasol for the jam.
Zach Randolph was slow to regain his aggressiveness after he came back from his partial MCL tear. He didn't make too many big plays in the paint early after his return.
This play shows how far Randolph has come since then. He goes hard to the basket and shows no fear. The bucket puts the Grizzlies up by 10 with 4:33 left in the game, helping seal the victory.
Tony Allen made up for his defensive struggles late in Game 1 by coming up big on defense in Game 2, grabbing three steals. In this third quarter play, Allen puts it all together to bring that fast break action that the Grizzlies love to perform.
Allen could see it all developing as Blake Griffin handed it off to Randy Foye, and then he worked his magic, taking the steal and taking it home. He did hiccup the ball near the end, but that's fine since he finishes the play cleanly.
Grizzlies reserve guard Quincy Pondexter isn't someone with whom many basketball fans are familiar with. Nevertheless, in this series, the second-year player has made people take notice of him. He scored 11 points in the first half of Game 3 and eight points in Game 5.
In this second quarter play, Pondexter fools the Clippers defenders by going underneath and then gives Marc Gasol an easy deuce. In the process, the former Washington Husky earns his only assist of the game.
This was too much to pass up.
Blake Griffin and Zach Randolph go head-to-head in this series in one of the more interesting player matchups. In this first quarter play, Griffin and Randolph tussle underneath while fighting for the chance at a rebound.
Randolph seems embarrassed after being knocked to the ground by Griffin because he brushes off concern about possible injury here by doing pushups.
What better way is there for a big man to save face?
The average basketball fan has been waiting to watch Gilbert Arenas more than any Grizzlies reserve besides O.J. Mayo in this series. To their chagrin, Arenas hasn't played much this series, seeing a total of 17 minutes of action in three games.
He did receive a little bit of work in Game 1. When he had a chance, Arenas helped the Grizzlies build up their big lead. In this second quarter play, Arenas works off a screen by Zach Randolph and shows he still has some athleticism even though he plays a much smaller role than he did most of his career.
The Grizzlies fought their way back to force overtime in Game 4. After trailing much of the second quarter, the Grizzlies came out strong to try to take control in the second half. This was one of those plays to help the Grizzlies assert themselves.
Mike Conley didn't quite have it all after fighting through traffic, but Rudy Gay cleaned up for him.
The Grizzlies make something happen on the fast break here in Game 3. Rudy Gay takes the pass after Zach Randolph's steal in the lane and then goes to the rack without being contested.
There's a reason why Gay dunks it more than any other perimeter player in the league. He's fast, athletic and aggressive in transition.
O.J. Mayo handles the ball more than any other Grizzlies reserve. That's because he's a better ball handler than backup point guards Jeremy Pargo and Josh Selby. Also, Gilbert Arenas hasn't been on the team long enough to be entrusted with running the floor in the playoffs.
In this first quarter play, Mayo shows why he's the best guy with the ball off the bench for Memphis. He sets up on the wing, sees the play as it starts to develop and then slips Marc Gasol the ball. Gasol shows his gratitude by throwing it down.