St. Louis Cardinals: Jon Jay Is Becoming One of the Best Outfielders in Baseball
May 11, 2012

Last July the Cardinals made a blockbuster trade that sent center fielder Colby Rasmus to the Toronto Blue Jays and sent numerous players back to the Cardinals in return. The move was pivotal in helping St. Louis qualify for the playoffs, and then ultimately win the World Series against the Texas Rangers.
While everyone talks about all the players who were involved in this deal, and how those players helped St. Louis win the World Series, very often many people forget about the player who made this deal possible.
The reason the Cardinals were able to pull the trigger and send Rasmus to Toronto was because of Jon Jay.
Ever since Jay was called up to the big leagues on April 26, 2010, he has been a major contributor to the St. Louis Cardinals. Last season, Jay started in a team high 159 games and proved to be a great asset in the outfield for the Cardinals. In the postseason, Jay, although struggling at times, played in all 18 postseason games for the Cardinals.
Throughout his young career, he simply has been a model for consistency.
Jon Jay though, has continued to get better.
While many fans and experts have duly noted the offensive power and home run hitting ability of the 2012 St. Louis Cardinals, Jay has mostly flown under the radar. He is beginning to turn heads though.
Jay currently ranks fourth in all of baseball with a .379 batting average and ranks eighth in baseball with a .432 on base percentage. His consistency at the plate has allowed him to get on base and get in scoring position for the power hitters behind him.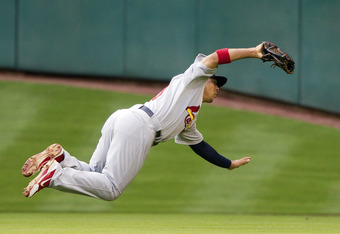 Bob Levey/Getty Images
Jay has also began to show flashes of brilliance in the outfield. In the series last weekend against Houston, Jay was spectacular, making numerous diving catches and robbing numerous Astros' hitters of base hits. Jay's speed and quickness in the outfield has been essential to the Cardinals' defense over the past three seasons, and has only gotten better this year.
Although his career has been short, Jay has a lifetime fielding percentage of .990 in center field. This is better than the lifetime center fielding percentage of .981 that former Cardinals' center fielder Colby Rasmus features. The .990 fielding percentage that Jay has is also better than that of Cardinal great Jim Edmonds who had a fielding percentage of .988 throughout his career in center field. While Edmonds has more games played obviously, it is still a good sign that Jay is posting better numbers than Edmonds did throughout his career.
Although he is still very young, Jon Jay has done an outstanding job throughout his career for the Cardinals. He was one of the biggest reasons why the Cardinals were able to win the World Series in 2011. He is becoming a Gold Glove caliber center fielder and has an average that ranks among the highest in baseball.
Jon Jay has the ability to get on base, make great plays in the outfield and has great speed as well. When you add all this up it means that Jon Jay is becoming one of the best outfielders in baseball.
It looks like the Cardinals have a very talented young player on their hands and it should be extremely exciting to see him continue to develop into a great player throughout the remainder of what hopes to be a long and prosperous career.