Was A-Rod's Contract Worse Than Mark Teixeira's?
May 11, 2012

Ronald Martinez/Getty Images
Imagine.
It is 2003.
You are a 28-year-old MVP shortstop.
You are coming off a season in which your ball club has finished in last place in your division for the third time in as many years.
A seven-time All Star and two-time Gold Glove winner, you have 344 home runs, which is just one long ball from tying Cal Ripken Jr's record for a shortstop.
Despite being locked into a contract that can buy you the team you currently play on ($252 million to be exact), you are unhappy in your present situation.
Hard to imagine I know, but please bear with me.
A native New Yorker, you dream of playing for the team you grew up just three miles from. Frankly, you do not care where you hit in the lineup. Nor do you care where you play in the field.
You just want to play for a winning team.
You just want to play for the New York Yankees (or New York Mets).
Such was the case with Alex Rodriguez, who the Texas Rangers traded in 2004 to the men in pinstripes.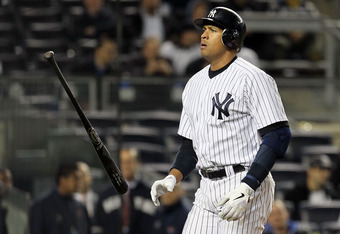 Jim McIsaac/Getty Images
Looking to rebuild, the Rangers agreed to pay $67 million of the $179 million remaining on Rodriguez's contract.
In return, the Rangers received second baseman Alfonso Soriano and infielder Joaquin Arias.
Sounds like a deal worthy of a larceny conviction.
Yet while Yankees fans liked Rodriguez falling in their laps, feelings were nonetheless mixed.
This because some Yankees fans worried about a potential shortstop controversy between Rodriguez and four-time world champion Derek Jeter.
Others wondered if these two superstars could co-exist in the same universe, although both men had been friends since they were teenagers.
To Yankees fans, Rodriguez would have to prove his worth through great performance.
And ultimately, World Series victory.  
Now, imagine again.
It is late December 2008, and the Yankees still had not won a World Series title since Rodriguez joined the ball club.  
And New York is beginning to get the shakes.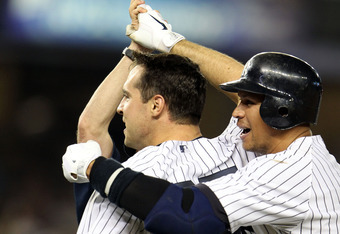 Michael Heiman/Getty Images
Now 32, Rodriguez is not exactly the toast of New York—thanks to his contract opt out controversy in 2007.
But now inked to a new 10-year, $275 million dollar contract, expectations are high for the 2009 season.
This is especially true now that the Yankees signed the highly-coveted, power-hitting first baseman Mark Teixeira.
Teixeira, who signed an eight-year, $180 million contract with the Yankees, was coming off a monster 33 homer, 121 RBI campaign in 2008.
This signing seemed to make Yankees fans especially happy. Not only did the team solidify an enigmatic position, but it did so while shedding $88.5 million from its payroll, according to ESPN's Buster Olney.
With Rodriguez locked up for the next decade, and with a new All-Star first baseman in his prime, the Yankees were primed to win the 2009 World Series.
Both Rodriguez and Teixeira went on to achieve outstanding seasons in 2009. While Rodriguez hit .286 with 30 home runs and 100 RBI, Teixeira hit .292 with 39 home runs and 122 RBI.
But it was Rodriguez who won out during the playoffs, posting a .365 batting average with six home runs and 18 RBI. This is compared to Teixeira, who batted just .180 with two home runs and eight RBI during the Yankee's run to Rodriguez's first World Series victory. 
Hindsight being 20/20 the question becomes, who was a worse contract for the Yankees at the time of signing?
Was the Rodriguez deal bad from the start? Or did it put the Yankees in position to win a World Series, though not immediately?
While undoubtedly expensive, did Rodriguez's contract enable the Yankees to lock up a future Hall of Fame ballplayer for the rest of his career?
Was Teixeira's deal worse than Rodriguez's? Or did Teixeira's signing with the Yankees provide the final big push to get the Yankees over the top?
Surely, it was more financially frugal than Rodriguez's contract. But did this have more to do with timing?
After all, as the saying goes, timing is everything.
These are tough questions to answer, especially since the Yankees have not won another World Series since 2009.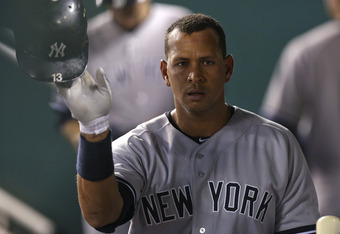 Ed Zurga/Getty Images
But in the end, all things considered I have to argue Rodriguez's contract was a much more rash decision than Teixeira's. 
It was a decision the Yankees made because they could.
While it enabled an outstanding ballplayer to realize his lifelong dream, Rodriguez's contract served as a brazen slap in the face to several small market owners in the league.
"How to compete against a team that can buy all the talent it wants?" became the question of the day.
Not to mention, spending nearly $400 million dollars for one man to play a game does not tend to sit well with average, every day working folks.
Perhaps this is why Rodriguez, who also admitted to using steroids, is nowhere near as popular in New York as Derek Jeter.
Because to many, Rodriguez's performance has not been worth the high price tag.