Andre Iguodala: Philadelphia 76ers' Under-Radar All-Star Delivers in the Clutch
May 11, 2012

Drew Hallowell/Getty Images
Philadelphia 76ers head coach Doug Collins praised Andre Iguodala all year for the complete package he delivered for Philadelphia.
Experts and common fans alike understood that the Sixers' swingman brought a little bit of everything. He defended, he rebounded, he passed and he scored. But we did not see it all at the same time until Collins got hold of him and Sixers' president Rod Thorn teamed him with a good, young nucleus.
"Dre's" scoring average has declined each year since the 2007-08 season, when he averaged 19.9 points per game. That stat would easily make the University of Arizona product the leading scorer on the '11-'12 version of the 76ers. Sixth Man of the Year candidate Lou Williams led Philadelphia off the bench with just 14.9 points per game.
Since that impressive scoring season, Iguodala has scored 18.8, 17.1, 14.1 and 12.4 points per game from 2008 to 2012.
As his career developed, "Iggy" began to understand what he needed to do to help his team win. Help undoubtedly came from one of the most respected coaches in the NBA in Collins.
Coach Collins convinced Iguodala that the team was better when "Dre" got everyone else involved. Budding stars like Jrue Holiday and Evan Turner needed shots. Bench stars such as "Sweet Lou" and Thaddeus Young needed shots. And since Collins came to town, Iguodala has found them for those looks. 
His career in Philly has been maligned since the Philly faithful realized that Andre was not going to be the star they had hoped would take over for the original "A.I." But despite the constant trade talk and negative chatter on Broad Street, Iguodala has played at a high level, and his peers have noticed.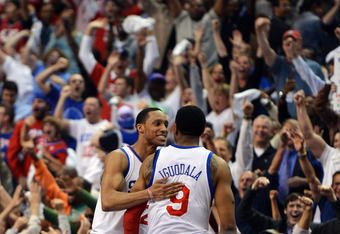 Drew Hallowell/Getty Images
The former "should-be" Slam Dunk champion was selected as a member of the USA men's basketball team for the 2010 FIBA World Championship, where he played with the likes of Kevin Durant, Russell Westbrook, Kevin Love and Derrick Rose.
If he didn't know how to reduce his role as a scorer before, he sure would have had to learn on that squad.
But Iguodala had to know that he was selected for his other skills. He is regarded as one of the game's best defenders and one of the more talented distributors and rebounders for his position. After that summer with Team USA, No. 9 seemingly got better at all of those aspects of his game.
It showed, and he was rewarded this season with his selection to this year's All-Star game.
In Game 6 against the Chicago Bulls, "Iggy" brought just what the Sixers needed: every part of his game, including his veteran leadership.
Coming off a tough and ugly loss to the Bulls in Game 5 in Chicago, the pressure was on Philadelphia to close the door at home. Each squad started off well offensively compared to Game 5's ugly 77-69 final, where the teams combined to go 36.9 percent from the field.
Thursday night's 48-40 score at halftime seemed liked a game between Golden State and Sacramento in comparison. But then the second half came, and the play reverted back to Game 5 form.
The 76ers looked like they were in control in the third, opening up a 12-point lead midway through the quarter. But a paltry end to the period and start to the fourth had the Sixers down as much as five points in the latter stages of the game.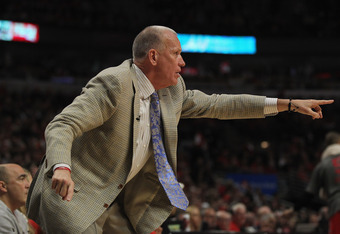 Jonathan Daniel/Getty Images
Iguodala though, proved he could come up big once again for Philadelphia.
He shined, as usual, on the defensive end down the stretch, notably coming up with a big steal on Luol Deng. He found those mentioned above for big shots; Lou Williams' three with 4:01 remaining comes to mind. And though his overall numbers would prove he had a solid game scoring and tough game rebounding (20 and 4, respectively), he was at his best at the very end.
The Sixers were killed on the glass all night, out-rebounded by an astounding 56-33 margin. But after Bulls' center Omer Asik missed his second straight free throw with seven seconds remaining and the Bulls in front, 78-77, it was Iguodala who came up with the clutch board.
He didn't just secure the rebound, though. He had the presence of mind to race down the floor before the Bulls could get back.
Inevitably, "Dre" drew a foul with 2.2 seconds left on his drive to the basket; two things Philadelphia did scarcely in the final quarter.
Some Philly cynics (the few that are out there...) probably expected Iguodala to come up small from the line. After all, Andre shot an abysmal 61.7 percent from the charity stripe this season, by far the worst rate in his career.
But "Iggy" wouldn't let it go down like that. He drained both foul shots to lead the Sixers to an impressive comeback victory.
Basketball is certainly a game of runs, but when a young team loses a 12-point lead late in a game they think they have to win, it takes incredible mental fortitude to overcome such an obstacle. Thanks to Iguodala's leadership, Philadelphia found a way to win both the game and the series.  
Knowing the City of Brotherly Love, the praise may be short-lived. But tonight, when it mattered most, Philly's second "A.I." had all of the answers.