We Need to Accept Josh Beckett for Who He Is
May 12, 2012

Jim Rogash/Getty Images
This column is painful to write, but I need to vent about this so I don't go insane watching the Red Sox this year. 
Josh Beckett probably isn't going anywhere, so we should accept him for who he is.
Lately this team has shown they're not willing to eat money to ship a mistake out of Boston. Just look at Dice K and John Lackey. As far as Beckett is concerned we might as well make the best of a god awful situation. It's a tough pill to swallow. Although things ended horribly last year part of me is still grateful he was the ace of the staff on the '07 title team.  Five years later I realize '07 was a fluke and he's really a no. 3 starter.
If you want to rip anyone for Josh Beckett I say tear into Theo Epstein. He signed Beckett to a four-year $68 million extension, and that was an idiotic way to spend the teams money. Seriously,Theo had a four-year sample of Beckett's starts when that contract was signed.  His inconsistency was clear.
In '06 he wasn't that good, but made the leap to amazing in '07. Like a lot of World Series winners, 2008 was the classic hangover year for Beckett.  2009 started out great, but he faded down the stretch. In six full seasons with Boston, Beckett has had just three years with more than 200 innings pitched. From '06 - '09 Beckett posted ERA's of 5.01, 3.27, 4.03 and 3.86. Not bad numbers, but certainly not worth a $68 million extension. Theo didn't really have to resign him at that point; there was no competition for Beckett's services. He probably figured he could get him cheap.
What have the Sox gotten with Theo's investment? Well in 2010 Beckett went 6-6 with a 5.78 ERA in just 21 starts. Last year started out great before the wheels came flying off in September.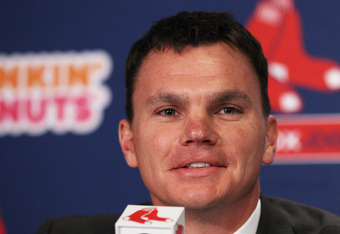 Elsa/Getty Images
For the record, I viscerally despise pandering to him, but we need to work with the hand we're dealt. MLB isn't like the NFL, where players are motivated by fear or losing their money and jobs. If Beckett needs Kelly Shoppach to bring out the best in him then let him play. Shoppach calls a decent game and can slug the ball every now and then. The 23 year old fireballer that put the Yankees away in the 2003 World Series is gone. At this point we should be realistic. If we can get 30 starts, 185 innings, a 3.50 - 4.00 ERA, a 1.25 WHIP and 15 wins out of Beckett I'll be very happy.
It's not fun writing this column, but the team has kind of created a monster. Over the past few years they've enabled his bad behavior, so we shouldn't be stunned when it blows up on them.
Ben Cherington made a horrible mistake when he didn't trade Beckett over the winter.
If they tried to trade him now they'd probably get 30 cents on the dollar, and I doubt they'll do that. It's stunning they didn't realize they needed to unload him. Just three months ago, The Boston Globe ran a story highlighting how Beckett was angry about "snitches" in the clubhouse that brought his bad behavior to light. It's staggering that no Red Sox front office exec realized they needed to unload him ASAP.
Common sense and past experience tell you sometimes too much bad blood/bitterness/drama can pop up and it's best to just move on. Just ask Nomar Garciaparra.
For the first time in my life I want the Red Sox to have a bad year so they can correct their mistakes and reload for the long haul.  It's kind of like hoping your favorite NFL team tanks the season so they can get the no. 1 overall pick.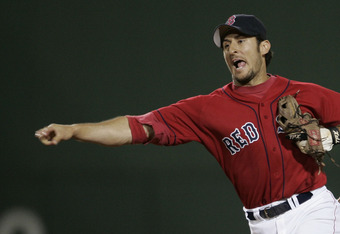 Jim Rogash/Getty Images
Sometimes its good if your team misses the playoffs.  It forces them to reload and makes you even hungrier to win a championship. Nine years ago the Sox lost a heartbreaking ALCS to the Yankees, but they plugged their holes in the off-season and won it all in 2004. In '06 the team missed the playoffs. How did the they respond? They got aggressive, bought some new talent and won the World Series. Hell, even the Yankees had a down year in 2008. Missing the playoffs caused them to buckle down,buy the right talent and a year later they won their most recent World Series title.
Let's start selling off some vets that may help other teams in the hunt. Clear as much payroll as possible. Bring along the kids, let them play every day and hopefully they'll develop. Who knows? Perhaps Ben Cherington can fool some NL GM into thinking Beckett would be a great arm for the 2012 postseason run.