Baltimore Orioles Shortstop J.J. Hardy Makes 2 New MLB Records in Win vs Rangers
May 10, 2012

J. Meric/Getty Images
Baseball has witnessed some wacky records in its well-recorded history.
This afternoon, the game got two more—during the same game.
Baltimore Orioles shortstop J.J. Hardy became the first ballplayer in big league history to hit a home run on two different teams that started a game with three consecutive home runs.
Hardy achieved this feat in the first inning of the first game of a double header versus the Texas Rangers. Hardy's long ball was sandwiched by homers from Ryan Flaherty and Nick Markakis.  
On September 9, 2007, Ricky Weeks, Hardy and Ryan Braun whacked homers to start a game versus the Cincinnati Reds.
This means that Hardy is also the first and only big league hitter to achieve this feat while batting second in the lineup.
Add this to the next round of big league trivia games.
As a team, the Orioles became just the fourth team in MLB history to start a game with three straight home runs. They are the first American League to achieve this feat.
Marvell Wynne, Tony Gwynn and John Kruk of the San Diego Padres were the first trio to do this—on April 13, 1987, in a 13-6 loss versus the San Francisco Giants.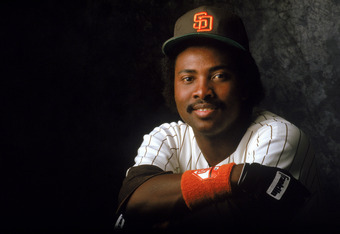 Rick Stewart/Getty Images
Rafael Furcal, Mark DeRosa and Gary Sheffield of the Atlanta Braves followed suit, in a 15-3 rout of the Cincinnati Reds on May 23, 2003.  
Another record? The Reds are the only MLB team to be victimized twice by three home runs to start a game.
The last time the Orioles hit three consecutive home runs was on August 21, 2010, when Ty Wigginton, Luke Scott, and Josh Bell all went yard.
The Orioles beat the Rangers 6-5.