St. Louis Rams: Will Matt Daniels Win the Starting Safety Job?
May 10, 2012

Al Messerschmidt/Getty Images
As the St. Louis Rams continue search for talent, they are looking everywhere. First, they hit the free agent market and found Scott Wells, Jo-Lonn Dunbar and Kendall Langford as potential starters. Then, they owned the NFL Draft, binging in several promising players that could start right away.
The next thing any ascending franchise would do? Go find some talent in this pool of unsigned free agents.
Chris Burke of Sports Illustrated broke down every team's best undrafted free agent, or at least the player with the biggest chance to make the final roster. He pegged Duke safety Matt Daniels as the player most likely to make an impact for the Rams.
Here was the scouting report on Daniels:
St. Louis Rams — Matt Daniels, S, Duke: Daniels won't wow anyone in one-on-one coverage, but he is very sturdy against the run and is the type of guy coaches like to have in the locker room. Others to watch: Alex Hoffman-Ellis, LB, Washington State; Joe Long, OT, Wayne State (Mich.)
I've talked about Hoffman-Ellis before as one of the OLB's brought in with a chance to improve that position group, which is very thin for the Rams right now. Joe Long is an interesting prospect for the Rams to consider. Long is the younger brother of Miami Dolphins' left tackle Jake Long, a former No. 1 overall pick.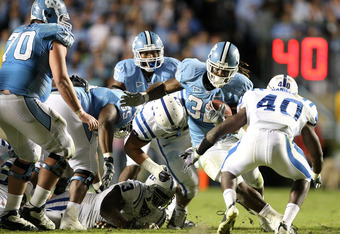 Streeter Lecka/Getty Images
While Burke might be high on Daniels, the National Football Post didn't offer a glowing scouting report:
Impression: He's a good tackler and has a natural pop to his game. However, he lacks the size to be a real effective in-the-box safety. Plays slow in the deep half because of his inability to quickly recover and, despite his decent straight-line speed, isn't a guy you can trust in coverage in any area of the game.
However, DraftNasty.com had this ringing endorsement for Daniels:
Matt Daniels' collisions can be heard throughout the stadium. The four-year starter at safety has tremendous explosion when he hits and he improved in all phases of his game as a senior. Daniels capped off a career-best 2011 season which included 126 tackles and 14 PBUs (2nd in the ACC).
Bottom line: I think Daniels has a chance to make the roster, simply because the Rams are thin at that position. I expect incumbent starters Quintin Mikell and Darian Stewart to play very well if they are healthy. Stewart was actually one of the lone bright spots in a bleak-looking Rams' secondary last season. If Daniels can impress, he should have a chance to make the roster after those two starters.