Kentucky Derby 2012 Results: Popularity at Churchill Downs Reaches All-Time High
May 10, 2012

Jamie Squire/Getty Images
While the Kentucky Derby may have featured one of the slowest winning times in the last 20 years, the fans were there to watch and gamble in record setting numbers.
According to the Courier-Journal, wagering from all sources on last Saturday's entire Kentucky Derby card was a record $197 million—a whopping 13.2 percent increase from last year's total of $165.2 million. The record before this year was $175.1 million, set in 2006.
That wasn't the only record set.
All-sources wagering on the actual Derby landed $133.1 million—an eye-popping 18.8 percent increase from the $112 million from 2011. It was almost $25 million more than the previous record, once again from 2006.
Maybe the biggest shocker was attendance. Despite a forecast that included rain clouds, Churchill attendance set a Derby record, with 165,307 patrons attending. Almost $1 million was paid in pari-mutuel taxes to the state of Kentucky from the Derby card.
So, what does this mean?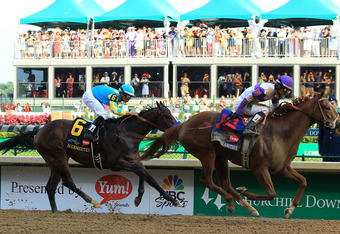 Travis Lindquist/Getty Images
While I'll Have Another may have registered one of the more forgettable wins in the 138-year history of the Derby, it didn't matter. People still care about the premier event that horse racing has to offer and are willing to blow plenty of money on it.
In a day and age where new technology and social media is destroying so many of the great traditions of American history, it's cool to see that at least one of them is as strong as ever.
Maybe the Internet has strengthened the event. There has never been more ways to read and discuss the Derby than now. Considering that it's one of the more unique traditions in the entire country, maybe the Internet was the vehicle to give it the proper exposure.
Or maybe gambling in general is at an all-time high.
Either way, it's good to see that one of America's oldest traditions in sports is still alive and better than ever.