Gervinho: Why the Notion That He Is a Flop at Arsenal Is Nonsensical and Naive
May 11, 2012

Julian Finney/Getty Images
Marcus Christenson of The Guardian, having identified Gervinho as one of the top 10 flops of the season, states his rationale as follows:
Arsenal needed a striker to convert all the chances their attacking midfielders create, but instead they got Gervinho. There were flashes of brilliance and promise early on but his campaign never really got up and running after that red card at St James' Park on the first day of the season. Robin van Persie required help. He needed a friend who could chip in with 10 or 15 goals. He didn't get that. Gervinho has scored four goals for Arsenal this season, the last one coming in December. He was away for the Africa Cup of Nations but should still have scored more.
Everything is wrong with this statement.
First, the use of the term "striker" is wrongly applied, since in Christenson's understanding, a striker is a person "to convert all the chances their attacking midfielders create." Let's leave aside the impossible "all the chances" and concentrate on striker.
Striker is surely construed here in the traditional sense, meaning the point man as in Alan Shearer, Ruud van Nistelrooy, Demba Ba (before his striking partner in the form of Papiss Cissé arrived), Peter Crouch, Darren Bent, Bobby Zamora, Mario Gomez, Zlatan Ibrahimovic, Klaas-Jan Huntelaar and Robin van Persie, to take a few examples.
This is just one definition of striker, and there's nothing wrong with it.
We should note, though, that this understanding shouldn't be confused with the term forward. The definition of "striker" should not stop with this traditional understanding; it should be subsumed by the term "forward."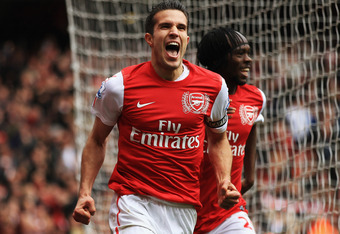 Bryn Lennon/Getty Images
The thought of Carlos Tevez, for example, even Sergio Aguero, or Lionel Messi, David Villa or Luis Suarez, hardly conjures up the image of a point man, if all. All these players are forwards, but neither is a traditional striker.
Now think of Andre Iniesta, when he has been played in what I call the false 11 position, or of Cristiano Ronaldo, or even Samir Nasri. These too are forwards, but neither is a traditional striker.
According to Christenson's definition, neither of these latter types of forwards is what he means by "striker," since all of these can be construed as midfielders as well, especially Samir Nasri, Cristiano Ronaldo and Andre Iniesta.
"Striker" we should recall is there "to convert all the chances their attacking midfielders create."
As an aside, one even wonders how many attacking midfielders Christenson supposes are there in a given formation or team.
When Christenson says "Robin van Persie required help. He needed a friend who could chip in with 10 or 15 goals," he presumably is inferring the traditional, goal-poaching striker type, or at least the supporting striker type in the 4-4-2 formation.
The point here is that although Gervinho is a forward—and presumably, he should score goals—he isn't the type of striker Christenson construes him to be. Certainly not the type be to called "a friend who could chip in with 10 or 15 goals," that is, a striking partner.
In the second place, then, I suspect that when Christenson talks about a "friend who could chip in with 10 or 15 goals" he is thinking of the 4-4-2 (or its variation) formation, the default formation of the British media.
Thus construed, his assumption acquires sense, if horribly naive, since he purports that the reason Gervinho was bought was to be become a striking partner—the so-called friend—to Van Persie.
The problem is, Arsenal don't play the 4-4-2 formation, so this notion is based solely on the writer's imagination than on the reality of Gervinho real function at Arsenal.
Thirdly, as the above diagram demonstrates, Gervinho's role this season has been mainly as a chance-creator than as a goal scorer. If anyone wants to indict Gervinho, he or she should do so based on this function than one an imaginary or misconstrued one.
The white dotted arrow arrow in the diagram indicates Gervinho's role as a wide player who often seeks to get behind the opponent's defense out wide rather than by cutting inside as a false 11, such as Nasri, Cristiano Ronaldo, Frank Ribery or Andre Iniesta would do.
One would expect Gervinho to score more goals if he played the Nasri role, the false 11 role, a role in which Wenger deployed Yossi Benayoun. This role often involves frequent overlap with the target striker.
Again, this kind of forward can be expected to score more goals than a flank player would. As a winger, Gervinho's assists normally would be higher than his goals, as indeed is the case.
Refer to the following table.

This table is a sample of a few winger types. Of all, Gervinho has played fewer matches this season. Of his 23 appearances so far, 11 of those have been from the bench, and as Christenson himself points out, Gervinho's season was interrupted by the Africa Cup of Nation.
Compared to his fellow wide players, Gervinho's stats aren't bad at all. Neither would it be fair to compare his achievement with Nani's, who isn't in his first season in the Premier League.
Most of the criticism I've heard of Gervinho have been on the issue of goals. True, he should score more goal. In fact, he should have, since he missed many glaring chances. But a criticism that makes blind assumptions such as Christenson's isn't good criticism at all. It is naive and nonsensical.
To say that Gervinho's season is a flop is like saying Demba's season, since the coming of Papiss Cissé, is a flop since he hasn't been scoring goals lately, and as a striker, no less.
Indeed, Gervinho should be more clinical, but we should say so with a proper grasp of the system under which he plays at Arsenal. Under this light, Gervinho certainly isn't a flop.