Business of Wrestling: Why Big-Name Veterans Will Continue to Get Raw Spotlight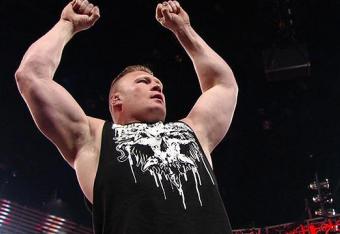 Photo courtesy of WWE.com

You're guilty of it, millions of other WWE fans are guilty of it and so am I.
And what is this "it" that I speak of? Well, "it" is complaining about the WWE continuing to give big-name veterans the spotlight on Monday Night Raw.
I myself say it all the time: "Why the hell is John Cena or Triple H in the final segment of Raw tonight?"
Or: "Why is Brock Lesnar appearing at the beginning and the end of Raw?"
Ratings; that's why.
While we WWE fans will undoubtedly continue to complain about the lack of fresh faces in the Raw main events or ask why a certain up-and-coming star stopped appearing in the show's final segment, all we have to do is look at Raw's ratings.
The ratings tell the real story. The ratings reveal who the WWE fans want to see and who they could care less about.
And guess what? Raw's recent ratings are a sign that guys like Triple H and Cena will continue to be on TV in the show's most important time slots.
Check out the this ratings report for the April 30 edition of Raw, courtesy of the Wrestling Observer Newsletter (via WrestlingInc.com):
As noted before, the April 30th WWE RAW Supershow scored a 3.33 cable rating with 4.87 million viewers. Below is the segment breakdown:

The first segment with Brock Lesnar, Triple H and John Laurinaitis did a 3.53 quarter rating and was the highest-rated segment of the show. The second quarter only lost 9,000 fans. Santino Marella vs.The Miz and Layla vs. Brie Bella vs. Nikki Bella lost 479,000 viewers. Chris Jericho vs. Big Show and JTG vs. Brodus Clay gained 282,000 viewers back.

Jack Swagger vs. Randy Orton lost 68,000 viewers in the 10 pm timeslot. R-Truth and Kofi Kingston defeating Primo and Epico for the tag titles lost 245,000 viewers while Kane vs. The Great Khali gained 81,000 viewers. Daniel Bryan vs. Jerry Lawler in the final match lost 198,000 viewers while the final segment with John Cena, Lord Tensai, John Laurinaitis and Sakomoto gained 578,000 viewers for a 3.49 overrun rating.
You see the names involved in the show's two highest-rated segments, right?
The most-watched segment on the show featured Triple H and Lesnar, while the second most-watched segment featured none other than the face of the WWE, John Cena.
Raw overall scored a respectable 3.33 rating, which is a bit higher than what the show has been doing over the last year or so.
Now, let's take a look at the ratings breakdown for this week's Raw (May 7), courtesy of the Wrestling Observer Newsletter (via TWNPNews.com):
As noted before, the May 7th WWE RAW Supershow from Greensboro, North Carolina scored a 3.01 cable rating with 4.30 million viewers. The first quarter-rating was a 3.50 but things fell apart from there.

In the segment breakdown, Big Show vs. Cody Rhodes lost 378,000 viewers and Kofi Kingston vs. Dolph Ziggler lost 465,000 more viewers. Kelly Kelly and Layla vs. Maxine and Natalya lost another 207,000 viewers. Sheamus and Randy Orton vs. Chris Jericho and Alberto Del Rio at the top of the hour gained 191,000 viewers, which is weak for that timeslot—doing a 2.89 quarter-rating.

The Miz vs. Brodus Clay gained 55,000 viewers in what is usually a losing segment. Paul Heyman's return gained 123,000 viewers. CM Punk vs. Daniel Bryan and Lord Tensai in the overrun actually lost viewers—105,000 for a 2.94 rating. It's almost impossible to lose viewers in the overrun because you've got people tuning into the USA Network for their next show.
On this show, we got no live, in-person appearances from Lesnar, Cena or Triple H.
And what happened? The show flopped miserably in the ratings department.
Raw's overall rating dropped .32 to just a 3.01 overall rating, and in a very rare occurrence, the main event featuring CM Punk vs. Daniel Bryan and Lord Tensai somehow managed to lose a ton of viewers.
Do Raw's recent ratings prove that WWE fans would prefer to see guys like Lesnar and Cena over Punk and Bryan?
To put things into perspective, Punk vs. Bryan and Tensai in the main event segment lost 105,000 viewers, while Cena being involved in a similar segment during the prior week's main event gained 578,00 viewers.
I'm certainly no mathematician, but that's a 683,000-viewer difference from one show to the next.
Now, there obviously may be factors we can't account for that are skewing this number more than it actually should be. But the bottom line is that WWE fans are proving who they do or do not want to see.
They want to see Cena, Lesnar and Triple H. They're not particularly interested in seeing Punk, Bryan or Tensai.
This may be a tough pill to swallow for Internet fans like me who think that having Bryan and Punk as main eventers is great for the wrestling business.
It may be in terms of the quality of matches, but it's not where it matters the most: in the ratings department.
If certain wrestlers don't draw in viewers (or even worse, if they actually send viewers away), then they are going to be replaced by those who do.
And as much as I hate to do it, the ones who do are the guys in their mid-30s to early 40s.
Drake Oz is the WWE Lead Writer for Bleacher Report. You can follow him on Twitter and ask him any wrestling-related questions (to be answered in the B/R Mailbag) on Formspring.
This article is
What is the duplicate article?
Why is this article offensive?
Where is this article plagiarized from?
Why is this article poorly edited?