Toronto Blue Jays: Is Brandon Morrow Back to His Old Ways?
May 10, 2012

Stephen Dunn/Getty Images
Since joining the Blue Jays in 2010, Brandon Morrow had grown a reputation of being a strikeout pitcher.
He notched 178 Ks through 26 games in his first season north of the border. He followed that up with a 203 strikeout total in 30 games in 2011. But for some reason, during the first few games of this new season Brandon Morrow's strikeout totals were down. He could only whiff three Indians hitters in seven innings in his season debut. He got four Orioles hitters to go down quietly in his second start, but followed that up with just two Ks against the Rays on April 18th.
Throughout those starts, it looked like Morrow was trying to pitch to contact more than helping himself out. It is a useful strategy to use at the beginning of the season, especially when you know you are going to pitch 28-32 games and are hoping not to tire out your arm before the possibility of playing meaningful games in September.
The more times you can get a guy to ground out or pop up within the first two to four pitches of an at-bat, the longer you can go into a game and eventually the season. However, when that isn't how you're normally accustomed to pitching, it could backfire and cause hitters to start putting the ball out of the fielder's reach.
This was the case against the Rays, as Morrow surrendered six earned runs on eight hits in six innings pitched for his first loss. Morrow took a similar approach in his next outing against the Kansas City Royals. While he picked up the victory (his first of the season) he gave up seven hits in 6.2 innings while striking out just three batters.
Now, I don't know what goes on through the mind of Brandon Morrow, but I have a feeling that at some point between the start in Kansas City and the start against Seattle he said to himself, "something has to change."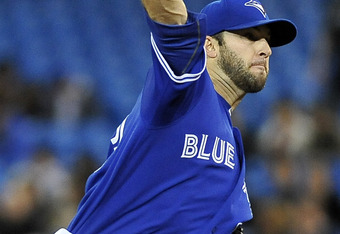 Brad White/Getty Images
Morrow showed his former team why letting him go was a mistake.
A brilliant five-hit, nine-strikeout, no-run performance earned him his second win. Maybe it was the fact he was playing against his former team, maybe he got tired of pitching more towards contact. I can't explain what exactly happened, but I do know that over the past three games he has looked like the Brandon Morrow we all expect to see every five days—a guy who throws hard and throws well. He is a pitcher that loves striking out the opposition.
Over his last three starts, Morrow has gone a combined 3-0 while bringing his ERA down to a very neat 2.27. During those three starts, he has struck out 27 batters through 21 innings while giving up just 12 hits and four walks. He also posted back-to-back starts in which he didn't allow a run; starting with that victory over the Mariners, followed up by a nine-inning shutout over the Los Angeles Angels.
Yesterday against the Oakland A's, he allowed one earned run in six innings while striking out a season-high 10 batters.
Based on his stats through the first seven games of the season, Morrow is projected to throw 249.2 innings, win 21 games, strikeout 205 hitters and finish with a 2.27 ERA. Those projected stats have to make Jays fans excited at the prospect of their No. 2 pitcher putting up Cy Young Award credentials.
The most intriguing part has to be the fact that his ERA is down. He has only once completed a season with an ERA under 4.00. His 2.27 ERA shows that he is making all his pitches count and throwing them well by changing speeds and mixing in a healthy dose of off-speed pitches when needed.
His WHIP is down this year as well. In 2010, his year-end WHIP was 1.380, while in 2011 it fell to 1.288. This year it currently stands at 0.965, which is going to be hard for him to maintain over a full season, but if he continues this pace then he should see that number remain steady.
He has held hitters to a .201 batting average to this point and with Morrow heating up, hitters will have a tough time getting above the Mendoza line against him this year.
This is the Brandon Morrow everyone has expected to see since he came to the Jays just before Christmas 2009. It was a present that we opened very quickly and waited a while to get its full use. Morrow showed flashes of this potential over the last two years, but never has it been put together for him quite like this.
The Blue Jays have had some great, notable pitchers throughout their history and Brandon Morrow is on his way to earning his place among their ranks.