Breaking Down What Morris Claiborne Brings to Dallas Cowboys' Defense
May 10, 2012

Scott Cunningham/Getty Images
The Dallas Cowboys' first-round draft board was shaken up minutes into the 2012 NFL Draft when star LSU cornerback Morris Claiborne unexpectedly fell to the sixth overall pick, forcing owner Jerry Jones to move up and draft the prospect who they tabbed "elite."
A bold move. A smart move.
A move that gives the Cowboys' defensive backfield (which was not very good last season) an impressive physical talent that can step in immediately and line up across the star receivers of the NFC East. 
Names like Mike Jenkins, Orlando Scandrick and Terrence Newman had several issues in the defensive backfield last season, ranging from health issues to mental lapses to simply not being talented enough to keep up with offensive threats. However, that has changed since as the team signed former Kansas City Chiefs cornerback Brandon Carr to a lucrative contract and added Claiborne via the draft.
As usual, a significant aspect of drafting prospects (and adding free agents) is not evaluating talent, but fitting it into the scheme that the team runs. This is an interesting case with Morris Claiborne, who comes out of a heavy Cover 2 and 4 scheme at LSU.
Cover 2 consists of five underneath defenders with two deep in coverage . Claiborne's responsibility as the cornerback in this scheme was to defending the flats in a "soft" zone," which typically consists of a five to seven-yard landmark.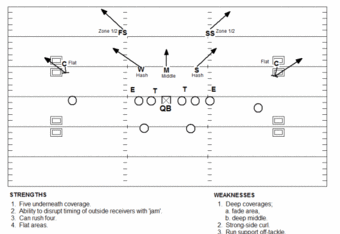 In the Cover 4 concept (a man-zone combination coverage), Claiborne was designed to play the No. 1 receiver in straight-man coverage, which is more along the lines of what he's likely to do as a Cowboy.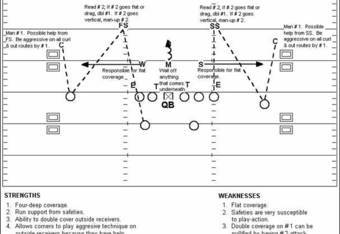 Because of the need of impact players in the defensive backfield, Claiborne is likely to start on the outside for the Cowboys, which means he's going to be put in pressure situations from the start. 
Pressure is the name of the game for the Cowboys defense under the reign of Rob Ryan, an aggressive defensive coordinator that is not afraid to throw the kitchen sink at offenses. Ryan looks to control where offensive passing games go as opposed to simply reading and reacting as most defensive coordinators do.
Because of this strong tendency to blitz, Ryan will leave his cornerbacks on an island in straight-man coverage while sending many of the front 7 downhill. This forces the cornerback to work even harder in coverage because one slip-up and it's potentially six points for the opposition. 
Fortunately for Claiborne, he has some experience in straight-man coverage because the LSU defense  utilized Cover 1, also known as "Man-Free."
This type of coverage has a single-high safety in zone coverage in the middle of the field while the rest of the defenders are in man coverage. In this case, Claiborne is once again in straight-man coverage, essentially being left on an island unless there's an inside-breaking route which he then undercuts for a pass breakup or a potential interception. 
When Claiborne had this responsibility at LSU, he did so in a tight alignment on the receiver before the snap, which is called "press-man." An instance of this was against the Georgia Bulldogs this past season, as pictured below.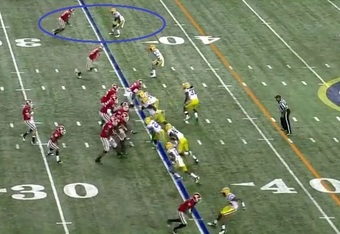 At the snap, Claiborne mirrored the Georgia receiver, who ended up running a vertical 9 or "Go" route. This may seem simple initially, but it said a lot about the talent of Claiborne, who was forced to open his hips and display his ability (or inability) to change directions. 
Claiborne's change of direction skills are exceptional as the picture shows.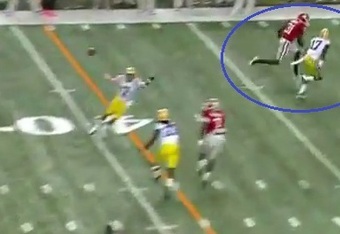 Later in the game, Claiborne once again had the same responsibilities and would be tested vertically. Here he showed great technique that is often seen with the best cornerback in the NFL, Darrelle Revis.
Claiborne was once again in a press-man alignment and was forced to open his hips to turn and run with the vertical route. In this process, he showed several great aspects that are often overlooked by draftniks. 
The LSU cornerback runs vertically with the receiver shoulder to shoulder, suggesting that he's mirrored the route and has not let the receiver get on top of it in order to create the big play down the field. When he's shoulder to shoulder with the receiver, he then turns his head to locate the ball thrown. This is a very important part of Claiborne's coverage because if he turns his head any earlier, he falls behind two or three steps and is beaten down the field.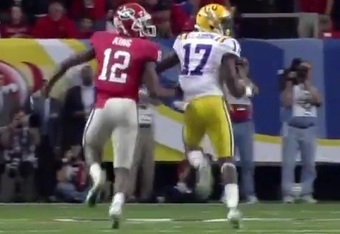 Once he's located the ball in the air, Claiborne does what New York Jets cornerback Darelle Revis does best: box out the receiver. Claiborne uses his long arms, strength and overall frame to get in front of the receiver and lean into him, boxing him out and cutting off his route.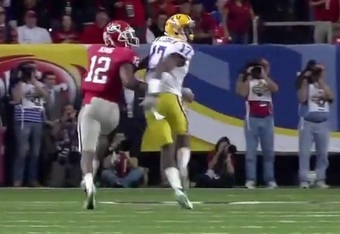 Last but not least is the tracking of the ball. He is able to locate the ball and follow through with its arrival, getting his hands on it and potentially creating a turnover. He fails to catch the ball in this instance, however, he has put himself in position to at least get a pass deflection, which is also a very good play. 
These simple actions by Claiborne proved to be crucial in cutting off the chance at a big play against the Georgia wide receiver and it will be just as important at the next level, especially in Rob Ryan's scheme.
Claiborne will be playing in a lot of deep zone coverage, serving as a deep third defender in the Cover 3 concept that Ryan uses behind his zone blitzes while also playing in a lot of man coverage in Cover 1 (Man-Free). Both coverage concepts play to the strength of Claiborne as he is able to attack the ball downhill aggressively in Cover 3 while being physical and utilizing quality technique in Cover 1 (Man-Free).
I expect Claiborne to excel in this schematic situation as it plays to his strengths and simply lets him use his great physical abilities in coverage.