Bradley Beal: Highlights, Analysis and Pro Projections
June 8, 2012

Doug Pensinger/Getty Images
Bradley Beal is one of the more overrated prospects in the 2012 NBA draft, in my opinion. He helped lead the Florida Gators on a somewhat surprising run into the Elite Eight of the NCAA Tournament, but I'm not sold on how his game will transfer to the NBA.
In a solid freshman campaign, Beal established himself as one of the Gators' best players. He averaged 14.8 points, 6.7 rebounds and 1.4 steals per game.
He made himself eligible for the NBA draft on April 13, and he is ready to pursue his dream of playing professionally.
Beal has received tons of love from ESPN's Chad Ford, but I'm not convinced he's the best SG in the draft. Much of this has to do with Beal's true height. Ford lists him at 6'5", while others like stat sheet.com (cited below) list him at 6'3".
If he measures at 6'5", it will change my opinion on his prospective effectiveness in the NBA. For now, I have my doubts.
Here is a scouting report on Beal that highlights his strengths and weaknesses.
(Height, weight and stats per statsheet.com)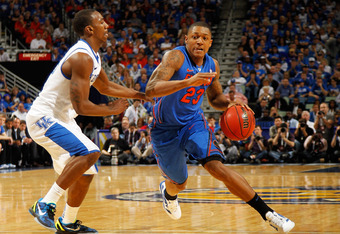 Chris Graythen/Getty Images
Profile:
Height: 6'4" (As of NBA Draft Combine) 
Weight: 207 pounds 
School: Florida
Date of Birth: June 28, 1993
Best NBA Position: Shooting Guard
College Stats: (Key Stats Underlined) 14.8 PPG, 34.2 MPG, 44.5 FG%, 33.9 3FG%, 76.9 FT%, 2.2 APG, 6.7 RPG, 0.8 BPG, 1.4 SPG
Skill Grades:
Athleticism - B
Size - B-
Intangibles - B+
Rebounding - A+
Ball Handling - B+
Defense - A
Shooting - A
Passing - B
Post Game - B
Basketball IQ - B+
Upside - B
Strengths:
Beal certainly has an NBA body. He is muscular and he has long arms. Both physical attributes allow him to absorb contact on the drive, and his core strength allows him to maintain body control. Beal plays hard and isn't afraid to take the ball to the basket strong.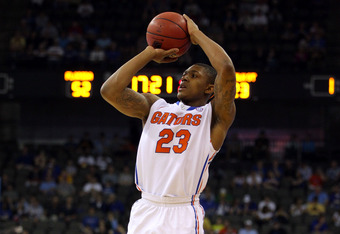 Doug Pensinger/Getty Images
He is also one of the best rebounding guards I've seen in years. He led the Gators this past season with almost seven boards per game. This is not a necessity for a SG, but it's certainly a plus.
This highlight shows some of Beal's best qualities:
Perhaps his best attribute is his beautiful shooting stroke. It is Ray Allen-like; though he only shot 34 percent from deep this past season, there are reasons to believe that will improve. He is a pure shooter.


Weaknesses:
My biggest issue with Beal is his height. Even at  6'4" and some change, I believe he will have a problem getting his shot off in the NBA. He doesn't possess freakish athleticism, and he could be a very stoppable weapon for a good defender.
He also has some brain farts with the ball; most glaring in my mind was the traveling violation in crunch time of the team's Elite Eight loss to Louisville.
He's only 18 years old, so he will definitely mature, but ball security is an area he'll need to improve. It could allow him to log some minutes at lead guard; this would help to eliminate the size disadvantage.


NBA Player Comparison: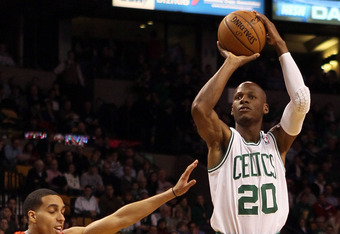 Elsa/Getty Images
Smaller, Moderately Less Accurate Ray Allen
Ray Allen is perhaps the greatest three-point shooter in history (career 40 percent three-point shooter with 6788 three-pointers made), but Beal isn't exactly on that level for a few reasons. He has a great shooting stroke, but his release isn't as quick, and the assumed height difference could be a hindrance.
Allen releases at the top of his jump, he appears to be taller and in his prime I believe he was a better athlete than Beal. 
Though Beal could have some of the success Allen has had from distance, he'll have to use his strength to rebound and develop a post game to maximize his effectiveness.  
Draft Projection:
Top Eight
Follow Brian Mazique and Franchiseplay.net for reactions, analysis and news from the world of sports and sports Video Games