Philadelphia Flyers: What Moves to Watch for This Offseason
May 10, 2012

Bruce Bennett/Getty Images
When the Philadelphia Flyers lost on Tuesday night to the New Jersey Devils, many fans wallowed in disappointment. It is never a good feeling to see your team eliminated, but the future is extremely bright for the Flyers. Many fans, including myself, are looking forward to seeing our young talent improve over the next couple seasons.  
While I don't expect this offseason to be anywhere near as hectic as last year's, it is still vital to make sure certain moves are made. Paul Holmgren is one of the best GM's in all of sports, and he has a few big moves to make this offseason.
The first decision is who to re-sign and who to let go. Matt Carle is the player that everyone wants to get rid of, and I fully expect him to be playing somewhere other than Philadelphia next season. He's a nice player, but not great by any measure, and probably did not play his best down the stretch in part because he figures he won't be back next year.
The next big name is Jake Voracek, who is a restricted free agent. Voracek showed flashes of brilliance this season, and at only 22 years old, he has a very bright future. He proved his value as a playmaking winger, and will be given even more time at the point on the power play next season. Holmgren needs to lock up Voracek for as long as he can, hopefully in the realm of $3-3.5 million a year.
It will be interesting to see what happens with Jaromir Jagr. I would like to see him in a Flyers uniform again next season, but I'm not sure how much he will want to be back. He says that he loved this past season, but he seemed to wear down as the season progressed and I think he could retire.
I also think some team may offer him way too much money to come back for another season, and the Flyers should not put up anything more than $2.5 million to keep him.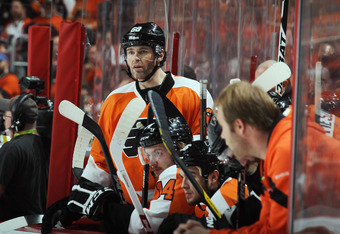 Bruce Bennett/Getty Images
Two other players in limbo are Pavel Kubina and Harry Zolnierczyk. Kubina should be let go, while the Flyers should retain Harry Z. Kubina just never got his footing in Philly, and with Nicklas Grossman signing a four-year deal, all signs point to Kubina being let go. Harry Z isn't a big impact player or anything, but he's great to have in the middle of the season when injuries start to pile up.
Next, the Flyers need to sign a defenseman. Brad Stuart, Cory Sarich, Michal Rozsival, and Barret Jackman are all notable UFA's whom the Flyers could pursue. Shea Weber and Ryan Suter are phenomenal players, but the former will probably stay in Nashville and the latter will get too much money. 
In the NHL Draft in June, the Flyers will probably have somewhere around the 23rd pick. They will need to target an athletic, physical defenseman like the Saskatoon Blades' Dalton Thrower. 
Lastly, I really hope that Holmgren tries to move James van Riemsdyk. JVR still has some value on the market, but with all the young forwards the Flyers have now, he is very expendable. If they hang onto him and he has another unproductive season, his value will drop significantly.
But this offseason, I think the Flyers could definitely find a team willing to trade either a high draft pick or good defenseman for JVR, and I think that would be a smart move for Holmgren.