The Reports of Tiger Woods' Demise Are Slightly Exaggerated
May 10, 2012

Sam Greenwood/Getty Images
There was a great discussion on Golf Channel's Morning Drive this morning with Erik Kuselias, Gary Williams, and Charlie Rymer concerning the current state and demise of Tiger Woods' golf game.
"Big Timer" Charlie Rymer, who was at TPC Sawgrass earlier in the week watched Tiger Woods practice, and was at Tiger's Tuesday press conference.
He made the point that there was no panic in the Tiger Woods' camp. Neither Tiger, nor his swing coach, Sean Foley, appeared to be particularly upset over his last two tournament results.
After Tiger got his first win in over three years in March at the Arnold Palmer Invitational, he raised the hopes of golf fans everywhere that he would be back on the path to domination.
Not so fast, my friend. A T-40 at the Masters and a missed cut at the Wells Fargo have taken golf fans by surprise and made Tiger take two steps backwards.
We are not accustomed to see Tiger miss cuts and not perform well in major tournaments.  He had posted T-4's in 2010 and 2011 at the Masters when he was still in the middle of his personal problems and swing changes.
Tiger detractors are happy to see Tiger struggle, while true golf fans are confused. 
Will the real Tiger Woods please stand up?
Here are some facts. 
Tiger is 13th in the FedEx Cup rankings, has one win, one runner-up finish, and four top-25's in seven starts in 2012.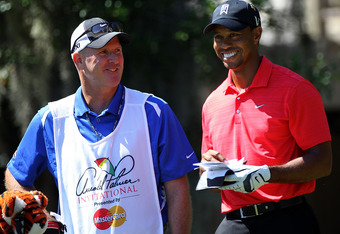 Sam Greenwood/Getty Images
He was forced to withdraw from the WGC-Cadillac and had a missed cut at the Wells Fargo. 
In the five tournaments that he has finished this year, he was T-25 or better.  That's a pretty good year for most players.
On Sunday at the Honda Classic he shot 62, finished runner-up and put a little scare into World No. 1 Rory McIlroy, who won the event.
Oh, and by the way, Tiger has moved from No. 55 all the way to No. 7 in the Official World Golf Rankings in the last four months.
Tiger is currently ranked second in Scoring Average, fourth in Total Driving, and sixth in the All-Around categories on the PGA Tour.  These numbers indicate someone who is playing very well.
Expectations for Tiger Woods are extremely high for the media and for golf fans. The way he has dominated throughout his career is the major cause for all the hoopla and made him the most popular athlete in the world.
Golf fans do not want to hear the word "process"— they want to see top-tens and wins. We are a five minute society. What have you done for me lately?
Chill out folks, Tiger is getting to a very good place. 
Someone once said, That which does not kill us makes us stronger.
Tiger Woods is getting stronger by the minute. 
He has exponentially raised the purses on the PGA Tour since becoming a tour member in 1996.  TV ratings, tournament ticket sales, and sponsorship dollars have all increased tremendously during Tiger's career. 
When Tiger plays people watch. When something is written or said about Tiger, people read and listen.
He is still the main draw in golf.
Tiger Woods is in the middle of building a golf game that will serve him for the next fifteen years, so allow him to compete and beat Jack Nicklaus' major tournament record.
The biggest questions about Tiger Woods are not the current state of his game.    
Question No. 1:  Will this new Sean Foley swing help ease the stress on his knees and legs to allow him to compete for the next ten years?
Question No. 2:  When will he win his 19th major title to overtake Jack Nicklaus and become the "Greatest Golfer of All Time"?