Transfer Gossip Roundup and the Strangest Football Stories from Premier League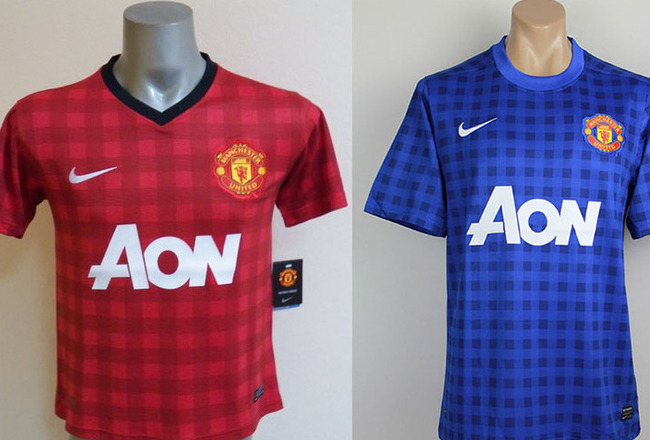 We all love a bit of gossip whether it relates to amusing stories, latest transfers or hideous new football kits that are set for release. Fans of the English Premier League are certainly no exception.
Some of the content within, you will no doubt have heard or read about already, but one should never be afraid to go over the facts again.
Without further ado, here are the latest 10 little bits of information that are currently lighting up Google's search engine.
Manchester United Kit 2012/13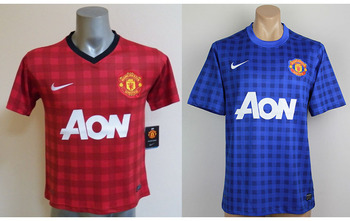 Apparently this will be Manchester United's choice of attire for the 2012/13 season.
With a design that looks slightly like my grandma's tablecloth, this kit probably trumps the 2009/10 rugby-esque design as one of the worst ever produced.
Robin van Persie Transfer Latest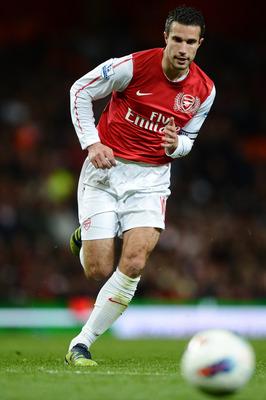 Laurence Griffiths/Getty Images
After Manchester City, Juventus, Real Madrid and Barcelona have all had their column inches filled with stories linked to Robin van Persie, it's now the time for Manchester United, it seems.
Alex Ferguson is reported to have already made inquiries for the Dutch international who has just over a year left on his current Arsenal contract.
If van Persie gets wind of United's 2012/13 home shirt, the deal could be scuppered.
Football Fan Tries to Win Back Girlfriend with Grand Gesture
Who says chivalry is dead? This guy's girlfriend, probably.
In an effort to win back former girlfriend "Sarah," our unlikely hero decides to wear a Tottenham Hotspur shirt outside Arsenal's Emirates Stadium whilst holding an "I love you Sarah!" sign and professing his undying love.
YouTube comments seem to be rather unforgiving.
Yaya Toure to Go Back to Barcelona?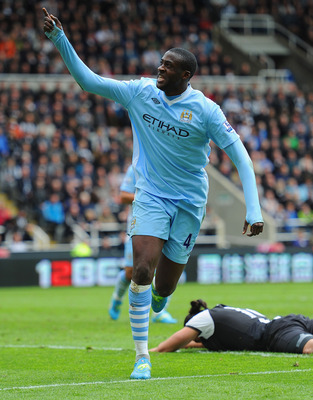 Michael Regan/Getty Images
Yaya Toure has apparently mentioned that he wouldn't mind going back to Barcelona should the Catalan giants come calling.
To declare this days before Manchester City's biggest game of the season is bizarre.
City paid £24 million for Toure in 2010 and would at least expect that money returned if they ever were to sell.
Liverpool Fans Still Incensed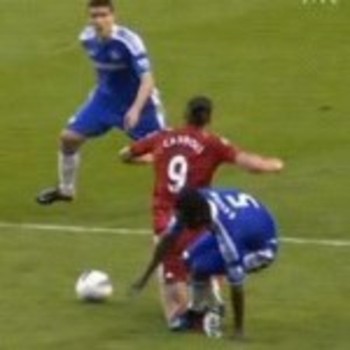 Despite Liverpool's excellent 4-1 victory against Chelsea on Tuesday, Kopites are still fuming at the disgraceful challenge on Andy Carroll by Michael Essien.
You can see the video here courtesy of whoateallthepies.tv. The more you watch it, the worse it gets.
Having received a yellow card on the night, Essien will escape any retrospective punishment for the "tackle."
Patrice Evra Out, Leighton Baines In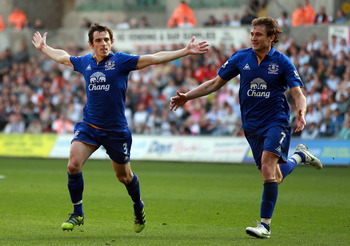 Richard Heathcote/Getty Images
Seemingly Patrice Evra is becoming surplus to requirements at Manchester United, despite being the club captain.
Leighton Baines is being tipped to replace the soon-to-be-31-year old left-back after The Mirror released an article suggesting United were set to bid £10 million for his services.
Gary Neville to Open a Hotel
Yeah, you heard me.
Gary Neville is set to open a hotel opposite Manchester United's Old Trafford Stadium—a move that Manchester United themselves are against.
Neville's 10-storey retail and leisure facility (hotel) is apparently set to be given the green light by planning officials.
The Mirror has come up with this delightful little montage of former TV soaps that feature the former United right back.
Roberto Di Matteo Ought to Start Job Hunting
Shaun Botterill/Getty Images
Roberto Di Matteo has got Roman Abramovich's number, it seems.
After Abramovich has hired and fired seven managers in the past eight years, Di Matteo is aware that he will likely be sacked in the summer—even if he adds the Champions League trophy to his FA Cup triumph.
The Champions League final will be held on May 19 at the Allianz Arena in Munich.
Impressionists Make England Euro 2012 Song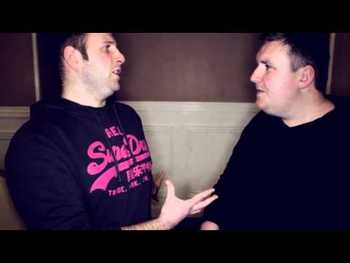 Liverpool impressionist Darren Farley and friend Paul Reid have collaborated together to produce an unofficial Euro 2012 anthem for England.
The impressionists imitate a host of current and former professional footballers on the track, including the likes of David Beckham, Andy Carroll, Wayne Rooney, Roy Hodgson, Rio Ferdinand, Peter Crouch, Steven Gerrard, Rafael Benitez, Fabio Capello, Michael Owen, Frank Lampard, Alan Hansen and Sir Alex Ferguson.
Apparently Wayne Rooney and Roy Hodgson rap. Enough said, really.
Arsenal to Nurture Another Young Talent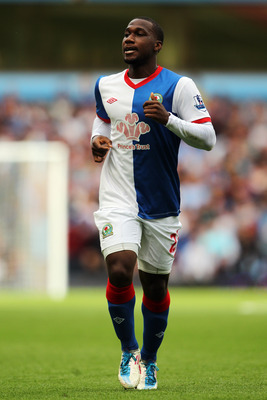 Dean Mouhtaropoulos/Getty Images
Blackburn Rovers winger Junior Hoilett is available on a free transfer in the summer—subject to a tribunal setting a compensation fee.
Arsene Wenger's Arsenal are the latest team to be thrown into the melting pot of names chasing the Canadian's signature.
Could it be that Arsenal are set to sign another young pacy star with bags of potential?
On Twitter? Follow me @petercwebster where I post all my B/R content.
Keep Reading