Predicting NBA Futures of Carmelo Anthony, Amar'e Stoudemire and Jeremy Lin
May 10, 2012

Jeff Zelevansky/Getty Images
For the New York Knicks, all eyes are now looking at the offseason after the Knicks were eliminated in five games by the Miami Heat Wednesday night.
Speaking of the offseason, does any team have more early questions to answer than the Knicks?
They have to find answers on many issues including if Carmelo Anthony and Amar'e Stoudemire can co-exist. Whatever the answer to that question is, general manager Glen Grunwald must decide on the futures of Stoudemire and Jeremy Lin, as well.
Fans are still weeks away from finding out the future plans for the Knicks as it relates to the 2012-13 season, but here's a look at how things could eventually play out.
Carmelo Anthony
The Knicks sold the farm for Anthony, and they will sink or swim with him. He's not going anywhere anytime soon, but that doesn't mean everything is good with Anthony in the Big Apple.
Since Anthony arrived, the Knicks are only 31-40 with both he and Stoudemire in the lineup, so something needs to be done. If Anthony is going to be a superstar, he has to elevate others around him, and that's something he has been unable to do.
Melo must learn to adjust and be less reliant on Meloball. That may work sometimes, as we saw in Game 4 and the month of April, but long-term success is doubtful if Anthony doesn't make his share of sacrifices as well.
Anthony will be in a Knicks uniform, but making the necessary sacrifices is something that I don't know if he can do.
Amar'e Stoudemire
The hot topic is going to be whether or not the Knicks trade Stoudemire, especially after a not-so-spectacular Game 5 performance.
Should they trade him? Personally, I say no.
For one, they won't get proper value for him given the fact that he's owed over $60 million and has bad knees and a bad back. There's also the fact that I would like to see how the pieces fit together with everyone healthy and a full training camp under their belt.
Having said that though, I expect Grunwald to shop Stoudemire aggressively in the offseason, but ultimately, I expect him in a Knicks uniform when the 2012-13 season tips off.
If he and Anthony still aren't clicking together by midseason, tough decisions will have to be made, and Stoudemire will go before Anthony.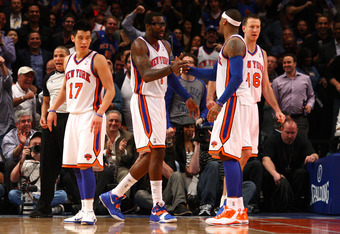 Chris Chambers/Getty Images
Jeremy Lin
The Knicks need a point guard, but does anyone know for sure that Lin is the guy?
He was great during his short stint running the Knicks' offense, but its way too small of a sample size to make an accurate decision on his future.
Committing to Lin long term right now is very risky, especially given the salary cap situation. If the Knicks backload a deal for Lin, they will run into severe cap problems down the road with Anthony, Stoudemire, Tyson Chandler and Lin eating up almost all of the cap.
The ideal situation would be to sign a Goran Dragic or Steve Nash and also keep Lin around as a backup for now. The problem with that, though, is that someone will throw Lin big money in the offseason.
Due to the Gilbert Arenas provision in the new CBA, no team can offer Lin more than the mid-level exception for the first year of his upcoming contract, and the Knicks have the right to match any offer. You would hope they could sign Lin cheaply and use the MLE on another player, but that's not possible right now.
The decision on Lin is the toughest one Grunwald has to make, and ultimately, I think Lin gets a three-year deal, which will make it very hard to improve the team in other areas.
Bottom line is the Knicks need a point guard. They just have to be sure that Lin is the right guy.