Cleveland Indians at Boston Red Sox Series Preview (May 10-13, 2012)
May 10, 2012

Jason Miller/Getty Images
Cleveland Indians Season Review
Record: 17-13
Series Record: 6-3-1
Strength of Schedule: .486
RPI (ESPN): 16th 
Standings: 4th AL, 1st AL Central
Games Back: 3 AL, -2 AL Central
Boston Red Sox Season Review
Record: 12-18
Series Record: 3-7
Strength of Schedule: .505
RPI (ESPN): 24th
Standings: 12th AL, 5th AL East
Games Back: 8 AL, 7 AL Wild Card, 7.5 AL East
After Chicken-and-Beergate allegedly knocked the Red Sox out of contention last year, manager Terry Francona found himself out of a job.
Bobby Valentine arrived with high expectations, but after a few pedantic criticisms of popular veterans and a slow start, Red Sox Nation appears ready to run Valentine out of town.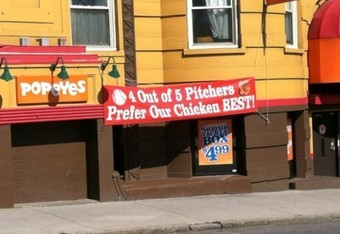 The clubhouse lost a longtime leader and a fan favorite when Jason Varitek retired in a Major League II-esque three-catcher dilemma, featuring former Indian Kelly Shoppach, 'Tek and the uniform printer's nightmare: Jarrod Saltalamacchia.
After Valentine intimated that Kevin Youkilis approached the game with less hunger than in his youth, Dustin Pedroia rushed to defend his longtime friend and teammate.
The reality slowly coagulates in Boston: Management comprised a small fraction of the problem in comparison to the gargantuan contract obligations at Yawkey Way, let alone the egos.
It cuts both ways, so they say. Live by the big-market paradigm, die by the big-market paradigm. The Yankees dismissed legendary skipper Joe Torre in 2007 with incredible success. Boston has the money to spend its way back into contention, but not this week.
Meanwhile, the Tribe will arrive on a two-game skid after winning an impressive three series in a row. In a four-game series against the White Sox earlier this week, the Indians split with Chicago, dropping their record to 17-13. 
Homecomings
Derek Lowe returns to Fenway Park, where he made his career and played an integral role in slaying the Curse of the Bambino in 2004. While images of Pedro Martinez and the bloody-socked Curt Schilling resonate in the collective memory, Lowe clinched all three playoff series for the Sox in '04.
Lowe immediately took a four-year, $36 million contract to play for the Dodgers after the '04 win, but will always enjoy his canonized status in Beantown for helping to shatter "the Curse."
Additionally, brand-new Indian Johnny Damon along with former Cleveland Indian Manny Ramirez represented two of the most recognizable faces of the Boston Red Sox franchise of the mid-2000s.
Damon spurned the Red Sox for the hated New York Yankees—the contract very unlikely factored in, so far as the Sox faithful are concerned.
Red Sox fans are nothing if not colorful; the welcome should be interesting.
Justin Masterson and Nick Hagadone also make a return to Fenway, though they were both still prospects when the Sox traded them away along with Bryan Price in exchange for All-Star catcher and tearful departer Victor Martinez.
It should be noted that though Martinez continues to play quality baseball, Masterson palpably has the potential to develop into a long-term Indian.
Thursday Night: Beckett vs. Lowe
Josh Beckett caught some heat in the Boston media when he played golf before missing a start last week due to soreness.
Manager Bobby Valentine demonstrated that he's learned his lesson from the Youkilis incident, and defended his pitcher when given the opportunity.
Beckett makes his first start in the wake of the infamous golf round against former teammate Derek Lowe Thursday night at Fenway. The two squared off in Lowe's only previous return since leading the Red Sox to the World Series title in 2004, a 3-0 Red Sox victory over Lowe's Braves in 2009. 
It's a Bird, It's a Plane! It's...SuperHannahan!
Jonathan Daniel/Getty Images
Jack Hannahan has continued to play All-Star-caliber third base, despite some early-season fumbles. Despite five errors, Hannahan's already nursed his fielding percentage back to .938 and turned seven double plays.
The Indians acquired Hannahan with eyes on his glove, but Hannahan's bat has struck some of the Tribe's most important blows of the season. In situations with runners in scoring position and two outs, old No. 9 is hitting a frosty .571.
Hitting .291 with seven extra base hits, Hannahan continues to display the ability his coaches saw when he beat out Lonnie Chisenall for the job in spring training.
Middlebrooks-Mania
Opposite Hannahan at third base for the Red Sox will start rookie third baseman Will Middlebrooks. He failed to muster a hit last night for the first time in his six MLB appearances with the Red Sox.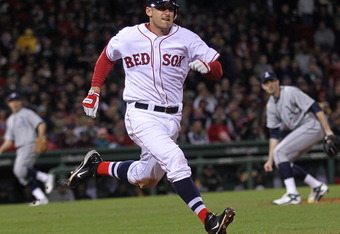 Jim Rogash/Getty Images
The young third baseman slugged three home runs in his first five appearances for Boston and is hitting .346 after 27 plate appearances, echoing the kind of excitement Tribe fans felt with the emergence of Jason Kipnis in the summer of 2011.

Carl Beane
1952-2012

Red Sox PA announcer Carl Beane has passed away, suffering a heart attack leading to an auto accident in Sturbridge, MA Wednesday afternoon. Thursday night's game at Fenway could very well be a solumn occasion for both sides, as the Indians lineup will feature two members (SP Derek Lowe, CF Johnny Damon) of the Red Sox 2004 World Series team. Beane won the job in a competition in 2003 and endeared himself to the Fenway faithful with his sweet baritone. He was 59. 
You can follow me on Twitter: @StepanekButton