Lamont Peterson's Failed Drug Test Proves Strict Testing Is Needed for All Bouts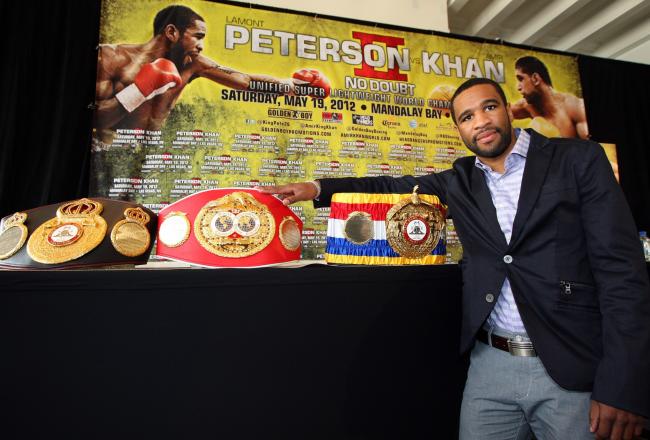 Ned Dishman/Getty Images
The cancellation of the rematch between Lamont Peterson and Amir Khan proves steroid usage in all sports, and specifically in boxing, has reached a point where Olympic style drug testing is necessary for all bouts.
After gaining an inspirational victory over Khan in their first matchup, Peterson has disgraced himself, and the sport, by failing a drug test. His actions forced the cancellation of the rematch. ESPN's Michael Woods reported these specifics on the situation:
It emerged that a sample taken on March 19 came up dirty, for an anabolic steroid chemical; ESPN's Dan Rafael reported that Nevada athletic commission chief Keith Kizer told him that Peterson's counsel in fact admitted that the substance which caused the red flag was synthetic testosterone. Another sample, from the same specimen, was tested, and also was red flagged by VADA (Voluntary Anti-Doping Association), the outfit run by ex Nevada ring doc head Margaret Goodman.
Critics may dismiss Floyd Mayweather Jr.'s insistence for strict drug testing in his opponents as over-the-top posturing, but this proves it should be standard practice in all bouts. There is nothing worse than watching a thrilling victory, only to have the results doubted later, because of a cloudy urine sample.
Some may even doubt the advantage a fighter like Peterson could have, if the drug had gone undetected. Woods spoke with noted steroid expert, BALCO founder and convicted conspirator of steroid distribution, Victor Conte. When asked if using synthetic testosterone would give Peterson an unfair advantage, Conte said this:
"That would enhance recovery, accelerate healing and tissue repair, and you can train harder and recover quicker," he said, "and it helps build lean muscle mass as well. I believe usage is rampant, and has been for a very long time."
None of this is surprising, but it's still disturbing to read for anyone that loves the sport.
Should Lamont Peterson face a ban from the sport? If so how long?
Once any possible appeal process has completed, fighters who are found to have been tainted by performance enhancing drugs, should face a ban that increases for every offense. They should be stripped of their titles, and not allowed to fight for a championship for two years.
It may seem harsh, but this offense is perhaps more serious in boxing, than it is in any sport—besides MMA.
In boxing, you're not hitting a baseball, or tackling a human being in pads; you're punching a man in the face and body. Giving one man a chemically enhanced advantage over his opponent could be even more dangerous than the sport is naturally.
God forbid a fatality or serious injury occur at the hands of a fighter who is found to be on steroids. Imagine the law suits against him, the boxing commission and every entity responsible for ensuring the fight's legitimacy.
The boxer himself could even be tried for the action as a criminal act.
This is serious business, and the boxing commissions must make the proper changes to ensure this act doesn't continue to taint the sport, and put fighters in unnecessary danger.
Follow Brian Mazique and Franchiseplay.net for reactions, analysis and news from the world of sports and sports Video Games
This article is
What is the duplicate article?
Why is this article offensive?
Where is this article plagiarized from?
Why is this article poorly edited?