Boston Red Sox: Fans Should Boo Josh Beckett, Not Johnny Damon
May 10, 2012

David Banks/Getty Images
On Thursday, the Boston Red Sox will face the Cleveland Indians in the first of a four-game series against the Tribe.
In what some might consider his final trip to Fenway Park, an old staple of the Sox lineup will be returning once again.
He won't be wearing pinstripes. Nor will he be wearing Tampa Bay or Detroit colors.
He will not be bringing a .300 batting average in tow, either.
What Johnny Damon will be bringing with him is a chance for Red Sox Nation as a whole to forgive, forget and remember the good times.
In the four years he spent in Boston, Damon was the epitome of what Red Sox fans love to see from their players: passionate and hard-nosed.
He played in 597 games in Fenway, second only to his time spent in Kansas City.
Sox fans can remember the Captain Caveman look he had upon the team winning its first World Series in 86 years back in 2004.
The ladies loved him, many sporting "Mrs. Johnny Damon" shirts. It was OK for guys to like him as well, because he was a dirt dog.
In essence, he was the total package.
While with Boston, the two-time All-Star was only the fourth leadoff batter in the history of Major League Baseball to drive in more than 90 runs in a season—the 2004 season, to be exact.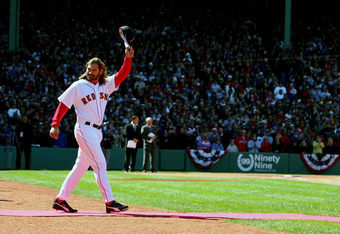 Ezra Shaw/Getty Images
Damon was a key component in the playoffs that led to the team's 2004 World Series victory.
In Game 7 of the 2004 ALCS, Damon hit not one, but two home runs, one of which was a grand slam, to lead the Red Sox to victory over the Yankees.
In the World Series, he added another home run, as Boston would go on to win the series in four games against the St. Louis Cardinals.
Some fans have never forgiven him for going to the Yankees after leaving Boston. He went for the money, something that we all can appreciate in some regard.
Since his departure from Boston, Damon has been a steady, reliable player, only recently starting to show signs of his age.
When he comes to town this weekend, he is bringing a career-low .167 batting average and a measly .460 OPS. In short, his time as a viable major league ballplayer is up.
So tonight, when whoever the announcer will be to replace the late Carl Beane announces Damon's name, fans should cheer him proudly. He gave his heart and soul to the Red Sox for the prime years of his career.
After that, Sox fans should boo wholeheartedly as Josh Beckett is announced.
He may have performed well at times in Boston, but he has never shown an ounce of heart as compared to Damon.
It's obvious at this point that he never will, either.