Frank Lampard: Redemption Beckons for Chelsea and England Star Fans Love to Hate
May 10, 2012
Clive Mason/Getty Images
Why do so many football fans hate Frank Lampard?
It's a question the Chelsea and England midfielder will have pondered many times during his long and successful career, and one that remains without a rational answer.
West Ham fans, for example, hate Lampard purely for the fact he left them to join their London rivals Chelsea.
In a sense, that's flattery of the highest order. "Fat Frank" Lampard was their player, their bright young thing, and the Hammers wanted to keep him forever. But, sadly, the ambition in East London was some way short of what Lampard was promised just off the King's Road.
England fans hate Lampard for his perceived failings on the international stage. Lampard's made a career of scoring goals and winning trophies at Chelsea, but for whatever reason we've never the seen the best of him in an England shirt—not consistently anyway.
Add to that, the Steven Gerrard problem. England's two premier central midfielders of their generation should have combined with devastating effect on the international stage, but theirs has been a difficult marriage.
The man who takes the blame is usually Lampard. But is that a fair reflection of their respective talents? Or simply the heavy strain of anti-Lampard bias which permeates England fans?
If it's the latter, how do we explain it?
Alex Livesey/Getty Images
Lampard is not a dirty player. He's not a diver, rarely commits cynical fouls and is no worse than your average Premier League star when it comes to berating referees.
In terms of performance, he's scored 23 times in 90 appearances for England, which is four more goals than Gerrard has managed in the same number of games. And he's never given anything short of his best.
Off the field, he's polite and eloquent in interviews, liked by the journalists who are close to him and generally steers clear of controversy.
As far we know, Lampard has never shot an intern with an air rifle (Ashley Cole), cavorted with prostitutes (Wayne Rooney, amongst others), slept with the mother of a teammate's baby (John Terry) or punched somebody in a nightclub (Steven Gerrard).
We shouldn't forget his part in an ill-advised 2001 drinking spree, 24 hours after 9/11 and surrounded by mourning Americans at Heathrow, but you won't hear that mentioned as justification for Lampard hatred very often.
Perhaps, as Barney Roney pointed out at Guardian.co.uk, it's a class issue?
Lampard, you see, is middle class. Or at least, he is perceived dimly to be middle class: and middle classness is the game's last great taboo, a social grouping that in football circles is employed as a term of unambiguous abuse, as though being middle class is in itself evidence of loyalty-shortfall and backbone-absence and fundamental personality-castration; rather than simply indicating a middling education, an urge to say "thanks cheers" at least four times during any basic retail transaction and the likelihood at least one of your parents is a genial history teacher.
He could be onto something. Maybe football fans don't feel they can relate to Lampard—a player who keeps his emotions largely in tact, and from the outside can give an impression of ambivalence?
But nobody achieves the kind of prolonged success Lampard has without caring.
He cares deeply—about Chelsea and about England—and the fire burns as bright inside him now as it did 17 years ago, when he made his senior debut for Swansea City on loan from West Ham.
In the first half of this season, there were many who said he was finished at Chelsea. Andre Villas-Boas wasn't starting him and rumors were rife he'd be off into the sunset this summer—to the MLS, China, maybe even to join Diego Maradona in Dubai.
Lampard's England future was in the balance, too. First, Fabio Capello dropped him. Then Stuart Pearce overlooked him when he took over in February.
The Lampard haters could barely contain their excitement.
And then came the moment that changed everything. Chelsea sacked Villas-Boas and appointed Roberto Di Matteo.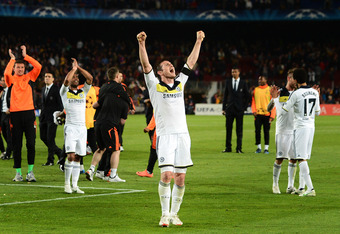 Jasper Juinen/Getty Images
Suddenly, Lampard was back in the reckoning. He started their Champions League second leg against Napoli, and starred in a stunning 4-1 turnaround that reinvigorated the Blues' season.
Another goal followed in Chelsea's home victory against Benfica in the quarterfinals, then another in the Premier League against Fulham, and another in their 5-1 battering of Tottenham in the FA Cup semifinals.
Up next, the mighty Barcelona in the Champions League semis and a chance for Lampard to prove his worth against the best midfield in the business.
When his moment came in the first leg at Stamford Bridge, he took it. Lampard dispossessed Lionel Messi and sent Ramires away with a superb pass. Ramires found Didier Drogba and Chelsea had a lead to take to Camp Nou.
In the second leg, Lampard once again rose to the challenge. With his team trailing 2-0 and down to 10 men, he found an exquisite pass to release Ramires and the Brazilian did the rest. It was the moment that breathed Chelsea back into life.
Since that remarkable night in Barcelona, Lampard has added another defining performance to his resume—against Liverpool in the FA Cup final. It was his pass that set up Drogba for Chelsea's second goal, which would prove their winner.
His next challenge is leading Chelsea to the club's first Champions League triumph, in the final against Bayern Munich on May 19. After that, it now seems unthinkable he will not make Roy Hodgson's England squad for Euro 2012.
Somehow, from a season that appeared to spell his demise, Lampard has salvaged three monumental shots at redemption. He's already taken one of them. And if Chelsea beat Bayern, the 33-year-old will go to Euro 2012 with the opportunity to answer his England critics in the most emphatic way possible.
Here's what he told UEFA.com:
Realistically, it's going to be one of my last tournaments, so I'd love to be part of an England squad that starts well and looks like we can go all the way; and then hopefully my part can be big in that, and I can help the team.
Based on his comeback story this season, you wouldn't bet against Lampard being a key player for England this summer.
The Lampard haters won't like it, but there's much to love about Fat Frank right now.
Vote for B/R's Set Piece as "Best New Blog" at the FBAs by Tweeting "@TheFBAs @BR_Soccer #new"