Peterson vs. Khan Cancelled: 3 Fights Amir Khan Needs to Get to Floyd Mayweather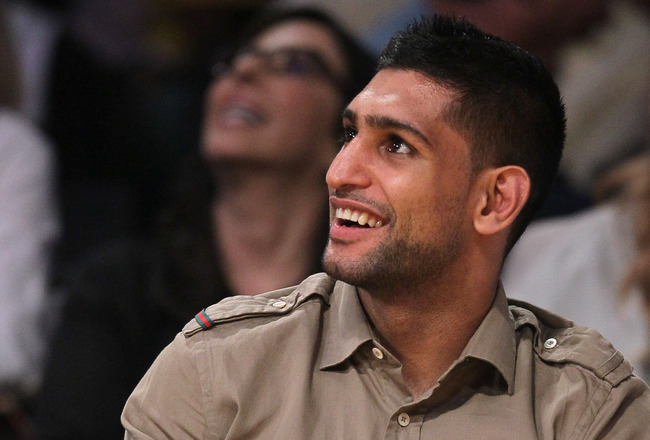 Amir Khan
Jeff Gross/Getty Images
Lamont Peterson vs. Amir Khan is officially cancelled due to Peterson (29-1-1, 15 KO) testing positive for testosterone. Khan needs a new opponent—how about a new weight class too?
Khan (26-2, 18 KO) has called out Floyd Mayweather (43-0, 26 KO) for quite some time, but Khan has yet to make the necessary move from junior welterweight to welterweight.
Now that his loss against Peterson has come under suspicion and their rematch cancelled, Khan has a chance to move directly to welterweight.
Here are three opponents who can assist Khan in his goal of earning a shot against Mayweather.
Victor Ortiz on June 23 at the MGM Grand in Las Vegas, Nevada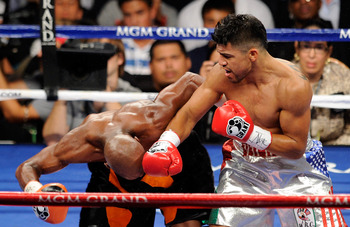 Victor Ortiz swinging at a bent over Floyd Mayweather
Ethan Miller/Getty Images
Victor Ortiz (29-3-2, 22 KO) is known more these days for his embarrassing knockout loss to Floyd Mayweather last September.
Mayweather dropped Ortiz to the canvas while he was over-apologizing for a clearly intentional headbutt.
Though Mayweather was winning at the moment, the fight was still competitive at the time of the stoppage.
If Khan can decisively defeat Ortiz, especially by knockout, he will hold a more impressive win over a recent Mayweather foe.
Such an accomplishment will help hype up an eventual showdown with the undefeated champion.
Ortiz is currently scheduled for a June 23 rematch against Andre Berto (28-1, 22 KO), an opponent he defeated in a Fight of the Year candidate last year.
Khan could take Berto's spot if Khan's promoter, Golden Boy, can "convince" Berto to take some "extra time" to recover from his bicep injury that delayed the Ortiz rematch from its February 11 date.
Kell Brook on July 7 at the Motorpoint Arena in the United Kingdom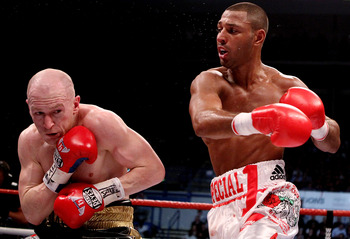 Kell Brook (right) beating up Matthew Hatton
Scott Heavey/Getty Images
Kell Brook (27-0, 18 KO) is trying to finalize a fight against journeyman Carson Jones (34-8-2, 24 KO) on July 7 in England.
Brook and Khan have traded words in the past, because each is vying to become Britain's next big star.
Though Brook has fought the majority of his professional career at welterweight, he has fought very pedestrian competition.
By comparison, Khan has fought a much more dangerous selection of opponents. This will surely give Khan the advantage in experience to combat Brook's size and comfort at the weight.
Devon Alexander on August 18 in St. Louis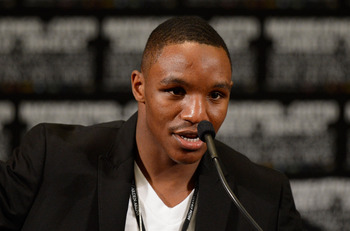 Devon Alexander
Ethan Miller/Getty Images
Devon Alexander (23-1, 13 KO) has an August 18 date with Showtime locked down, just no opponent. Amir Khan would likely have to come to Alexander's hometown of St. Louis to make the fight.
To make sure he doesn't get robbed, he can get a British referee and maybe some British judges for the fight.
Former junior welterweight champion Alexander is only one fight deep into his welterweight campaign, so he's a perfect test of Khan's ability to thrive in the new weight division.
Keep Reading