How Extension of Mike Woodson Would Impact the NBA in Upcoming Seasons
May 10, 2012

Jonathan Daniel/Getty Images
Despite initial reports (via New York Daily News) that the New York Knicks are in the midst of negotiating a contract extension for head coach Mike Woodson, it remains unclear how close the two sides are to actually putting a deal together.
In fact, Woodson told the media on Tuesday that there hadn't been any talks yet, leaving James Dolan's intentions for the Knicks future coaching staff still in doubt.
While New York may still have interest in Phil Jackson, it would be hard for Dolan to ignore the success Woodson had with a healthy roster late in the regular season. No one can blame him for what happened in the first round against the Miami Heat.
And, of course, there's been no official indication that Phil Jackson has any interest in this gig.
Maybe it's worth giving Woodson an extended look.
There's something to be said for giving this roster some continuity and the opportunity to work under the same coach's system for a full offseason. There may be even more to be said about how well Carmelo Anthony played under Mike D'Antoni's replacement.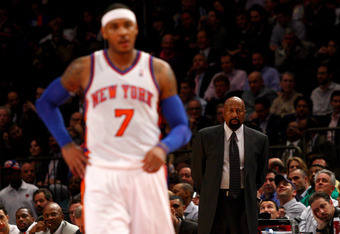 Chris Chambers/Getty Images
If Anthony and Amar'e Stoudemire are unable to develop an improved chemistry, it wouldn't be surprising for the Knicks to build around 'Melo with Woodson running the show. Anthony's voiced his support for the coach, and the last thing this club needs is a perturbed superstar.
That doesn't necessarily mean Stoudemire wouldn't remain under a Woodson regime.
Moving his massive three-year deal wouldn't be easy, and any deal that failed to return equal value could be a public relations nightmare.
But Stoudemire has started to feel like something of a hold-over from a failed experiment with D'Antoni. As good as Amar'e looked last season under the man who coached him in Phoenix, the end of the season was a struggle for Stoudemire on and off the court.
Woodson may be the first step in restoring a defensive identity to the New York Knicks and building a postseason culture around Anthony, Tyson Chandler and Jeremy Lin.
The biggest question mark for Woodson will remain his ability to mold the Knicks into a postseason contender. While it may be unfair to blame him for this year's implosion, assuming next time will be any different may be a bit naive.
It's worth seeing how the next season goes under Woodson. If he's unable to take New York to the next level, that bridge can be crossed at another date. Perhaps we'll find Phil Jackson on the other side.