Who Should Close for the Los Angeles Angels? Hint: There's More Than One Answer
May 10, 2012

Hannah Foslien/Getty Images
If you're a fan of the Los Angeles Angels of Anaheim, I'm going to ask you to do me a favor.
I know I haven't been here at Bleacher Report for very long, and I probably haven't earned this type of trust from you yet, but I want you to take a leap of faith with me.
I want you to put aside everything you know for the moment, everything you've seen and everything you've read up until now.
I want you to do this, and I want you to pretend with me, despite all evidence to the contrary, a scenario in which the Angels might actually require a closer on a somewhat regular basis this season.
I know, I know, it's hard to imagine for a team that has struggled with both scoring runs and keeping their opponents from doing the same.  With a league-high seven shutouts recorded against them in only 32 games, the Halos' offense continues to sputter, and the pitching staff—Jered Weaver notwithstanding—has been equally as disappointing.  Ervin Santana and Dan Haren, penciled in conservatively for 15 wins apiece, are a combined 2-9 and as a result, the team ranks 22nd in save opportunities heading into Wednesday night's game.
That's why I went all Jim Mora when I got my assignment this week to examine who should be the Angels' closer.
"Closer??? Don't talk about… Closer???  You kidding me???  Closer??? I'm just hoping they can win a damn game!"
But, being the eternal optimist that I am, I went ahead and imagined a world where the team turned things around and suddenly started performing up to their potential like they did when they ran roughshod through the Cactus League during spring training.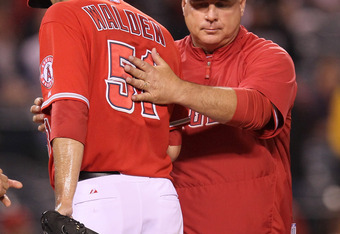 Stephen Dunn/Getty Images
In that scenario, the Angels would appear to need an effective closer to finish off games so they don't blow late-inning leads like they did too often last year.
So back to my earlier question:  Who should be the Angels' closer?
Let's start with who it most definitely should not be, and that's Jordan Walden.  The 24-year-old
was given every opportunity to follow in the footsteps of Troy Percival and Francisco Rodriguez but for whatever reason was not able to get the job done.  Most likely because his money pitch, the fastball, has zero movement on it and in this day and age, if your pitch isn't moving, it's getting hit.
Walden still has plenty of potential and can still carve out a role on the team but being a closer requires a certain mindset and you can't exactly learn your way into that job, particularly not on a team that has hopes of making the postseason.
To the casual observer, the team has three choices:  Elevate someone from within the bullpen, like they are attempting to do with Scott Downs, promote someone from the minors or trade for a closer. 
As to the first option, Downs looked OK in his last two appearances prior to getting hurt, converting both save chances after assuming the role.  And before that he'd been effective in the set-up role, earning five holds.  But he doesn't exactly have "closer-stuff", does he? 
He's not overpowering and can't summon a strikeout when needed.  He's more of a pitch-to-contact type, and unless your last name is Rivera, those traits don't generally do so well in the closer role.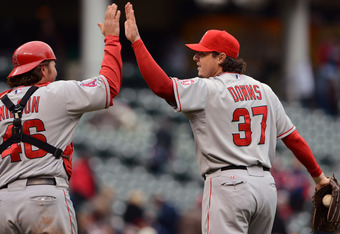 Jason Miller/Getty Images
What he does do is get people out, as evidenced by his very respectable 0.93 WHIP and the fact that he has yet to yield an earned run this season.
The second option is to promote someone from the minors.  The leading candidate is Brad Mills, who pitched well enough in spring training to be seriously considered for a role with the big club.  Mills has pitched well for (AAA) Salt Lake City, going 2-2 with a 2.51 ERA in six appearances, four of which were starts.  He has similar stuff to Downs in that he's not a big strikeout guy and relies more on deception and changing speeds to keep hitters off balance.
The third option is to trade for a closer, which the team hopes it did when it recently acquired set-up man Ernesto Frieri from the San Diego Padres in exchange for a pair of minor leaguers, IF Alexi Amarista and P Donn Roach.
Frieri was 1-0 with a 1.98 ERA and two holds for the Padres while striking out 22 in only 13.2 innings pitched.  He made his third appearance for the Angels with one out in the eighth inning of Wednesday night's game against the Twins.  With the team leading 6-2, Frieri walked one and struck out two, touching 94 on the radar gun.  Both strikeouts came on pitches way out of the strike zone and he generally had a hard time finding the plate.  Still, he's now struck out six and allowed no earned runs in those three appearances and if things go as planned, he is expected to get his share of save chances if and when they come up.
So which option do I favor? Actually, none of the above.
None of the options I discussed will solve the Angels' need for a traditional closer because none of these guys are traditional closers.  That's why I suggest they go a different route altogether:
Abandon their search for a closer.
Just tear out the page in the book that says you have to insert a new pitcher at the beginning of the ninth inning to get the final three outs of a save situation.
In the words of any Yankee fan, "Fuhgeddaboutit."
The traditional closer is going the way of the dinosaur, anyway.  I mean, nearly half the teams (14 out of 30, to be exact) have replaced their closers already this year, either due to injury or ineffectiveness.
As we speak, stat-heads around the world are no doubt coming up with advanced metrics of why you no longer need a closer to win ball games, but I'll save them some time and just state the obvious:
Closer by committee.
That's right, when Mike Scioscia makes the call to the bullpen, regardless of what inning it is, he should summon the pitcher he wants and let him pitch until he runs into trouble.  Why take out a guy who just pitched a 1-2-3 eighth inning?  If he's got good stuff that night, leave him in there!
Or even go situational, with a lefty vs. lefty followed by a righty vs. righty in the same inning.  Use a guy who has a good track record against a particular hitter. Heck, play a hunch even.
The bottom line is, managers think—some would say over-think—every other aspect of the game, so why should they be expected to continue to mindlessly hand the ball over to a closer when the ninth inning comes around simply because it's a "save situation?"
Put the control back into the manager's hands.  Let him decide who is going to pitch to whom.  If the Angels do that, they will be in much better shape this season than trying to fit one of their square pegs into a round hole—a hole that apparently is no longer even necessary to win games.