Ohio State Football: Former Buckeyes QB Terrelle Pryor Opens Up About Scandal
May 10, 2012

Kevin C. Cox/Getty Images
Former Ohio State and current Oakland Raiders quarterback Terrelle Pryor is infamously known for his major role in the memorabilia-for-cash and tattoos scandal that resulted in a five-game suspension for him and a forced resignation for Buckeyes coach Jim Tressel.
Pryor, who had sold a handful of player-earned gifts—including his gold pants as a freshman—suffered the consequences.
The freakish 6'6", 230-pound athlete felt pressured by the fans and media to forgo his senior season and declare for the NFL supplemental draft, which was held on August 23. Unfortunately for him, he missed the final week of training camp and then was suspended the first five games of the regular season because the league felt it was only fair after he applied after the deadline.
Pryor was not allowed to participate in practices or team meetings, preventing him from learning the offense and developing as a pro quarterback so early in his career.
According to Jim Trotter of Sports Illustrated:
It was extremely hard considering the circumstances. I couldn't be outside with the team. I couldn't meet with the team. I couldn't even get paid by the team during the suspension. It was hard...but it just killed me that I didn't know the stuff that I was supposed to know. That was the worst part. I also couldn't compete. That's what really killed me.
The majority of Ohio State fans could care less of Pryor's struggles after the way he left the program. Many believed he was entirely at fault for Tressel's abrupt resignation and the NCAA's ruling of a one-year postseason ban and scholarship reduction.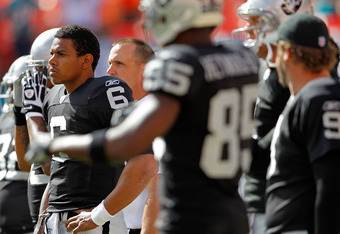 Mike Ehrmann/Getty Images
And who could blame them? The speculation was that this collegiate sensation of a quarterback sold his memorabilia for personal recreation while receiving free tattoos and nice cars.
But that wasn't the case notes the SI article:
The reason why I did it was to pay my mother's gas bill and some of her rent. She was four months behind in rent, and the [landlord] was so nice because he was an Ohio State fan. He gave her the benefit of the doubt and she said, "My son will pay you back sometime if you just let me pay you back during my work sessions." She ended up losing her job, and she and my sister lived there. Let me remind you it was freezing cold in November, December, and she's using the oven as heat.

That's what I did as a kid. I was telling the NCAA, "Please, anything that you can do. I gave my mother this so my sister wouldn't be cold, so my mother wouldn't be cold." They didn't have any sympathy for me. It's not like I went there and bought new Jordans. It's documented...I don't think I deserved [being punished] in that way, because of the reason I was doing it. I felt like I was doing God's work in a way, and I was getting driven into the ground.
Pryor also added the fact that he "made a mistake as a freshman," but was "being attacked" and felt as if he couldn't do anything right.
However, the past is behind him and the future is still bright.
But it's a new day and I'm feeling better. It was humbling, but I learned from it...I'm just trying to be the best person I can be and best quarterback I can be.
Pryor, who possesses prototypical size and blazing speed (4.38 40-yard dash), will battle Matt Leinart this season in the hopes of backing up Raiders starting quarterback Carson Palmer.
Former coach Hue Jackson was recently fired and replaced by the Denver Broncos' defensive coordinator, Dennis Allen, who brings a brand new playbook and represents a clean slate. He has taken a liking to Pryor, who will have a full offseason to show off his skill set and continue improving.

Follow this reporter on Twitter: @Tyler_Waddell