Detroit Lions: 5 Lion Veterans You Can't Kick to the Curb Just Yet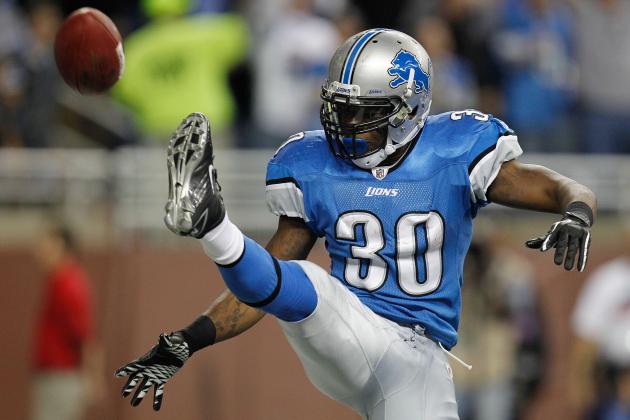 Gregory Shamus/Getty Images

There are five Detroit Lions veterans that many would like to have replaced, but at the moment, they probably will have a large impact on the team's success or failure in 2012.
Everybody loves potential. It's intoxicating to project the success of young players based on their collegiate resumes. But, even great college players can be huge busts at the professional level.
Anybody out there still have Ryan Leaf in their keeper league?
In the salary cap era, every NFL team has problem spots, positions that both the fanbase and coaching staff realize are not the strength of their team. That's why we love the untapped potential of young players with manageable contracts.
Whether it's ability, professionalism or simply lack of depth, all 32 teams can point to slots on the roster that force coaches to devise schemes to mask the obvious deficiencies.
The Lions are no different. For every Matthew Stafford and Calvin Johnson who instills a Zen-like calm to a glance of the roster, there is another player that gives you a queasy feeling that a mental or physical gaff is imminent.
Following are five veterans that although you may not love them, you can't pack their bags quite yet because they will play a major role for the Lions in 2012. Here is the first offseason edition of The Van Etten V…
Begin Slideshow

»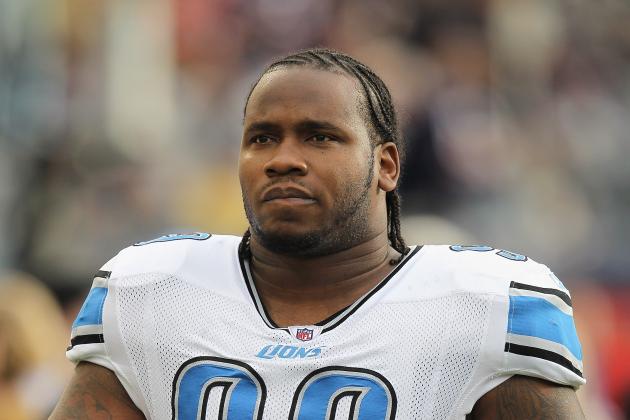 Jonathan Daniel/Getty Images

Did you ever start dating the girl who could drink your buddies under the table and soon realized your well-being was better served with the former girlfriend you shared soda and popcorn with at the movies?
Nick Fairley is starting to look more and more like Mitch Ryder's "Devil With A Blue Dress."
We've all gotten behind the wheel when we shouldn't have, one or five "pops" too many, but I can confidently assume few blew by a cop at a +100 MPH clip with booze on the breath.
Then tack on Fairley's run in with authorities just weeks earlier for drug charges that stemmed from him speeding in his Escalade again and his stupidity skyrockets to a stratosphere even Charles Rogers can't believe.
To steal a line from Cool Hand Luke, "What we have here is failure to communicate."
Although he possesses immense talent that allowed him to dominate in college, Fairley's decision-making skills show he could struggle with juice box selections at the kindergarten level.
Should we really be surprised? Fairley did post a whopping 12 out of 50 on his Wonderlic coming out of school, that's four points lower than Vince Young's second attempt at standardized-test supremacy for those of you scoring at home, so Detroit knew they weren't getting the sharpest knife in the drawer.
While Fairley has begun an NFL career that is quickly tracking in a similar fashion to his Mobile, Alabama neighbor and high school teammate JaMarcus Russell, Corey Williams has quietly been reliable at the defensive tackle spot.
Starting 32 of the 31 games he's played for Detroit, Williams has not turned in sensational numbers, but has eaten up space as part of the front-four rotation while Fairley struggled with injuries during his rookie season.
Do I hope Fairley stays healthy and cleans up his act? Absolutely.
Am I glad there is a nine-year vet with a productive track record to fall back on in case Fairley continues his childish ways? You better believe it.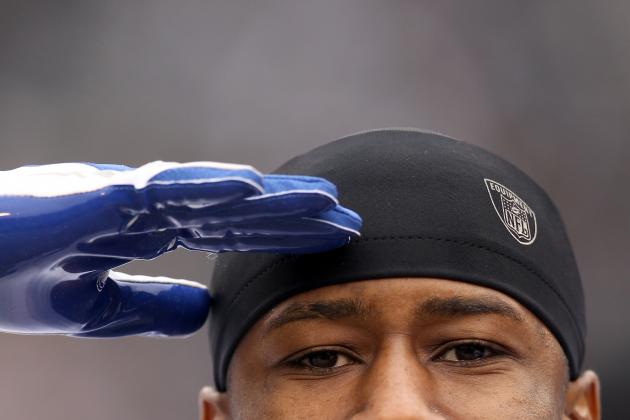 Ezra Shaw/Getty Images

While Titus Young has made himself at home in Jim Schwartz's doghouse, the premium on having a professional receiver on the opposite side of Calvin Johnson has been magnified and Nate Burleson has proven to be a dependable Lion soldier.
His 73 receptions from last season were the best of his career, but the average of 10.4 and three scores leaves a bit to be desired.
But not unlike most things in life, you must take the good with the bad.
Beyond the mixed results on the field, it's the off-field presence of Burleson that may have more value to this team.
Since his signing, he has helped Calvin Johnson come out of his shell and become more of a vocal leader and embrace his superstar stature.
But beyond his tutelage of Calvin, Burleson has become the unofficial, official spokesman for the delinquents on the roster.
The franchise has gone out of its way to shelter the Class of 2011 as they deal with their youthful demons, and every step of the way, it's been Burleson that has stepped up and dealt with the media scrutiny in a professional manner that should be emulated by the players who actually have the problems.
His play on the field is not elite, but his value to this team has several intangible layers you cannot see in the stat lines.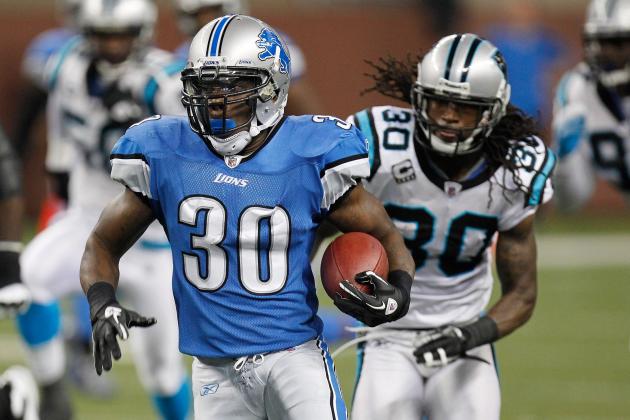 Gregory Shamus/Getty Images

The Detroit Lions backfield is as stable as Charlie Sheen with a handgun and ivory residue under his nose—disaster could be just mere seconds away.
Jahvid Best appears ready to return to action, but nobody, not even the doctors, can be sure how many games or hits his body can take before concussion-like symptoms will once again get the better of the speedy tailback.
Mikel Leshoure could be the answer but with a possible suspension looming and an Achilles injury that normally takes a running back more than a year to fully recover, he may not be the answer to the Lions' prayers.
Enter the player who was once scrapped by Detroit, Kevin Smith.
Smith himself is not the poster-boy for consistency as his career has been injury-plagued as well, but going into training camp, he may be the healthiest running back in the barn.
A scary thought if you were hoping the Lions would keep the ball on the ground more this season.
It should not be a surprise if Kevin Smith is a major contributor for the Lions next season and the health of the two younger backs will determine when Kevin Smith will get his opportunity.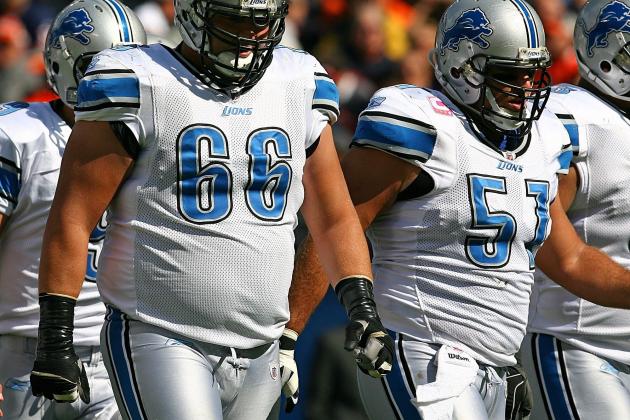 Jonathan Daniel/Getty Images

I categorized these two as one because, frankly, the reasons for both are very similar.
Dominic Raiola and Stephen Peterman will never be confused with Mike Webster and John Hannah, but at the moment, they are the best the Lions have to put on the field. Without legitimate competition, they are the de facto starters.
They both are at the back end of their careers and both will be free agents in 2014. Additionally, according to spotrac.com, both are paid well beyond their abilities as Raiola will receive the largest base salary of any center in 2012 and Peterman will receive the 12th largest money bag while his superior counterpart Rob Sims checks in at 22.
The Lions did not address the interior offensive line in the draft and they will head into the 2012 campaign with the same flaws of 2011.
Although Raiola does end up in the backfield too often, he is a captain, so let's not minimize his leadership in the locker room and he is the quarterback up front for a group that was one of the better pass-blocking lines in the league last season.
As for Peterman, he is the weak link in the line. But for those of you thinking Gosder Cherilus will slide down into the spot when Riley Reiff takes over at right tackle, your wish will not be granted.
He does have his faults, but Peterman is superior to Cherilus when it comes to trapping and getting out on the screen play. Plus with poor bend and a longer frame, Cherilus' physique and ability just don't translate to effective guard play.
When Reiff is ready to start, Cherilus will ride the pine and Peterman will continue to man the antiperspirant position of the line.
The 2013 class is said to have excellent interior line talent, hopefully Detroit can take advantage of the depth, but until then, Raiola and Peterman are must haves for Detroit to have a shot at the playoffs.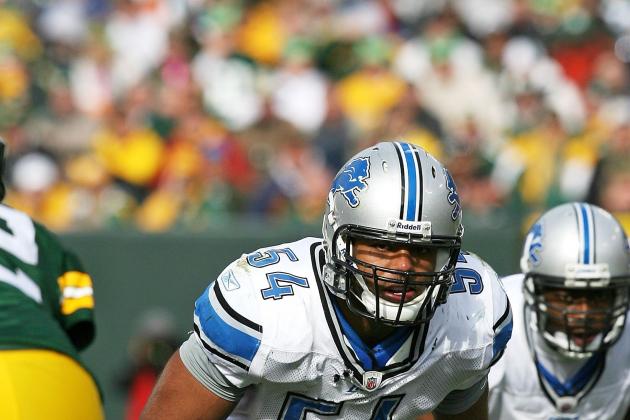 Jonathan Daniel/Getty Images

The Lions were able to keep Stephen Tulloch this offseason with a new five-year deal and drafted three linebackers in this year's draft, but none of those moves will immediately upgrade the strong-side linebacker spot manned by DeAndre Levy.
Ronnell Lewis is being groomed for transition to defensive end and Tahir Whitehead along with second-year backer Doug Houge will be tracked for the Will backer as opposed to the Sam position.
Travis Lewis has the versatility to play all three spots, but it's unlikely he's ready to step in and play the strong-side position.
The coaching staff may feel like they should have worn ski masks when they got Travis in the seventh round and that may eventually come to fruition. But for the upcoming season, Levy will not be supplanted by the 223rd overall pick and will remain a critical piece to the linebacking corps.
Levy misses his fair share of tackles, without question, and has been out of position often, trailing the play and making tackles from the back side as opposed to the front side of numbers. But he did have 109 tackles last year, trailing only Tulloch, so it's not like the guy has been an enigma on the stat sheet.
After signing his one-year tender in April, the Lions should get the best Levy has to offer as he will be set to hit free agency in 2013. If linebacker coach Matt Burke does find a diamond in the rough from the late-round fliers, great. But until that happens, Levy will need to continue to rack up tackle totals.