WWE Over the Limit: 10 Prematurely Bold Predictions for the Upcoming PPV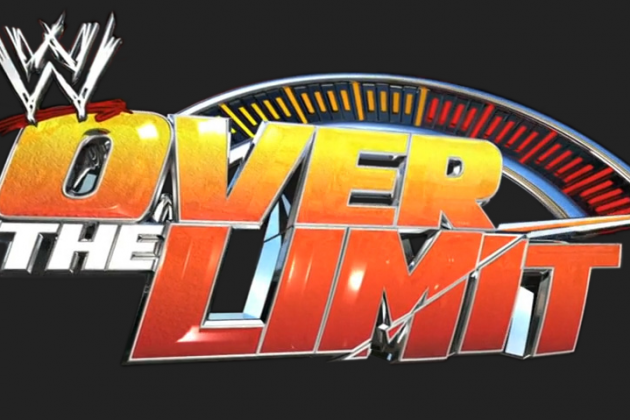 Okay, okay, I know we're only just over a week away from the WWE's next pay-per-view offering, but hey, I still feel the need to boldly predict 10 things that will likely happen next Sunday in North Carolina—as I feel I did a pretty good job this time last month in the build-up to Extreme Rules.
So far, we have four matches officially announced for Over The Limit 2012 (no spoilers here, I'm afraid) but we are sure to see at least two or three more added heading into the final week of build-up before the event.
Following on from the well-received WrestleMania 28 and Extreme Rules, one thing is for certain that WWE needs to really step up to the plate at Over The Limit and deliver us one hell of a show.
So brace yourselves, as here goes my second attempt at boldly predicting 10 things that will happen next Sunday at Over The Limit...
Begin Slideshow

»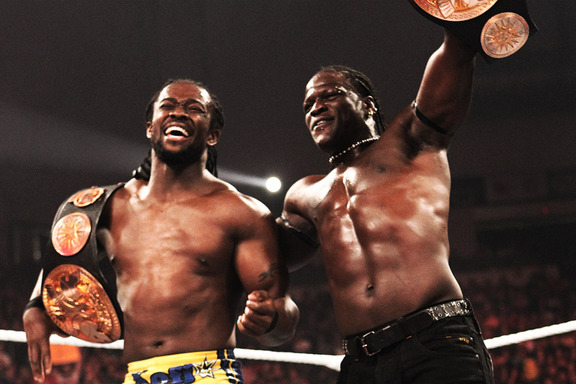 photo courtesy of WWE.com
How long have people been raving about the revival of WWE's Tag Team Division?
Well, you heard it here first folks: It just ain't gonna happen.
At present, R-Truth and Kofi Kingston are the most legitimate pairing the world's premier pro wrestling company has to offer...enough said.
I actually quite enjoyed Primo & Epico as champs, despite the fact that they never seemed to defend the belts (and the fact that they won the titles during a house show). Yes, I can admit that Rosa may have something to do with my fondness for the duo.
But now I find the Kingston/Truth combination to be just another predictable rehashing of Creative's formula of throwing everything at the wall and seeing what sticks.
At Over The Limit, I see Air Truth (anybody?) successfully defending their Tag Team Titles against American Perfection (Zig-Swag), as we've seen these four men exchanging victories in singles action over previous weeks on television.
We're building to some kind of confrontation between the groups, and it would appear that it is only a matter of time before Dolph Ziggler and Jack Swagger (once again) challenge for the WWE Tag Team Titles.
Let's face it, the WWE won't trust the likes of Primo & Epico or the Usos on a PPV stage, so it makes sense to have two (relatively) big stars defending the tag team straps against upper-midcard opponents in order to try and legitimize the floundering division.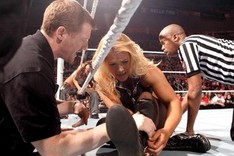 It's confirmed: Layla will defend her newly won Diva's Championship against former champion Beth Phoenix at Over The Limit.
The Glamazon dropped the belt just over two weeks ago to Nicki Bella on Raw, in a match in which she appeared to get genuinely injured when falling off the ring apron. (It looked absolutely horrific in slow motion!)
Six days later, and the nondescript Bella twin surrendered the title to a returning Layla El at Extreme Rules.
Layla vs. Beth (like all Divas matches) has little to no build, and will likely last around the five-to-six minute mark with no real storytelling or conviction (bathroom break time).
As Layla has just won the belt, logic says that she doesn't drop it this quickly to an injured Phoenix, so therefore expect a cheap roll up victory for the Flawless champion.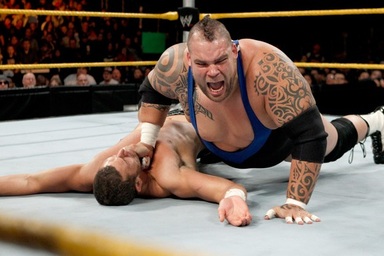 After appearing during the WWE's last two pay-per-view offerings, I think it's a pretty safe bet to assume that Brodus Clay will feature on the Over The Limit card.
It's a crying shame that the extremely "over" Funkasaurus is still yet to engage in any real type of feud or storyline, but expect Snoop Dogg's former bodyguard to continue his dominant run next Sunday.
My early prediction is a Clay demolition of Epico and/or Primo, but don't be surprised to see a sub-2min squash delivered to a local jobber or the likes of JTG. (Or both...)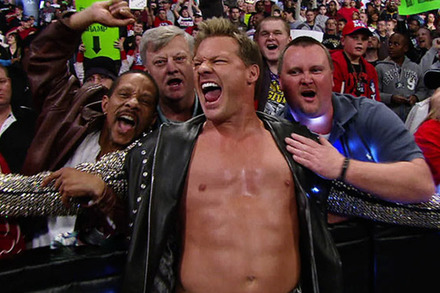 Now before I begin, let me please make it very clear that this slide is in no way meant to be a spoiler.
However, it is no secret that Y2J probably won't be sticking around much after SummerSlam, so one has to speculate that now his arc with Punk is done, the Ayatollah of Rock and Rollah will enter into one final feud before leaving/being written off WWE TV once again.
Jericho's return has been underwhelming to say the very least, but it has reaped two fantastic WWE Championship matches with CM Punk at Wrestlemania 28 and Extreme Rules.
Unfortunately for all Jericholics though, the Third Coming may well be winding down sooner rather than later, with the superstar's band Fozzy scheduled for further International tour dates over the coming months.
Expect to see Y2J involved in some kind of angle (see, no spoilers) at Over The Limit, leading to a one-on-one rivalry over the coming weeks/months which eventually culminates in Jericho's final match at the Los Angeles Staples Center in August.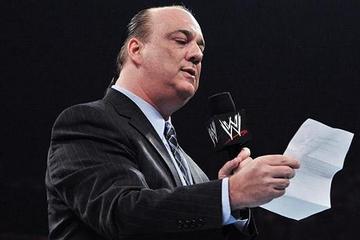 I'm not going to lie. I was a tad shocked when Paul Heyman returned on Monday.
It would now appear that the former ECW boss has resurfaced on a part-time basis to act as "Legal Council" (or as it is better known, Filler) for when Brock Lesnar isn't around, in order to keep the Next Big Thing relevant even when not on TV/PPVs.
Expect Heyman to appear at Over The Limit, possibly to announce that his client will be suing WWE for breach of contract (or some other malarkey along those lines), just so that Brock is kept at the forefront of everyone's minds, even when collecting his paycheck sitting at home.
I really hope Heyman sticks around for the long haul, as ultimately his presence could be a great catalyst for many lost superstars on the current roster.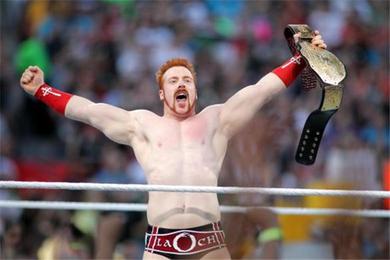 As promised at the beginning of this slideshow, I will not be divulging any spoilers for this week's SmackDown.
That being said, I can still safely predict that Sheamus WILL retain his World Heavyweight Championship at Over The Limit (whomever that may be against).
In the WWE it helps a great deal when you are physically enormous like Sheamus, and even more so when you're best buds with COO Triple H; therefore, expect a lengthy and respectable reign for the first Irish-born World Champion.
Duh, this is a given...
CM Punk vs. Daniel Bryan will undoubtedly live up to the hype that the IWC has generated since both men hit it big in the WWE.
The two former independent stars will clash next Sunday for the WWE Championship, and we are sure to get a highly technical and well-executed bout, which sees both men coming out strongly.
I can't see Punk tapping out to the "Yes! Lock" in a hurry, so a dirty finish in this one could (unfortunately) well be on the cards.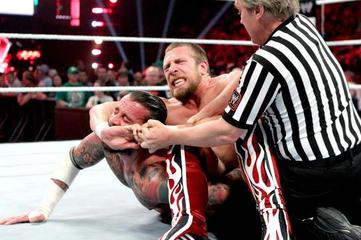 As already mentioned, this should be one hell of a match, as two of the IWC's sweethearts go head-to-head for the WWE's biggest prize.
Before Monday I'd have said unquestionably that Punk would retain his WWE Championship next Sunday, but thanks to a culmination of both personal and professional revelations about the current champion at the beginning of the week, I think the WWE could well let D-Bry take the ball on this occasion and run with it.
Yes Yes Yes! fever is running wild, and D-Bry is exponentially more popular now than he has ever been before.
On the flip side, Raw ratings have plummeted with Punk at the helm, and his recent Twitter outburst will definitely not have helped his standing in the eye's of Vinny Mac and Triple H.
As much as I am a Punk fan, there is no denying that his star has certainly dimmed since his infamous rise to become the face of the company in 2011.
For my money A.J. gets involved in this one and inadvertently gifts Bryan the title as she fluffs an interference.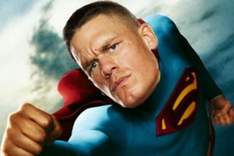 There is absolutely no way this match can be booked as a clean or fair fight.
A superstar versus an authority figure can never be that, so this match could well just become another Cena mugging.
Larynigitis will run around panicked for a little while at the start before Cena catches him, but then the GM's cronies will appear and pick apart the Leader of Cenation (a la Miz and Alex Riley at Extreme Rules 2011).
As is always the case with Little Johnny, however, he will get beaten to the point of near unconsciousness, then miraculously revive, beat down all comers and subsequently go into full blown SuperCena mode, culminating in the dreaded five moves of doom and an (attempted) Attitude Adjustment.
Thankfully, however, Creative now appear to have a much better grasp of what the audience like and what they don't, and therefore, despite the inevitable SuperCena appearance, this match cannot and will not end there....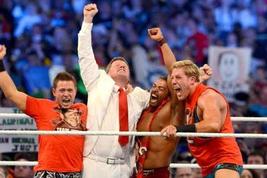 While it may seem like a controversial pick, I've seen too many of these gimmick match-ups now to know exactly where this feud is going.
We've seen how willing John Cena has been to put others over in the past 12 months, and whilst I don't expect Laurinaitis to receive a push as a result of beating Cena, I fully anticipate the self-proclaimed Champ taking a loss here so that the pair can continue to wage war over the summer months.
The match will likely be full of run-ins, interference and just general clutter, but in the end I definitely see the GM picking up the win with a cheap pinfall, probably after a distraction by the superstar formerly known as Prince Albert.
What do you think? How will Over the Limit play out?
Am I completely wrong, or just a little bit?
Please feel free to leave any suggestions and/or thoughts in the comment section below.