UFC 150: Is Frankie Edgar Being Set Up to Fail Against Ben Henderson?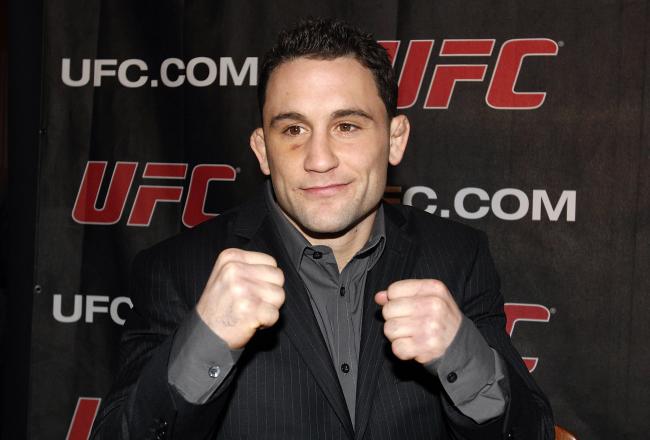 Despite worries about an often-fractured nose, Frankie Edgar is slated to fight UFC Lightweight Champion Ben Henderson at UFC 150 on August 11th.
Michael Cohen/Getty Images
Frankie Edgar may be walking into a fight with Ben Henderson at less than 100 percent.
At least that seems to be the case, as a recent broadcast conducted at UFC on Fuel TV confirmed that Edgar would be challenging for the UFC Lightweight Title against Henderson at UFC 150. Dana White reaffirmed the news himself, simply stating that the two would fight on August 11th.
Strangely, this is just a few days removed from Edgar saying that he most likely wouldn't be able to compete at UFC 150 due to his often-damaged nose, which needed time to heal to due to the abuse it's taken in several of his recent fights:
Yeah, you know, I had some issues with my nose. My nose obviously breaks pretty frequently, at least for the last couple of fights, so I just need some time to let it heal properly so I can get back to sparring.
Right now, the UFC itself is in the midst of a scheduling crisis due to a variety of freak occurrences. Dominick Cruz is out of UFC 148 due to a torn ACL. Alistair Overeem was removed from UFC 146 thanks to suspiciously high testosterone levels. Dana White and the UFC played musical chairs with Jose Aldo's next title defense before settling on Calgary, Canada. Carlos Condit is essentially holding the welterweight division hostage while waiting for Georges St. Pierre to finish rehab.
And all of that's nothing to mention of the various injuries and events that have moved and restructured other matches in the UFC's upcoming fight cards.
So when Frankie Edgar says that he needs time to heal an injury on Fuel TV, and Dana White turns right around and says that Edgar's not getting an extra month off, it looks a little weird.
Does losing a month of recovery time hurt Frankie Edgar's chances against Ben Henderson?
Whatever the case, Edgar seems committed to the UFC 150 date, as his official Twitter account has retweeted the announcement of the fight.
Is this a case of Frankie Edgar playing the role of the good "company man" against his better judgement? Perhaps his injured nose isn't quite damaged enough to prevent him from getting in a full training camp.
Or maybe Dana White isn't willing to let Frankie Edgar hold up the UFC lightweight title picture for any longer than necessary—especially when too many of his other title belts are currently in limbo.
After all, Ben Henderson is the favorite to win their rematch. And considering that Edgar hasn't been a successful pay-per-view draw, the UFC brass might just want this over with so the lightweight division can move on to bigger, better things.
Either that, or someone still has plans on pushing "The Answer" into helping out the ailing featherweight division.
If Frankie Edgar is walking into a five-round title fight with that kind of handicap, the smart bet for Ben Henderson would be targeting Edgar's nose with every jab, elbow, and kick that he could throw. After so many wars with B.J. Penn, Gray Maynard, and Henderson himself, the question isn't "if" Edgar's nose could break again, but "when" it'll happen.
Hopefully, the former champion can walk into the Octagon this August without any health issues hanging in front of his face—but no matter what, the show (apparently) must go on.
[McKinley Noble is an MMA conspiracy theorist and former writer for GamePro, PC World and Macworld. Follow his Twitter account for crazy talk, 1990s movie references, and general weirdness. Or you could just stalk him on Google.]
This article is
What is the duplicate article?
Why is this article offensive?
Where is this article plagiarized from?
Why is this article poorly edited?