Boston Red Sox: Beckett Golfing "Injured" Shows It's Time to Blow Up the Roster
May 9, 2012

After a season filled with flops on the field, Red Sox fans assumed things couldn't get any worse.
They were wrong.
ESPN Boston is now reporting that Josh Beckett—yes, the same Josh Beckett of "fried chicken and beer" fame—was spotted playing golf with fellow pitcher Clay Buchholz the day after manager Bobby Valentine announced that Beckett would miss his next start with a strained shoulder muscle. Beckett was conveniently unavailable for comment.
For all the nonsense the Sox have forced their fans to put up with over the last eight months, at least all of it had something to do with baseball. Whatever the players were doing, wrong or not, it was all happening at a baseball field.
This, though, is an entirely new and ridiculous twist. Beckett has thumbed his nose at the entire organization, ignoring their advice to rest and simply doing whatever he feels like.
Haven't we heard this story about Beckett's lack of regard for his team before? Don't we know how it ends?
Beckett has become a walking, breathing metaphor for everything that plagues this organization. He is entitled, spoiled and doesn't care what anyone else thinks. While we haven't heard his response to the story yet, is there any doubt that he will respond with angry defiance?
His poisonous attitude is not what an organization placing an increased emphasis on developing young talent needs.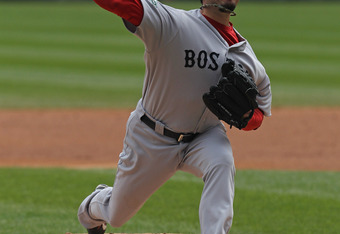 Jonathan Daniel/Getty Images
Beckett and his cronies need to go, and they need to go immediately.
The team will lose, but fans will no longer care. This loathsome, selfish group is harder to root for than the Soviet Union in "Miracle." In their short MLB stints, young players like Felix Doubront and Will Middlebrooks have shown that they will at least give an honest effort on the field and will not be a distraction off it.
Beckett, Buchholz, Youkilis, Lackey and anyone else not on board with the organization's philosophy should be traded as quickly as possible. Getting fair value in return is secondary; the true "value" of these trades will be in sending the players as far away from Boston as possible. It will become the greatest example of "addition by subtraction" baseball has ever seen.
The Red Sox as a whole are obsessed with their marketability, measuring themselves in sellout streaks and commemorative Fenway Park bricks. It is going to be nearly impossible for them to continue marketing these same players to a group of fans who don't like them and are sick of the shenanigans. 
The decision to cut ties with these players, then, is as much a business one as it is a baseball one.
Did the organization really expect things to be different this year just because there was a new manager? The Sox surely aren't dumb enough to think they could bring back the exact same players without something happening again. Insanity is, after all, doing the same thing repeatedly while expecting different results.
Any notion that Valentine would somehow be the magic elixir for this broken clubhouse has been rendered completely false. Valentine is as clueless as anyone, saying in the ESPN Boston story that he, "[doesn't] know the specifics of the situation." Ignorance is apparently an acceptable excuse for this team.
The baseball aspect of blowing up this roster is justifiable as well. The Sox are old and have a lot of money tied up in expendable veteran players. The young players should be given an opportunity to show what they can do. If anything else, it will show GM Ben Cherington what he actually has in players like Doubront, Middlebrooks, Jose Iglesias, Ryan Kalish and Ryan Lavarnway.
It may not be a smooth transition and fans will need to endure multiple lean years, but if this team really wants to move on then they will dump Beckett and company for whatever they can get. If this franchise ever hopes to move out from under the shadow of the 2011 collapse, they have no other choice.