Carl Edwards: Is He Preparing for the Future He Really Wants After NASCAR?
May 10, 2012

Streeter Lecka/Getty Images
Carl Edwards never met a camera he didn't like, and now he will satiate those cravings for media attention via the broadcast booth.
The disappointing 2012 season for the driver, who was runner-up for the 2011 Cup title, has brought more attention to his teammates at Roush Fenway Racing.
Edwards is 11th in the point standings heading to Darlington, while Greg Biffle has topped the list most of the season and Matt Kenseth has been close behind.
The cat was out of the bag last year at a post-race media session at Iowa Speedway. Edwards had crashed into Ricky Stenhouse Jr. and pushed him across the finish line for a win.
Jack Roush was sitting next to his driver, Stenhouse, in the media center when he just happened to make reference to the fact Edwards was going to become a sportscaster for ESPN.
Though Roush thinks it is beneficial for a driver in the NASCAR Sprint Cup Series to also run the companion NASCAR Nationwide races, Edwards decided to refrain from driving in the series this year.
His reasoning was supposed to be based on the fact that he wanted to concentrate on the Cup series and run for the title again.
Last year, it was not unusual to see Edwards make a run for the ESPN broadcast booth during rain delays or if he was out of his racecar for some reason.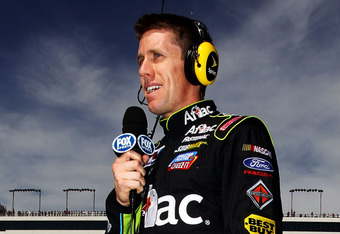 Jeff Bottari/Getty Images
The driver of the No. 99 is always eager to give an interview pre-race or post-race. His toothy grin is media-friendly, and he has a way with words, even if they sometimes don't seem authentic.
He always plays the humble, good-guy role, though anyone who has followed him in NASCAR knows he is not the picture of innocence he portrays.
Now it is official that Edwards will become an on-air personality for ESPN.
He will replace his driver's suit with a suit and tie and do Nationwide race analysis at Darlington and later in the summer at Iowa Speedway.
Some may find this driver charismatic, and he certainly has the knowledge and experience to back up his commentary on the Nationwide races.
He will join Allen Bestwick and Andy Petree behind the desk in the ESPN broadcast booth.
Edwards is known for some antics that emphasize his physical ability. He is a total package NASCAR personality with the looks, is well-spoken and able promote sponsors professionally.
Certainly, Edwards can drive a racecar with the best of them. It just may be that his tie for the points in the 2011 Cup title run is the best he will ever do.
This is a driver who may be snakebit when it comes to the NASCAR Sprint Cup championship. Much like Mark Martin, he may never be better than the runner-up.
The 2012 season is, no doubt, a hit to his ego, with RFR stablemates Kenseth and Biffle capturing much more media attention than Edwards.
Perhaps it is a good thing that Edwards is officially with ESPN, though we have seen it coming since last year. When he throws in the sponge as a driver, we know his future will be before the camera.