NHL Playoffs: Will the Predators Blow Up Their Team After Their Loss to Phoenix?
May 9, 2012

Christian Petersen/Getty Images
After Monday's loss to the Phoenix Coyotes in Game 5, the Nashville Predators have a number of questions surrounding them next year. Whether or not they will blow up their team after the premature exit is still up for debate, but the short answer should be no.
After two years of making it to the second round, Nashville has shown it has the talent on the roster to play well against more established clubs. They managed to take out the playoff powerhouse Detroit Red Wings in five games during round one.
That said, there are a number of factors that still lurk in the foreseeable future for the Preds. Two of the biggest question marks circulate around two of the players they built the team around, Ryan Suter and Shea Weber.
Suter's contract is over and when free agency begins he will be an unrestricted free agent with the ability to talk with any team interested. A player with his skill level will be on a number of radars' this offseason.
It comes down to whether the 27 year-old defenseman want to continue in Nashville or seek a different route to the Stanley Cup. His current $3.5 million contract is not steep, but expect it to go up between $1.5-2 million.
Add that to his skill level, and Ryan Suter can easily pick where he wants to be for next season.
Then there is team captain Shea Weber, who becomes a restricted free agent this summer. If he decides that Nashville is no longer his future, the Preds are going to have to make some serious changes.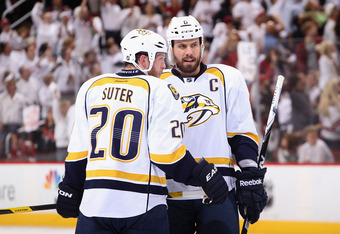 Christian Petersen/Getty Images
Weber had 19 goals with 49 points this season, added to his plus-21 ranking at seasons end and you can bet that there will be many teams watching him over the course of the season.
His contract is a lot steeper than Suter's at $7.5 million, but for teams with the cap space, Weber is the kind of player that is worth that money.
Nashville cap space is hovering around $12.2 million, and barring a cap decrease during this summer's CBA it will either remain there or go up.
There are currently only six teams with more cap space than the Preds, meaning that over the summer, they will have the money to go after the star players who are becoming either type of free agent. It also means that Nashville will have the ability to try and obtain missing pieces through free agency, even though this summer only has a few big names.
They may need to make a big trade or two to address the gaps that have kept them from making the Conference Finals.
Whether it be through trades or the free agent pool, Nashville has shown there is only one or two missing pieces to this team.
With names like Alexander Semin, Ryan Smyth and Zach Parise set to become free agents this summer, Nashville appears to have two pieces that would make it appealing for one of these top players to be interested.
They are a playoff contender just a few moves away from reaching the Stanley Cup Finals and they have a fair amount of room to spend.
That's not to say that Nashville will break the bank in order to obtain one of those players, or even that those players would in fact be interested.
With only two players breaking the 20-plus goal mark, what Nashville needs is an elite scorer. They need a goal scorer who can hit the 30-plus or better, and this year there are only a few who have that ability.
The Predators need to at least attempt to bring one of them to the Nashville.
During the regular season their defense was their strength. They changed a fair amount near the trade deadline in an attempt to be more of a threat in front of the net.
There are a few players on Nashville that will either be used for trades, or allowed to seek their fortunes elsewhere. Two come to mind as players who will be allowed to walk.
Hal Gill and Andrei Kostitsyn are both unrestricted free agents this summer.
Gill was injured for the first round and was practically invisible during the second. He was brought in near the deadline to help take some pressure off the top pairing, but it never seemed to really pan out. It's doubtful that Gill will return next season.
Kostitsyn was reunited with his brother Sergei at the trade deadline as well, and through 19 games amassed four goals and eight assists. He did fairly well during the postseason with three goals, but his selfish actions the night before Game 2 against Phoenix, with Radulov, may be all Nashville needed to see from him.
Nashville started to build this team from the net outwards, and though Pekka Rinne did not have a great second round, he is signed for the next seven years.
They have a strong defensive core, two of which need to be resigned. This, and the possible acquisition of an elite goal scorer, should be all the Predators need.
They definitely do not need to begin a fire sale. They are on the right track, are only missing one or two small pieces and are already contenders.