Sam Greenwood/Getty Images
May 10, 2012
The golfing world is beginning to get accustomed to Tiger Woods missing cuts.
Who would have ever thought we'd get here?
Less than a week after missing the cut at the Wells Fargo Championship, Woods will be looking to create some semblance of momentum heading into the summer schedule at the Players Championship.
This is a tournament where he was forced to withdraw with injuries in both of the last two years. He won at TPC Sawgrass way back in 2001, and while he certainly doesn't have to repeat that performance, making the top 20 would be big.
Woods isn't feared among his peers anymore, and he needs a strong showing this weekend to get some of the demons out of his mind. Tiger is as weak mentally as he's ever been, and getting back on track for the major season is a must.
That being said, he isn't the only golfer in need of a big weekend.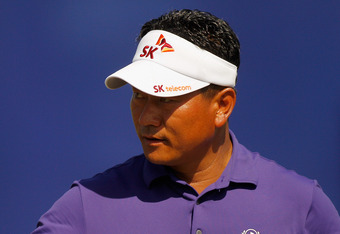 Chris Graythen/Getty Images
KJ Choi
Ever since his win at Sawgrass last year, Choi has been in one of the worst slumps of his career.  He shot a horrific plus-9 at the Masters, failing to even make the cut.
He knows the Pointe Vedra Beach, Fla. course well and needs to remind fans as much this weekend. If not, he is going to be in danger of becoming irrelevant on the tour.
Keegan Bradley
The 2011 Rookie of the Year may have won the PGA Championship last year, but he has done absolutely nothing in the year 2012.
Getty Images/Getty Images
The 25-year-old has zero wins and put on a poor showing at the Masters (T27).  Was he a one-year wonder, or is Bradley still the future of golf?
Playing well this weekend would be a good springboard to get him back on track. 
TV Coverage (All Times EST):
Round 1 and 2: 1-7 p.m The Golf Channel (Replayed 9-12 a.m)
Round 3 and 4: 12-2 p.m Golf Channel, 2-7 p.m NBC
TPC Sawgrass Tee #1

Time

Players
7:15 am  
Mallinger, John
Tringale, Cameron
Adams, Blake
7:26 am
Romero, Andres
Overton, Jeff
Gillis, Tom
7:36 am
Perez, Pat
Baird, Briny
Thompson, Michael
7:47 am
Ogilvy, Geoff
Singh, Vijay
Verplank, Scott
7:57 am
Atwal, Arjun
Cabrera, Angel
Harrington, Padraig
8:08 am
Frazar, Harrison
Baddeley, Aaron
Leonard, Justin
8:18 am
Snedeker, Brandt
Crane, Ben
Watney, Nick
8:29 am
Oosthuizen, Louis
Day, Jason
Poulter, Ian
8:39 am
Pettersson, Carl
Points, D.A.
Garrigus, Robert
8:50 am
Kirk, Chris
Bradley, Michael
Palmer, Ryan
9:00 am
Levin, Spencer
Hearn, David
Haas, Hunter
9:11 am
Maggert, Jeff
Merrick, John

Mathis, David
TPC Sawgrass Tee #10

Time
Players
7:15 am  
Couch, Chris
Chalmers, Greg
DeLaet, Graham
7:26 am
Trahan, D.J.
DiMarco, Chris
Driscoll, James
7:36 am
Streelman, Kevin
Jobe, Brandt
Blanks, Kris
7:47 am
Molder, Bryce
Woodland, Gary
Hoffman, Charley
7:57 am
Slocum, Heath
Bettencourt, Matt
Gay, Brian
8:08 am
McNeill, George
Na, Kevin
Piercy, Scott
8:18 am
Choi, K.J.
Clark, Tim
Garcia, Sergio
8:29 am
Simpson, Webb
Bradley, Keegan
Kuchar, Matt
8:39 am
Fowler, Rickie
Mahan, Hunter
Woods, Tiger
8:50 am
O'Hair, Sean
Toms, David
Stenson, Henrik
9:00 am
Matteson, Troy
Holmes, J.B.
Henry, J.J.
9:11 am
Campbell, Chad
Pampling, Rod
Mayfair, Billy
TPC Sawgrass Tee #1

Time
Players
12:25 pm  
Reavie, Chez
Stadler, Kevin
Teater, Josh
12:36 pm
Herron, Tim
Walker, Jimmy
Kang, Sung
12:46 pm
Van Pelt, Bo
Chappell, Kevin
Barnes, Ricky
12:57 pm
Sabbatini, Rory
Yang, Y.E.
Kelly, Jerry
1:07 pm
Stallings, Scott
Furyk, Jim
Love III, Davis
1:18 pm
Vegas, Jhonattan
Byrd, Jonathan
Villegas, Camilo
1:28 pm
Rose, Justin
Kaymer, Martin
Scott, Adam
1:39 pm
Donald, Luke
Haas, Bill
Westwood, Lee
1:49 pm
McIlroy, Rory
Mickelson, Phil
Stricker, Steve
2:00 pm
Moore, Ryan
Casey, Paul
Cauley, Bud
2:10 pm
Senden, John
Bae, Sang-Moon
Gainey, Tommy
2:21 pm
Leishman, Marc
Killeen, J.J.
Quiros, Alvaro
TPC Sawgrass Tee #10

Time

Players

12:25 pm  
Pernice Jr., Tom
de Jonge, Brendon
Duke, Ken
12:36 pm
O'Hern, Nick
Stroud, Chris
Dyson, Simon
12:46 pm
Rollins, John
Molinari, Francesco
Wi, Charlie
12:57 pm
Jacobson, Fredrik
Glover, Lucas
Goosen, Retief
1:07 pm
Steele, Brendan
Immelman, Trevor
Allenby, Robert
1:18 pm
Laird, Martin
Cink, Stewart
Howell III, Charles
1:28 pm
McDowell, Graeme
Johnson, Zach
Els, Ernie
1:39 pm
Dufner, Jason
Curtis, Ben
Stanley, Kyle
1:49 pm
Huh, John
Wilson, Mark
Wagner, Johnson
2:00 pm
Ogilvie, Joe
Estes, Bob
Davis, Brian
2:10 pm
Imada, Ryuji
Karlsson, Robert
Hanson, Peter
2:21 pm
Every, Matt
Knost, Colt
English, Harris
Like the new article format? Send us feedback!