NBA Rumors: Why Lakers' Coach Mike Brown Must Deliver to Keep His Job
May 9, 2012

Doug Pensinger/Getty Images
Coaching the Los Angeles Lakers may not be quite as stressful as managing the New York Yankees— but it's pretty darn close.
The pressure to win a world championship is undeniable in this city, as fans aren't satisfied with anthing less.  Mike Brown knew that when he signed up to replace the legendary Phil Jackson last June.
And now, he must work miracles from the sidelines, hope his players have bought into his philosophy and really hope the ball takes the appropriate number of correct bounces—all the way to the NBA Finals.
Or, he could find himself out of a job before he ever really settled in... I'm just sayin'.
Mike Brown is known for his intense preparation, with lots of film, long practices and a small army of assistants. 
Yet, his Lakers looked totally unprepared for what hit them Tuesday night at Staples Center, a 102-99 loss in a closeout game against the Denver Nuggets. The game was only close because Kobe Bryant made a dizzying array of three pointers in the final minutes, after L.A. trailed by 15 points with five minutes left.
"It wasn't an energy switch," Bryant told reporters after the game. "I started making shots left and right and got us back in the ball game. It can't be that. We all have to step up. We all have to contribute and we all have to play with that energy and sense of urgency."
Brown's job is to prepare his team physically and mentally.  Players must go all out every minute of every game, take advantage of mismatches, hit open shots, move the ball and defend well. 
For his part, Brown must make the right lineup adjustments, know when timeouts are needed, when to call a particular play and, most importantly, how to best motivate his troops.
I, for one, don't believe he's done a great job with any of those aspects.
Brown clearly has not done that in the first-round series of the playoffs.  Aside from Game 1, in which the team played well on both ends of the court and dominated Denver, the Lakers have often looked sluggish and out of sync. 
Their two other victories were much closer, and the Nuggets have been able to effectively do what they do best—which is to run and hustle after loose balls and rebounds on every play for 48 minutes. 
Denver has shut off the bigs in the paint by double- and triple-teaming Andrew Bynum and forcing the perimeter shooters to beat them. Needless to say, those shots are not going down.
Brown has been out-coached by his counterpart, George Karl, who used a ridiculous comment by  Bynum to fuel his team's appetite for winning prior to their game on Tuesday.  During practice on Monday, Bynum told reporters that "closeout games are kind of easy." 
He went on to elaborate that if you come out with intensity and focus and take an early lead, teams might tend to fold.  But the damage was already done.
Karl used the quote to perfection, inspiring his players to prove Bynum wrong.  The Lakers center never acknowledged a regret in uttering such motivational nonsense.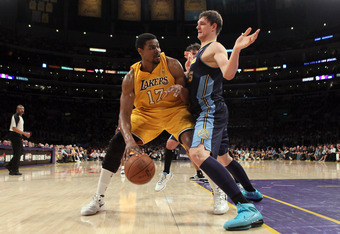 Jeff Gross/Getty Images
The Lakers often drift off during a game, lost and lackadaisical for no apparent reason.  They have been that way throughout the Denver series which begs the question: Have they bought into Mike Brown as coach and leader of the team?
The simple answer is no. 
That is not meant as a slap to Brown, a very good, defense-minded specialist, who brought an outstanding winning track record from his days as coach of the Cleveland Cavaliers.  But, in Los Angeles, it is not enough to just win a lot of games, or the Pacific Division or even the Western Conference. 
Just ask Kobe Bryant, which is what ESPNLA.com's Brian Kamenetzky did.
"You've got to win," Bryant said emphatically.  "Here, you have to win. You know. You don't make the Western Conference Finals here and be satisfied. You just don't do it. That's Del Harris Era. You get to the Western Conference Finals, and it's not good enough.  You've got to win the whole thing, here."
It's a tall order for Mike Brown or any coach for that matter.  But Laker fans are tough and expect nothing less than a trip to the NBA Finals.  They have been spoiled, and that is not going to change any time soon.
There are supporters of Mike Brown that say he's guided the team well through shaky, adverse conditions on and off the court and that his philosophy and system took a while to learn. 
Detractors are asking: "What system?"
Bryant admits that the ultimate responsibility for winning and losing is with the players, and he was the first to admit that the team's effort in Game 5 was just not good enough and lacked passion and intensity.  Everyone, he said, must contribute, and now, the team will have to go into a hostile environment in Denver and finish what they have started.
Yet Kobe also says that any coach of the Lakers is viewed with skepticism until the team actually wins something.  Even if that coach is the iconic Jackson, who arrived in L.A. having already won multiple titles with the Chicago Bulls.
"Obviously he had come in having won six championships from Chicago, but at the same time you're still like, 'Is this really going to work?'  You don't know until it actually works."
For his part, Brown understands the pressure of the job.  He knew what he was getting into, telling ESPN's Kamenetzy: 
"Obviously, Phil Jackson was a guy that had a lot of success here, and every little thing that did not seem right, or any loss is going to be a big question mark on my forehead that everybody's going to want to know.  Can he handle it? Can he do it? 

"Whether it's my relationship with this player or my relationship with the team, or how we play defense or how we play offense, or how I breathe, it's all under a microscope because of the success that Phil Jackson has had prior to my arrival here. I understood that. I didn't know it was going to be as magnified as it was, but [learning] that was a process."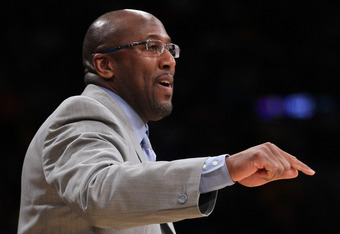 Jeff Gross/Getty Images
Brown made those comments just after the Lakers had crushed the Nuggets, 103-88, in Game 1 of the first round.  Since then, the teams have traded victories, and this could very well turn into a seven-game series with the deciding contest back in L.A. on Saturday.
So exactly how will management judge their first year coach? 
Winning cures everything, and an NBA title would certainly qualify as approval.  So too would a win in the Western Conference Finals, despite whatever Kobe says.
But the odds of that happening this year are rather slim—but not impossible.  Getting past the Nuggets is a must for Mike Brown.  Losing in the next round to Oklahoma City might also spell doom for the first-year coach.
Coaching the Lakers is one of the best jobs in professional sports.  It is also one of the most demanding and perilous.   Remember Rudy Tomjanovich?  Del Harris?
The ball is in Mike Brown's court—let's see how it bounces.