Penn State Football: Lawyer Wants Jerry Sandusky Trial Delayed Again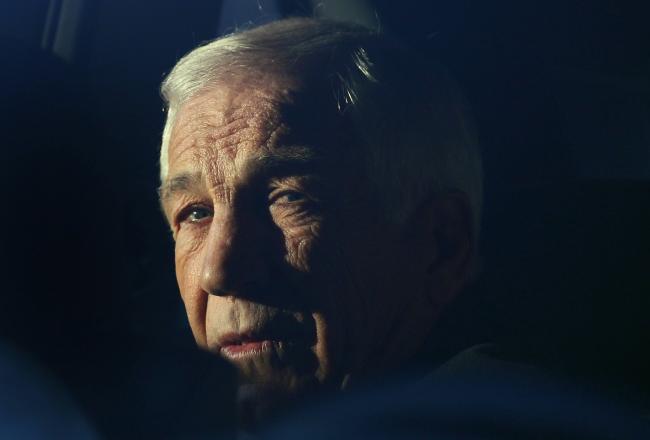 Mark Wilson/Getty Images
Jerry Sandusky's legal team says it won't be able to defend Sandusky without a delay of his trial. Sandusky's trial is set for June 5, or four weeks from today, and attorney Joe Amendola is using a hearing today to press for more time as well as file subpoenas for more information regarding the alleged victims of sexual abuse by Sandusky.
Judge Robert Cleland, who is presiding over the case, did not immediately rule on Amendola's request. He did, however, note that some of Amendola's requests would be quashed.
Here's more from the Associated Press:
Amendola has made dozens of requests for records or other material, much of it background information on the accusers, including school transcripts, medical records going back to birth, Internet search histories, Facebook account details, employment-related documents and cellphone and Twitter records.
Cleland said Wednesday that several of the defense subpoenas used an incorrect standard and that he planned to quash only the "unsupportable parts" of the subpoenas.
Amendola told the judge the defense is looking for "any evidence that these students suffered from behavioral issues, mental health issues, prior to their contact with The Second Mile or the defendant." Sandusky founded The Second Mile as a charity for at-risk youth and met many of his alleged victims there.
The charity's lawyer, Howard Rosenthal, said it shouldn't be forced to turn over the material. Rosenthal told Cleland that two of the victims object to any disclosure of their records to Sandusky.
Herein lies the uncomfortable truth about cases like these. The amount of information any defense attorney is going to ask for about an accuser is beyond substantial. It's beyond uncomfortable. It can and usually does lead to humiliating and dehumanizing questioning for the accusers.
And if you're on the other side of the table and being accused of this type of crime, you'd want nothing less thorough from your attorney. That's just the truth. A defense attorney is under no more obligation to protect the comfort of an accuser than what the judge orders. Their job is to defend an accused person who, let's remember, has rights and is considered innocent until proven guilty.
In particular, though, the search for behavior or mental health issues in the accusers is troubling, considering the prominent role that an at-risk youth home plays in this trial. There is also an implicit message being sent about people who have experienced mental or behavioral health issues here. It's not a good one.
And all that's before applying the burden of proof to the alleged acts themselves.
At any rate, the courts have a lot of work yet to do before the Sandusky trial can begin, with the litany of subpoenas Amendola has requested from myriad organizations. Whether it's enough work to necessitate another delay of the trial remains to be seen.
This article is
What is the duplicate article?
Why is this article offensive?
Where is this article plagiarized from?
Why is this article poorly edited?