Fantasy Baseball Waiver Wire 2012: 5 Players to Target in AL-Only Leagues
May 9, 2012

Jason Miller/Getty Images
Fantasy baseball is in full swing (no pun intended), and as we approach mid-May, you probably have a pretty accurate impression of your team's greatest strengths, as well as its biggest weaknesses.
In the American League, there are plenty of players who appear to have knocked the offseason rust off.
Here are five players to target who may be poised to put up significant numbers for your team, whether they'll be the missing piece to a league championship or a chip to make sure you aren't the league's laughing stock.
Brandon Inge, 3B
Brandon Inge has been atrocious at the plate of late. After a 2011 season in which he hit below the Mendoza-line at .197 with just three homers, his slow start this year prompted the Detroit Tigers to release him. The move had already seemed obvious, but with the addition of Prince Fielder moving Miguel Cabrera to third base, Inge wasn't seeing much playing time anyway.
The Oakland Athletics picked up Inge to solidify their pitiful third base position so far this season and the move appears to have worked out.
In seven games with the A's, Inge has just five hits in 28 at-bats, but he's already hit two homers while knocking in nine RBI.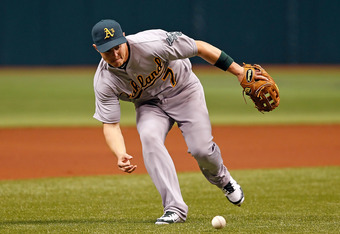 J. Meric/Getty Images
No matter how bad he's been in the past, nine RBI in seven games is impressive.
His current batting average may scare you away, but Inge has hit for power with his opportunity in Oakland and may be motivated to have a big year after being cut.
Mark Reynolds, 3B
Sticking with the third base theme is another guy who's batted below .200 this season.
Mark Reynolds' days with the Baltimore Orioles have been an enigma. Last season, Reynolds batted just .221, but hit 37 homers. So far this season, Reynolds had no power to speak of and was hitting below .200. Basically, he was the opposite of a guy you want on your fantasy baseball team.
Recently, however, Reynolds has shown some signs that the pop in his bat is returning.
In the last seven days, Reynolds has not only smacked his first two homers of the season, but he's also batting a highly respectable .350 at the plate.
For Reynolds, it starts and ends with his patience. During the past seven days, Reynolds has drawn seven walks and has struck out just four times. If you know Reynolds as a player, he is prone to K's, so the fact that he's drawing bases on balls instead of whiffing can be seen as a huge positive step.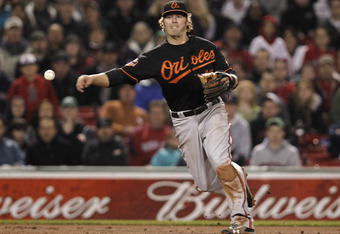 Winslow Townson/Getty Images
If your team is desperate for added power, Reynolds may be the way to go (be aware of that average though).
Alejandro De Aza, OF
On a Chicago White Sox team that is built around scoring runs via the long-ball (with Adam Dunn and Paul Konerko), Alejandro De Aza has been the exception.
Through 31 games this season, the ChiSox's leadoff hitter has a fantastic .360 on-base percentage. His ability to get on base has translated into another stat as well: De Aza has scored 24 runs.
Scoring 24 runs in 31 games is nothing to sniff at. This guy is a table-setter, plain and simple. In fact, his 24 runs scored nearly match the 29 runs he scored last season in 54 games played.
In addition to getting on base and scoring runs, De Aza has popped three homers and has five stolen bases.
He's a guy who can make a difference for your team in a variety of categories and he may be undervalued because of his .277 batting average, three homers and nine RBI.
If he's still available in your league, don't hesitate to pick him up. If someone already has him, experiment with a trade. Chances are high his fantasy owner may not know his value.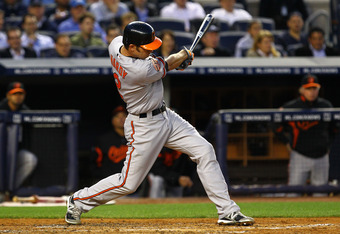 Al Bello/Getty Images
J.J. Hardy, SS
As recently as May 5, Hardy was matching Reynolds, his Orioles teammate, by hitting under .200. Recently though, Hardy has been off the charts.
After three stellar games for the Orioles' shortstop, he's managed to raise his .187 batting average to a respectable .244. Just to reiterate, he's raised his batting average 57 points in three games.
In the 17-inning marathon against the Boston Red Sox (which saw Orioles 1B/DH Chris Davis get the pitching win), Hardy went 5-for-8 at the dish with two solo homers and three runs scored.
He has since gone 3-for-4 and 2-for-4 with a homer at the plate in two games since.
Although Hardy is perhaps better known for his gold glove quality defense, his ability at the plate in the last three games could rival anyone not named Josh Hamilton.
Ubaldo Jimenez, SP
It's hard to figure what happened to Ubaldo Jimenez after his days of dominance in Colorado with the Rockies.
His transition to the Cleveland Indians has mostly been a disappointment, but he may be showing signs of turning things around.
In his last start on May 6, Jimenez pitched seven shutout innings against a ruthlessly strong Texas Rangers batting order.
Jimenez did walk five batters in the win, which should be seen as a red flag (for good reason), but he only surrendered two hits in seven innings while striking out six batters.
If Jimenez can return to the form he showed in Colorado, he'd be a huge addition to any fantasy baseball team. I'd temper your expectations, but seven shutout innings against arguably the best offensive team in baseball is a positive sign to say the least.