Michael Kidd-Gilchrist : Highlights, Analysis and Pro Projections
June 6, 2012

Andy Lyons/Getty Images
Michael Kidd-Gilchrist is the premier stat-sheet stuffer in the 2012 NBA Draft. The 6'7" forward helped lead Kentucky to a national championship this past season.
As a part of the Wildcats' great freshman class, MKG nearly did it all for Kentucky. He averaged 11.9 points, 7.4 rebounds and a steal per game. 
He made himself eligible for the NBA Draft on April 17, along with the rest of the Wildcats' core of underclassmen. MKG is considered the top SF prospect in the draft by ESPN's Chad Ford, and I agree.
He is a glue guy, and that will attract many general managers, and it'll probably convince them to ignore his shortcomings.
Here is a scouting report on MKG, highlighting his strengths and weaknesses. 
(Height, weight and stats per statsheet.com)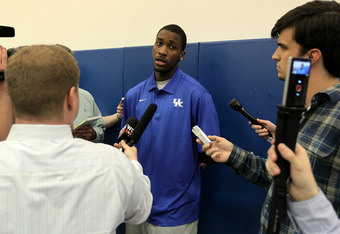 Andy Lyons/Getty Images
Profile:
Height: 6'7" 
Weight: 232 pounds 
School: Kentucky
Date of Birth: September, 28, 1993
Best NBA Position: Small Forward
College Stats: (Key Stats Underlined) 11.9 PPG, 31.1 MPG, 49.1 FG%, 25.5 3FG%, 74.5 FT%, 1.9 APG, 7.4 RPG, 0.9 BPG, 1 SPG
Skill Grades:
Athleticism - A
Size - A
Intangibles - A+
Rebounding - A
Ball Handling - B
Defense - A+
Shooting - C-
Passing - B
Post Game - C
Basketball IQ - B+
Upside - A
Strengths:
MKG is relentless; he attacks the basket with athleticism and determination. He has the quickness and leaping ability to get to the rim and finish. He is also a lockdown defender. He is the type of player that could draw the toughest defensive assignment every night.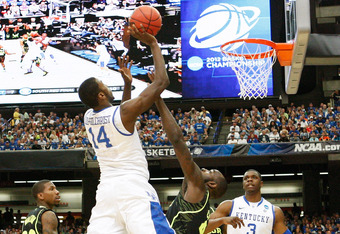 Kevin C. Cox/Getty Images
He possesses the strength to hold his ground against powerful drives, and the speed, quickness and length to challenge on the perimeter.
He also rebounds like a PF.
He uses his strength and desire to fight on the glass, and he is excellent at creating second chance opportunities for himself and teammates.
MKG will outwork most opponents, and his passion is contagious. As far as intangibles go, he may be the most attractive player in the draft in that category. He has overcome the heartache of losing his father figures prior to committing to Kentucky, and still thrived in spite of it.
At 18-years-old, this kid is a GM's dream.
One look at the effort and hustle in this highlight reel and you'll see why:
Weaknesses:
MKG's biggest flaw is his outside shooting. He shot only 25 percent from three-point range in 2011-2012, and that must improve if he's ever going to be a big scorer.
His shot doesn't look horrible, but he needs repetition to gain more confidence in it. Further down the line he could also add a mid-range or post game to his skill set.
He has the bulk to take advantage of smaller players, and it could allow him to get easy buckets.
But he clearly has time to develop in that area.
MKG's passing could be better as well, especially on his dashes to the rim. He is not selfish, but his vision is a little limited in that aspect, thus he doesn't create for his teammates as often as he could. 
NBA Player Comparison: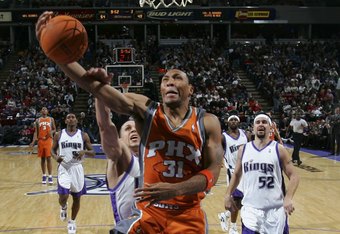 Jed Jacobsohn/Getty Images
Shawn Marion—without the weird jump shot
MKG could be the Matrix 2.0. Just as Marion showed the ability to rebound, defend and excel in transition, MKG could have a similar impact.
While playing for Phoenix, Marion thrived in the Suns' uptempo attack. He went to four All-Star Games (2003, 2005, 2006-2007) and was voted All-NBA Third Team twice (2004-2006).
Marion was a poor shooter early in his career, but he worked to better that ugly jump shot. Through his 13-year career, Marion is a 33 percent three-point shooter.
MKG can be the same type of player as Marion, and possibly even better because of his leadership qualities.
Draft Projection:
Top Four
Follow Brian Mazique and Franchiseplay.net for reactions, analysis and news from the world of sports and sports Video Games