Ohio State Football: Terrelle Pryor Plight Shows Absurdity of NCAA Amateurism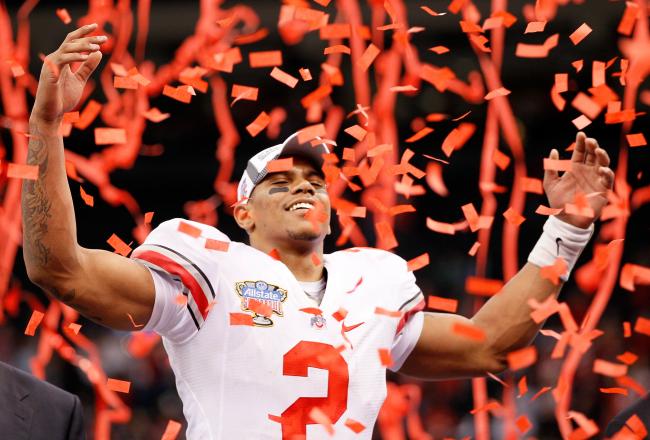 Kevin C. Cox/Getty Images
Hey, remember when Terrelle Pryor selfishly and greedily took improper benefits, costing him his senior season of eligibility and relegating him to the NFL supplemental draft? Remember the incriminating pictures of him in loaner cars that would cost upwards of $20,000?
Of course you do. It was pretty much the story of the Big Ten in the months leading up to last season.
Pryor would be demonized in Columbus and the rest of the Big Ten thereafter, and the NCAA even mandated that Pryor not make contact with the Ohio State football program for five years as part of his punishment.
Pryor sat down with Sports Illustrated's Jim Trotter and talked about his transition to the NFL recently, and he also took the opportunity to clear the air about his last year at Ohio State. This naturally included what money he took and why.
It's absolutely worth reading:
"It was humbling," he said. "A mistake I made when I was a freshman by selling my pants for $3,000 just took away everything from me. I was just driven into the ground. I was the worst person in the world. My face popped up on the screen, and it seemed like I was the only one who did anything. I was the only one who was getting attacked. At that point last year, I'm 21 and it just felt like everything was against me, like I can't do anything right. I did something to help somebody else out, and I end up getting into trouble. I understand. I shouldn't have sold the stuff and taken $3,000. But I was kind of in a place where I didn't understand why this is happening to me—especially for the reason that I did it.
"The reason why I did it was to pay my mother's gas bill and some of her rent. She was four months behind in rent, and the (landlord) was so nice because he was an Ohio State fan. He gave her the benefit of the doubt and she said, 'My son will pay you back sometime if you just let me pay you back during my work sessions.' She ended up losing her job, and she and my sister lived there. Let me remind you it was freezing cold in November, December, and she's using the oven as heat. That's what I did as a kid. I was telling the NCAA, 'Please, anything that you can do. I gave my mother this so my sister wouldn't be cold, so my mother wouldn't be cold.' They didn't have any sympathy for me. It's not like I went there and bought new Jordans. It's documented. Whenever I write my book the proof will be in there, the receipt that the money I gave my mother was to pay the electric and heat bill. The truth is going to come out one day when the time is right. I don't think I deserved (being punished) in that way, because of the reason I was doing it. I felt like I was doing God's work in a way, and I was getting driven into the ground."
That this situation could happen in a country as rich as the United States, in an organization as moneyed as the NCAA, and in a football program as profitable as Ohio State's is absolutely appalling. It is a moral failure.
The NCAA has its reasons to oppose athletes receiving gifts or in any way profiting from their own likeness. And those reasons have utterly nothing to do with the welfare of athletes or their families.
What Pryor did was not illegal in any way, nor was it immoral. If I or you or anybody else were in a position of need and could exchange a piece of jewelry (the pants Pryor refers to are his 2008 Gold Pants) for $3,000, we'd do it in a heartbeat, and we'd be better off.
Was what Pryor did "God's work," as he claimed? I can't speak for God, but I do know it would be immoral not to do that, if the need were great enough. As a matter of fact, I'd have less respect for Pryor if he had kept his family in the cold so he could preserve his collegiate eligibility.
The reality of the situation is this: The NCAA's hard-line stance on athletes and money means that when it subjects a poor family to its version of amateurism, it keeps that family poor at the expense of the athlete's ability to compete. There is no honor in that.
Pryor's likeness is demonstrably valuable. He used it to get $3,000 to keep his family in their home. He used it to get access to loaner cars. He may have used it to get free tattoos. The NCAA and Ohio State said all of this was wrong.
Meanwhile, Ohio State happily sold thousands upon thousands of replica No. 2 jerseys. Presumably, neither Pryor nor his family will see a dime from them.
Poverty is a real, destructive problem in America. It might be the worst problem in America. Many athletes come from such impoverished homes, often with the dream to lift their families out of hardship. And if the need for assistance becomes overwhelming, as it did for Pryor's family, I hope every athlete has access to the assistance that Pryor had, and does what Pryor did.
Then I hope every one of those athletes goes to the NCAA and tells them exactly what they did. I hope the NCAA has hundreds of high-profile athletes coming to them and saying, "I had to use my likeness to provide for my family, because as nice as my scholarship is, it doesn't keep my mom's lights on."
I hope the NCAA has to confront the fact that it's keeping poor families poor by denying its athletes access to gifts or their likeness, and I hope it changes its oppressive stance on amateurism once and for all.
This article is
What is the duplicate article?
Why is this article offensive?
Where is this article plagiarized from?
Why is this article poorly edited?