Fantasy Baseball Sleepers 2012: 4 Hitters Who Will Pick Up Steam in May
May 9, 2012

Doug Pensinger/Getty Images
Looking for a waiver-wire pick-up that could rescue your fantasy baseball team? Well, I have a few suggestions for hitters below.  
Carlos Ruiz
It's a wonder Phillies catcher Carlos Ruiz isn't owned in more fantasy leagues already, considering that catcher is an extremely thin position. 
Ruiz is owned in just 64.9 percent of ESPN.com fantasy leagues, but has a +/- of +45.2 percent in the last week. That means a lot of fantasy players are adding Ruiz. You should too, before he is claimed in your league. 
Ruiz is hitting .319 with five homers so far in the season. I'd expect Ruiz to continue that similar production the rest of the season, especially when he has protection in the lineup once Ryan Howard and Chase Utley return from injuries.
Even though Ruiz is having a career-year at the plate right now, there are no indicators that his play has been a fluke. 
Mark Reynolds
Reynolds is always a hot-and-cold hitter, but is starting to show warm signs. In his last five games, Reynolds is 7-for-17 with two homers.
Reynolds is hitting below the Mendoza line right now, but considering his career high line drive percentage and career low home run/fly ball rate, his batting average should rise considerably and the amount of home runs should increase as well.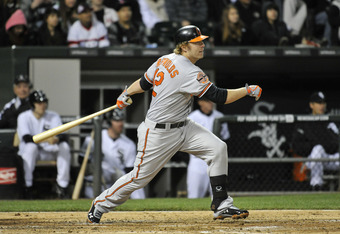 Brian Kersey/Getty Images
Don't keep Reynolds on your roster too long—it could be too late before you realize Reynolds is in a major slump again. Right now he's hot, but don't be afraid to drop him he goes cold.
Helton is hitting only .236, but does have four homers and 26 RBI. Helton hit over .300 last year, so I still think he has something left in the tank. 
Right now Helton has an egregious .227 BABIP (the average is widely assumed to be .300). Helton should have a much higher average than he does right now, and I'd expect Helton's batting average to rise considerably in the next couple of weeks.  
Helton plays first base, which is a very deep position, but it might be worth it to save a roster spot for him.  
Ike Davis
Davis is another player who is a bit unlucky at this point in the season. 
Davis isn't helping himself out with a 28 percent strikeout rate, but does have an astronomically low .208 BABIP. Last year Davis hit .302 with a .344 BABIP.
While I don't think he'll rise to that level, Davis is well overdue at the plate, and should heat up in the next month.