NBA Playoffs 2012: Luol Deng and Players Who Must Answer the Call
May 9, 2012

Jonathan Daniel/Getty Images
The first round of the 2012 NBA playoffs is winding down, but there's still plenty of time left for certain players to make an impact.
One big game, or even one big possession, can turn a series completely around, and certain stars must answer the call when opportunity arises.
Here's a look at a few stars who will get that call in the upcoming days, and we'll see if they will be able to answer it.
Luol Deng, Chicago Bulls
With Derrick Rose out of the lineup and the Bulls down 3-2 in the series, they need their other All-Star to step up and carry them the rest of the series.
Deng answered the call in Game 5 with a 24-point effort, but overall, it hasn't been a great series for him, as he's averaged only 13 points per game.
Game 6 in Philadelphia gives Deng another opportunity to step up and lead the Bulls to victory.
Joe Johnson, Atlanta Hawks
The Hawks have Josh Smith and Al Horford back in the lineup, but to come back from being down 3-2 in their series against the Boston Celtics, Atlanta needs its $100 million man to step up in a big way.
Johnson is averaging 17.2 points per game, but he's also only shooting .365 from the floor and .233 from behind the arc.
The Hawks are going to need him to step up and knock down shots consistently if they are going to move on to the second round.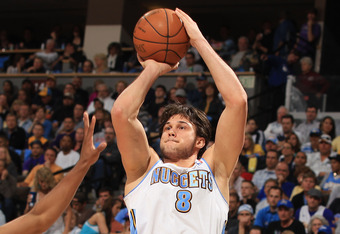 Doug Pensinger/Getty Images
Danilo Gallinari, Denver Nuggets
Many feel that Gallinari is on the verge of stardom, and with his Nuggets down 3-2 against the Los Angeles Lakers, he's got the perfect stage to break out.
Similar to Johnson, though, in order to do that, he must start making shots. Gallinari has lost his touch from the outside, shooting only .071 from behind the arc and .389 overall.
He's got the talent to throw the Nuggets on his back for stretches, and there would be no better time than Game 6.
Randy Foye, Los Angeles Clippers
Sure, the Clippers are up 3-1 in their series against Memphis, but to close out the Grizzlies or do any damage in the second round, they need Foye to step things up.
The shooting guard finished the regular season averaging 15.2 PPG in the month of April and scored in double figures in 14 of his past 16 games.
But he's off to a brutal playoff start, averaging only seven points per game.
Steve Novak, New York Knicks
The Miami Heat are doing a tremendous job on Novak, and the Knicks sharp-shooter is averaging a mere 3.0 PPG so far in the series.
Even worse is the fact that Novak can't get a clean look at the basket, attempting only 1.8 shots per game from behind the arc.
For the Knicks to have any chance of getting back into the series, they have to find a way to get Novak some open looks, and he's going to have to knock down some shots.