Chelsea FC: Losing to Liverpool Does Not Matter in Any Way for the Blues
May 9, 2012

Alex Livesey/Getty Images
"Chelsea stink!"
That was the only response I had to the Blue's first half performance yesterday as they would give up four terrible goals to Liverpool in their league match before going on to lose 4-1.
Luckily for me, I was forced to go to work and not able to watch the second half in real time. But constant updates on my phone and watching highlights (or lowlights if you are a Chelsea fan) later that night told me that this was perhaps the worst game I have ever seen this club play in the relatively short time I have been following them.
Luis Suarez looked a threat from the opening minute as what can only be described as the caricature of an inebriated John Terry was nutmegged not once, but twice, with the second leading to a Michael Essien own goal.
The second was more a result of poor coincidence, as a pitch that had players on both sides slipping got the better of Terry and let Jordan Henderson go in on goal all alone.
The third was a combined team effort, or lack thereof. A simple corner that should have been dealt with was centered into a dangerous position. But rather than clearing it out, every single Chelsea defender sat still and just watched with drooping eyes and flabbergast mouths as Daniel Agger put the Reds up three nothing.
The game was only 28 minutes in.
Then Branislav Ivanovic looked more like a battering ram than a footballer, going crashing into everything that moved with the kind of force that would make Ray Lewis jealous. His penalty on Andy Carroll was more a result of a culmination of overly hard challenges than anything else. Fortunately for Chelsea, Stewart Downing was the one to take it and drilled the post.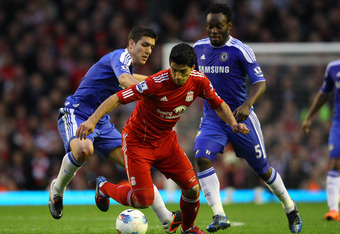 Alex Livesey/Getty Images
After Ramires somehow got one back using no more than his crotch (they are really going to miss him in the final), Ross Turnbull, making his first start in the EPL this season, gifted Jonjo Shelvey (who?) the fourth goal with an atrocious pass he did well to volley high into an open net.
And there you go, 90 minutes of the most terrible football I have ever seen. Games like this give the MLS hope that maybe someday they could become a respected league challenging the big boys for supremacy. I don't even think they could look this bad!
It was obvious by both the starting lineup and the attitude of everyone from the players to the coaches that this game meant nothing to them. Roberto Di Matteo has made it quite clear through his team selection that as soon as they advanced to the Champions League final, it was an all-or-nothing mentality to raise that trophy.
There are plenty of Chelsea supporters who disagree with that philosophy. That the Blues should focus and put all their effort into every single game they play.
If this is you, then you are a sports romantic. You read books like The Natural and watch movies such as Rudy as if they were a fictionalized reality, not utter fantasy. And that is perfectly fine.
We all have our reasons for enjoying these pointless games, but in truth, for the players who play it and men involved in running the clubs, it is their business and they must do what is in the best interest of keeping that business afloat and their jobs secure. That does not always mean playing into the stereotypes of sensationalized expectations.
When Di Matteo took over, there were two primary goals—win the FA Cup and finish fourth in the league. The first has of course already been accomplished, but the second is now out of reach. But the reasons behind the second goal—to secure Champions League for next season—are more likely than ever before under his tenure.
When Di Matteo took over in March, Chelsea was in fifth place in the league. That means from day one the team was never once in control of their own destiny. They were always relying on other teams to slip up to have any chance of getting fourth. This is a position you never want to be in, no matter what the competition.
When Chelsea had their incredible victory over Barcelona, it did not change the goal, but simply the best route to obtain it. Let's also not forget that though Di Matteo has been in charge for exactly two months tomorrow, he has already played 18 games (that's about a game every 3.33 days), a staggering amount in such a short period. Something had to give somewhere.
Watching the telecast of yesterday's game, the commentators continued to harp on the Blues' poor performance, suggesting that they cannot put all their eggs in one basket against Bayern Munich. That beating Bayern is an illogical way to make Champions League next season and they should be going for it all against Liverpool.
Can these boneheads do math? Chelsea could have won 6-0 yesterday and 8-0 against Blackburn on Saturday, and all it would have taken was two draws from Newcastle, Tottenham or Arsenal to see the Blues still not obtaining their ultimate goal.
All it would have done was risk injury to a team that will already be short-staffed for the biggest game in the club's history.
I don't in any way think Bayern is a gimme game. They will be a tough matchup and even more so without Terry, Ivanovic, Ramires and Raul Meireles.
But Chelsea was not expected to get by Barcelona, especially with ten men. So why is it so out of the question that they can't figure a way to beat a Bayern team that will be without key players of their own in one single game?
If there is something to come away with from yesterday's match, it is that anything can happen in one game. If you want to call me a sports romantic in any way, it would be at this notion: that it does not matter the team, the style, the fatigue or even the level of talent if they are relatively close—in a one-game sample size, the result can be as random as the game itself.
So for those of you who saw yesterday's loss as some kind of shameful display of incompetence, well, you are right. I hope the players hung their heads low that night and were a bit embarrassed by what they did.
But again, it is one game and a meaningless one at that. Don't worry, the Blues are still right on course for where they want to go.
For all my articles, follow me on Twitter: @thecriterionman