Fantasy Baseball 2012: Should You Trade Matt Kemp to Help Your Struggling Team?
May 9, 2012

Stephen Dunn/Getty Images
If you are struggling in your fantasy baseball league and are sitting with a bunch of scrubs surrounding Matt Kemp, do you do the unthinkable act and trade the slugger to one of the top teams for two-to-three players from their team? 
This trade scenario, along with other fantasy baseball news and advice, is discussed on the podcast show, " T.J. McAloon and the Sports Half Hour." 
On the show, Bleacher Report's Adam Wells and myself discussed if you should move Kemp after his amazing start to the 2012 season. 
If you play in a standard ESPN league, then Kemp is the top player in the National League, and second to Josh Hamilton as the best player in the majors with 204 points. Kemp is averaging 6.8 points per game and over the last 14 days, he's given his fantasy owners an average of 5.1 points per game. 
However, if you have Kemp, but are in seventh place out of 10 or more teams, then should you move the talented player for parts that can plug the holes that are littered on your team? 
Logically thinking, Kemp should be able to land you any of the top players in your league. For example, as discussed on the show, you could be able to trade Kemp for a player like Cleveland Indians' second baseman, Jason Kipnis.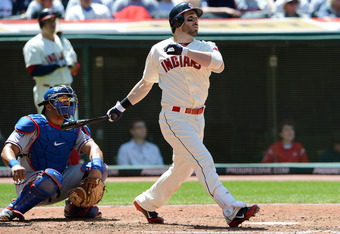 Jason Miller/Getty Images
Kipnis has been having a solid season as Cleveland's best fantasy performer averaging 4.9 points per game. In fact, Kipnis is having a fantasy All-Star season, as he's the fourth-best at his position. His 143 total points are just 21 points behind Ian Kinsler as the best at his position. 
The podcast talks about mid-season call-ups that should be available on your waiver wire, if you should add Bryce Harper in non-keeper leagues and will Albert Pujlos rebound from his slow start. 
However, if you own Kemp and are struggling, this show gives you some things to think about to help improve your team. 
Subscribe to the show for instant downloads on iTunes. Also while there, click one of the stars for ratings and leave a comment, thanks.