Kentucky Basketball: Why They're the Best College Team of the Last 10 Years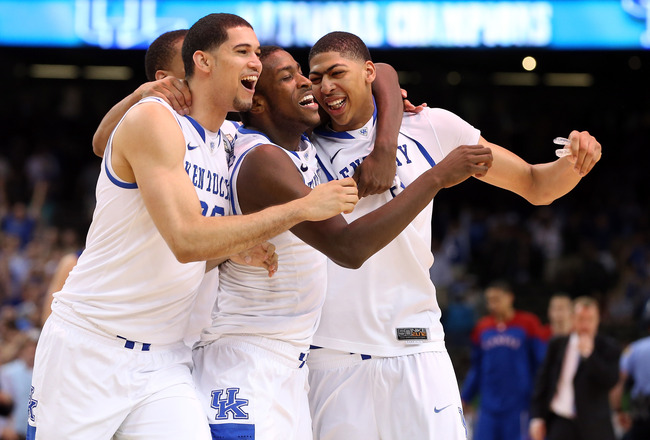 Jeff Gross/Getty Images
In winning the 2012 national title, the Kentucky Wildcats set a new standard for excellence in men's basketball with a single-season record 38 wins against just two losses. It's the kind of performance that immediately raises questions about UK's place in history, starting with this one:
Has there been any team in the last decade that could match the Wildcats' brilliance?
In addition to the other nine NCAA champions in that time, two other squads have an obvious argument to be considered among this period's best. Both Illinois (in 2005) and Memphis (in 2008), while they failed to win the title, equaled the previous Division I record of 37 wins in a season—a record Memphis actually broke, only to vacate its performance and leave the mark for Kentucky to capture.
Read on for a head-to-head look at why no one, even in that impressive collection of teams, can beat out Kentucky as the best in the last 10 seasons of college hoops.
8. 2005 Illinois Fighting Illini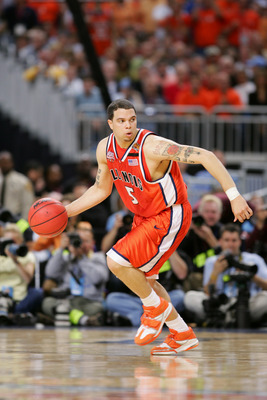 Elsa/Getty Images
Although the Deron Williams-led Illini did rack up a then-record-tying 37 victories, they were the most obviously flawed team on this list.
Like 2011-'12's Missouri Tigers, they suffered from a crippling lack of size that cost them the NCAA title in spite of outstanding perimeter offensive skills.
The 2011-'12 Kentucky squad, in contrast, not only lacked such a glaring Achilles' heel but counted size as its greatest weapon.
The starting five (led by 6'10" Anthony Davis) averaged just over 6'6", with Darius Miller coming off the bench as a 6'8" guard just to rub it in.
7. 2003 Syracuse Orange/2008 Memphis Tigers/2011 UConn Huskies
Ronald Martinez/Getty Images
These three teams are lumped together because they all fall under pretty much the same rubric. All had brilliant seasons (championship runs for the Orange and Huskies, a record 38 wins for the Tigers), but all would have been also-rans were it not for one transcendent star.
Take Carmelo Anthony, Derrick Rose or Kemba Walker off their respective rosters, and none of these teams would've had serious Final Four shots, let alone title hopes.
Contrast that with Kentucky, which, even without Wooden and Naismith Award winner Anthony Davis, would have featured four potential first-round draft picks in a lineup loaded with jump-shooting, defense and athleticism. That combination would likely have kept them in the mix for the title, Davis or no Davis.
6. 2005 North Carolina Tar Heels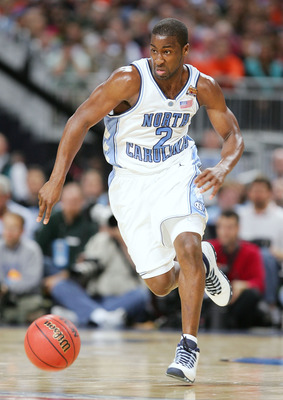 Elsa/Getty Images
The rare team that can match big bodies with the Wildcats, these Tar Heels featured three 6'9" starters in the frontcourt (led by title-game hero Sean May).
The biggest star for the year, though, was warp-speed PG Raymond Felton, the engine that powered the country's highest-scoring attack to 88 points per game—a group that would have posed a challenge even to Kentucky's superlative D.
Of course, the downside to all that offense was that this UNC squad ranked 217th in the nation in scoring defense.
Kentucky may not be a scoring juggernaut on the same scale as Roy Williams' team, but they're vastly better for an offense than these Tar Heels were for a defense.
5. 2008 Kansas Jayhawks
Jed Jacobsohn/Getty Images
Behind brilliant three-point shooting from Mario Chalmers and Brandon Rush—supported by mobile big men and great passing—Kansas became the first team ever to win 37 games and a national title in the same season.
Unfortunately for them, their teamwork-heavy approach doesn't hold up very well against an equally balanced group that features far superior individual talent.
Kentucky's forwards are light-years ahead of their KU counterparts: Consider Anthony Davis vs. Darrell Arthur, or Terrence Jones vs. Darnell Jackson.
Chalmers has the only individual matchup advantage for the Jayhawks, but compared to the superior mid-range game and dominant defense of Kentucky, Kansas is out of its league here.
4. 2010 Duke Blue Devils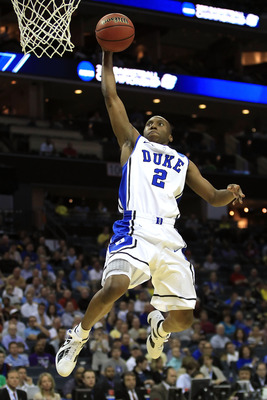 Streeter Lecka/Getty Images
Duke won the 2010 championship behind three outstanding players, but the trio of Jon Scheyer, Kyle Singler and Nolan Smith made up nearly 70 percent of the Blue Devils' offense.
Kentucky got the same 77 points per game overall but had a more versatile, more balanced attack with six dangerous scoring options.
Duke was also a team with serious question marks in the middle, with only one post player (Brian Zoubek) averaging better than five rebounds a game and no player blocking even one shot per contest.
With a defense whose length and mobility could have handcuffed all three of the Blue Devils' scoring options, Kentucky is the clear choice here.
3. 2004 UConn Huskies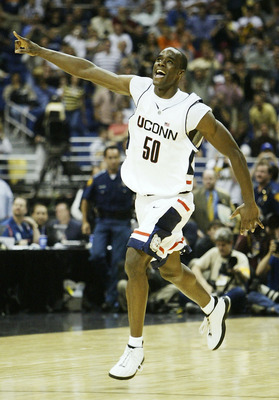 Stephen Dunn/Getty Images
One of the greatest defensive teams in history, UConn's 2004 national champs set a Division I record for blocked shots in a season. It's a record that received a certain amount of press this year…when Kentucky broke it.
In addition to beating Emeka Okafor's frontcourt at its own game, Kentucky is the better team in this matchup because of its balanced scoring.
Okafor and Ben Gordon provided nearly all the offense for UConn, while the Wildcats could count on any of their starting five to get hot as the matchups dictated, especially given that all but Anthony Davis were (in marked contrast to some of UConn's bruising forwards) skilled jump-shooters.
2. 2009 North Carolina Tar Heels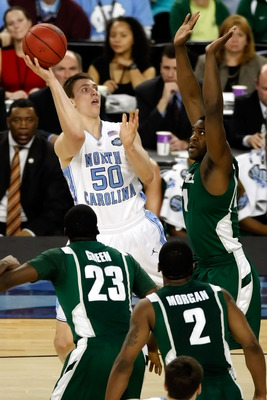 Gregory Shamus/Getty Images
With over 37 points per game from Tyler Hansbrough and Ty Lawson alone, there's little doubt that the Tar Heels have the edge in offensive firepower in this matchup.
Kentucky, though, not only plays more defense, but they're the rare team that would actually have an advantage over fleet-footed UNC in terms of athleticism.
The Wildcats are just as quick as North Carolina at four out of five positions (excepting Lawson), and they're decidedly stronger at all three wing spots.
PF Deon Thompson, the weakest starter on this North Carolina team, might be a physical match for Terrence Jones, but Jones' superior skill and Kentucky's perpetual height advantage give the Wildcats the edge here.
Perhaps the most telling stat will be written in this June's draft: For all UNC's impressive numbers, only stars Hansbrough and Lawson managed to become first-round picks or NBA successes, while all five Wildcat starters have a very real shot at being selected in Round 1.
1. 2006/2007 Florida Gators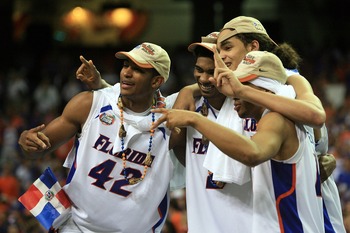 Streeter Lecka/Getty Images
The Gators obviously have one advantage in this comparison that Kentucky can't match: They stayed together to win two titles with the same starting five, rather than jumping to the NBA after the first one as the Wildcats have done.
Comparing the lineups head-to-head, though, still gives John Calipari's squad an edge (albeit a small one) over Billy Donovan's.
The frontcourt battle is virtually a wash: a skinny, shot-blocking center (Anthony Davis vs. Joakim Noah), a mobile, soft-shooting power forward (Terrence Jones vs. Al Horford) and a lockdown defender at the 3 (Corey Brewer vs. Michael Kidd-Gilchrist).
The backcourt advantage, however, belongs to Kentucky, where Doron Lamb was a more versatile offensive weapon (and a far better defender) than three-point sniper Lee Humphrey, and Marquis Teague a more consistent distributor than Taurean Green.
It's also worth noting that while Florida could match the remarkable offensive balance of the Wildcats' starters, the Gators didn't have a sixth man anywhere near the caliber of Kentucky senior Darius Miller.
Keep Reading

Kentucky Wildcats Basketball: Like this team?