NHL Draft 2012: 4 Holes the Detroit Red Wings Will Look to Fill at the Draft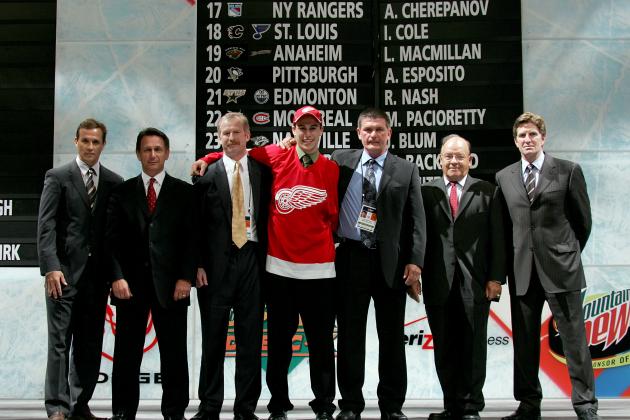 Bruce Bennett/Getty Images
Brendan Smith, drafted in the first round of the 2007 NHL Draft By Detroit.
The Detroit Red Wings have been known to delve into the draft, selecting the most uncanny players that have been bypassed by many.
The names Pavel Datsyuk and Henrik Zetterberg come to mind.
But sometimes it isn't always about finding the perfect player to fill a position in hopes that that player will be available when your selection comes.
Instead, it can be about selecting by a type of player that can be used to fill a position of need, and selecting the best player available at that position.
The Red Wings need to fill a couple holes, but they don't have a first round pick because of the Kyle Quincey trade.
Looks like they're going mining for gold again in the later rounds.
Here are four positions Detroit will attempt to fill through the draft.
Begin Slideshow

»
The Red Wings have never really had a "big" center.
You know the type: a 6'3" or taller and 230 pounds or heavier.
The name Joe Thornton comes to mind.
Now I can't say that I can see Detroit getting anyone close to his pedigree in this draft by the fact that they do not have a first round pick (see the Kyle Quincey trade), but there is one center that could end up fitting the bill.
Vyacheslav Osnovin from Chelyabinsk 2 of the Russian Junior League.
If you watch the video above, you might notice he looks like another Russian center that Detroit has with his smooth hands on the goal above.
Osnovin is ranked as the 13th-ranked European Skater by Central Scouting and would be a stretch to fall all the way to the mid to late second round where Detroit's first selection would be, but perhaps Detroit could work out a trade to move up to the early second round and select him there.
Osnovin is listed at 6'0" and 188 pounds so he has some growing to do, having just turned 18 in March, but 10 to 20 pounds heavier and he could be a dominant center on the third or fourth line in a couple years.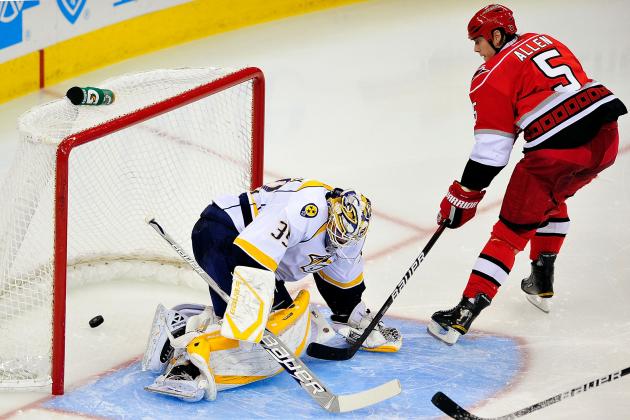 Grant Halverson/Getty Images

Pascal Zerressen.
Name ring any bells? Didn't think so.
Zerressen (seen here) is a Bryan Allen type of defenseman. That is a massive, hard hitting, shot-blocking defenseman. The difference between Allen and Zerressen is that Zerressen has shown offensive potential in his junior career, posting nine goals and 42 points in just 31 games last year with Krefield Jr.
This season, Zerressen made the jump to the big leagues in Germany, and has just two assists in 41 games.
But he's just 18 years old.
Detroit will likely be looking to fill Brad Stuart's big shoes this off-season and bring in a shot-blocking hard hitting defenseman. Short-term, they may have to look elsewhere.
But longer term, the Red Wings should look at Zerressen, who is the 48th-ranked European skater.
He could be a big steal as a fourth or fifth round pick.
There's just something about a player who throws a big hit and then isn't afraid to drop the gloves for it that is admirable and pretty respectable.
That player in this instance, is Brock McGinn.
Detroit only has a couple hard hitting players and the rest usually do "fly-bys" on opposition players and avoid hitting them.
Adding McGinn to the Detroit Red Wings bottom six forward group would be a tremendous addition to the Red Wings hitting game.
Add to the fact that his brother is Colorado Avalanche forward Jamie McGinn (who checked himself through a door on the ice) and you can see why his little brother Brock would fit in perfectly with other grinders like the Red Wings' own Darren Helm.
McGinn had 14 points in 68 games with the Guelph Storm two years ago, but this season, despite playing only 33 games, managed 19 points with the Storm.
McGinn is the 49th-ranked North American skater on the Central Scouting rankings.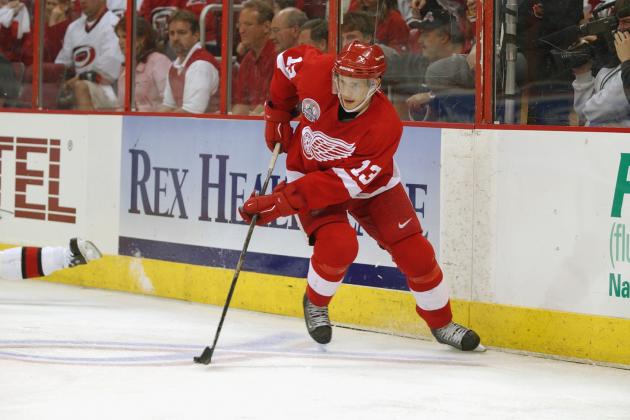 Harry How/Getty Images

Now let's be honest for a minute.
Pavel Datsyuk is a one of a kind player, and as a "late round gem" he is probably one of the best ever.
When drafting players, "late round gem" is not a hole on the team that you look to fill.
But the Detroit Red Wings have been known over the last 20 years to find players in the third round or later that have led them to greatness.
The key for Detroit to filling this "late round gem" status this time around is having faith in a player that is still a few years out.
Players that were strong in the mid-term Central Scouting rankings, but fell over 100 spots to their current spot are prime candidates for the late round drafting magic of Detroit's scouting staff.
For more article updates, Follow @isaacesmith91