Tennessee Volunteers Football: 5 Questions That Keep Derek Dooley Up at Night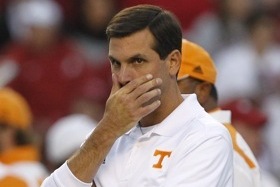 Most of us have positive thoughts about the Tennessee Volunteers when we think about them before falling asleep. The tradition, excitement and pure fun of the Vols makes for a great way to end the day. But head coach Derek Dooley is likely to lose sleep over some of these questions that Tennessee needs to answer this fall.
I've said it a lot, and we all know it: It's put up or shut up time for Dooley. If he is unable to lead the Big Orange to at least seven victories (many say eight), he is gone.
Ever wonder what kind of questions and concerns he has late at night? Here are five that I bet are running through his head.
(At least it's a head with great hair, though.)
Begin Slideshow

»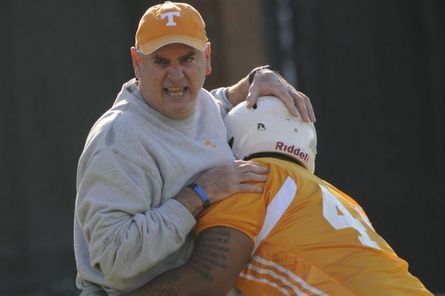 Some college football analysts have conjectured that former defensive coordinator Justin Wilcox wasn't aggressive enough for Derek Dooley's liking.
Dooley's defensive philosophy, especially with a high-scoring Tennessee Volunteers offense, is to take a chance on trying to force turnovers.
One thing is for sure with new defensive coordinator Sal Sunseri: You don't have to tell him twice!
Sunseri brings in a record of coaching aggressive and physical play, particularly from his linebackers. The Vols have two All-SEC Freshmen, an extremely fast defensive end-turned-standing pass rusher and a senior returning from injury as their starting linebackers. Perfect.
Brent Brewer's return to safety allows the ballhawking Prentiss Waggner to go back to cornerback. If the linebackers can pressure the quarterback, Waggner's secondary could get those big plays Dooley seeks in the 3-4 defense.
But if the transition from a traditional 4-3 doesn't work, it could spell disaster for Tennessee.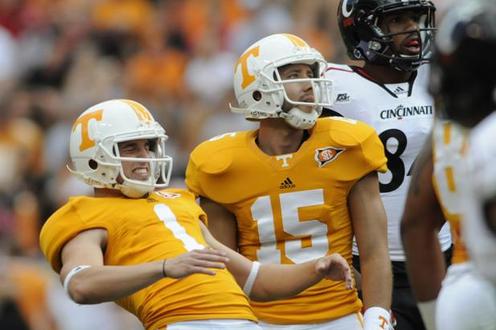 The Vols' kicking hasn't been right in recent years.
Luckily for Dooley, there aren't a lot of options to consider even if the answer is no to this nightmarish question.
If Matt Darr struggles again this year, it's either put an equally unstable Michael Palardy back to punt, or suck it up and move on. Darr was dead last in the SEC in yards per punt for those who qualified. Palardy was even worse, but only punted 14 times in 2011.
With the kicking game, the once highly-touted Palardy has yet to show any semblance of the accurate leg that made him the second-rated kicker in the country coming out of high school.
He has missed an extra point in both his seasons at Tennessee and was a paltry 64 percent in field-goal attempts last year.
Practice squad kicker Derrick Brodus became somewhat of a legend when he was called just hours before a game last year and ended the night 1-for-1 in field goals and 3-for-3 in extra points.
Unless Dooley wants to let Brodus or the freshman George Bullock upend Palardy, this question is going to be one he has to deal with.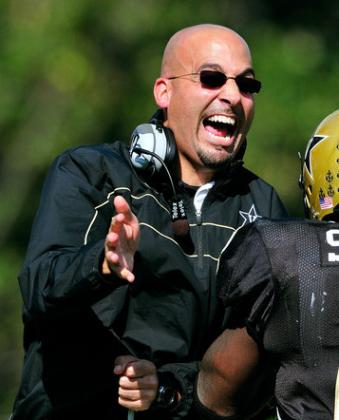 I'm happy to admit that I am terribly biased against the Vanderbilt Commodores. Of course, any good Volunteer fan should be.
After graduating from Tennessee in May of 2011 and then enrolling in graduate school at Vanderbilt just three months later, I couldn't help but feel I was betraying my Alma Mater a little. Seriously, it was a tough first week!
But what made it easy was when I reaffirmed that Vandy still makes me sick. No doubt it has the same effect on Derek Dooley. We have a common annoyance named James Franklin.
Franklin is the most presumptuous coach I have ever seen in my life. As a lifelong assistant at such "powerhouse" programs as James Madison, Idaho State and Maryland, you have to wonder where his ego comes from.
In his first year at Vanderbilt, Franklin earned a 6-7 record, a decent one for the Ivy League of the South. But his wins were over Elon, UConn, Ole Miss, Army, Kentucky and Wake Forest. Their combined record was 24-46 in 2011. Congrats, James.
But Franklin's loud mouth has lured several in-state recruits away from Dooley, and there's definitely a different air around the Vandy football program now.
Tennessee must keep beating Vanderbilt if they hope to regain their seat atop the SEC contenders. Dooley has to wonder how the 'Dores will be when they face off in November.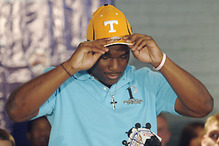 It never stops! In the SEC, recruiting is year-round, and I assure you, Derek Dooley is thinking about players for the 2013 and probably 2014 classes right now.
To keep up with the suddenly powerful SEC West and the traditional powers of the SEC East, top 15 recruiting classes are virtual musts.
Dooley earns high grades in his recruiting thus far, though he has yet to crack the top five in any national-ranking service. He has, however, brought in highly-talented players that are also high-character people. That's a combination that fell to the wayside in recent years.
The Vols have six recruits committed to sign in February of 2013 already, but the task now is to hold on to those players (remember what happened to Dalton Santos and Otha Peters?) while adding new ones in the coming months.
Specifically, Dooley needs to rope in a few elite running backs and defensive tackles, two positions that have curiously avoided the Vols in recent years.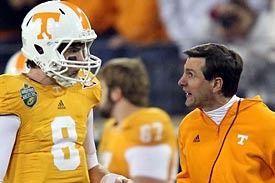 Most importantly, Derek Dooley has to be losing sleep over what his status will be after the 2012 season, and no person has greater say in his fate than quarterback Tyler Bray.
Now a junior with plenty of starting experience, Bray is looking to make big strides of his own. If he can finally have the standout season that he's capable of, Bray could be the top overall pick in the 2013 NFL Draft.
His leadership and durability have been his Achilles heel at Tennessee.
When the going got rough last year, he still played hard and made tough throws, but where was the fire when the Vols needed just one more touchdown at Kentucky to go to a bowl game? Where was the Tim Tebow-like rally on the sideline? There is no excuse for a lack of leadership this year. It's Bray's team.
With regard to durability, he has yet to play a full season. As a freshman in 2010, he was brought in late to take over for Matt Simms. Last year, Bray broke his thumb on the helmet of a Georgia defender in the middle of the year. He has never played Alabama.
Bray must play a full season this fall in order for the Vols to hit their necessary seven or eight wins. Dooley can't help freak injuries, but he can push Bray to become a better student of the game and a stronger leader of the team.
So far, so good this offseason.