Auburn Football: 5 Freshmen That Could Start for the Tigers in 2012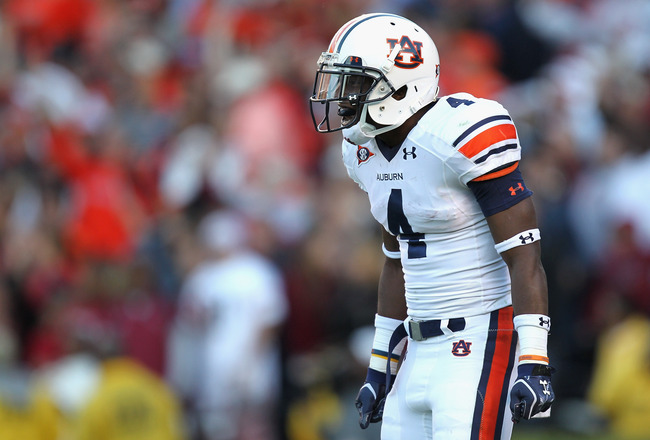 Streeter Lecka/Getty Images
Auburn is heading into the 2012 season with the deepest roster in the four years since Gene Chizik's arrival. Even with that depth, there are five freshmen that may get a shot to start for the Tigers in 2012.
The Tigers have youth that is abundant at the offensive line positions, making freshmen an obvious conclusion to starting position questions. Auburn will also look for performance on defense from freshmen Tigers.
Auburn will have at least three starters that are freshmen, but two others could make it five by season's end. Look for the Tigers to embrace youth in a number of starting roles this season. Here are the five freshmen starters for Auburn in 2012.
Patrick Miller: OT, Fr.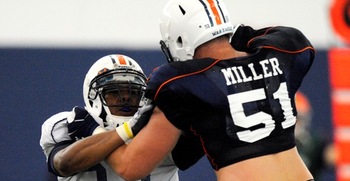 Photo via 247sports.com
Patrick Miller came to Auburn as an early enrollee this spring. He benefited greatly from the 15 practices and college schedule, as he is now a candidate for the starting right tackle position.
With his consistent progress and powerful performance on the field, Miller showed the ability to protect the quarterback and push out rushing lanes. It will be very difficult at this point to keep him off the field this fall.
Auburn will build a line as soon as possible out of one senior and 14 sophomores and freshmen. Miller doesn't face a lot of competition for the starting position at this point, looking penciled in as the starter as the Tigers head into the summer.
Greg Robinson: OT, Rs. Fr.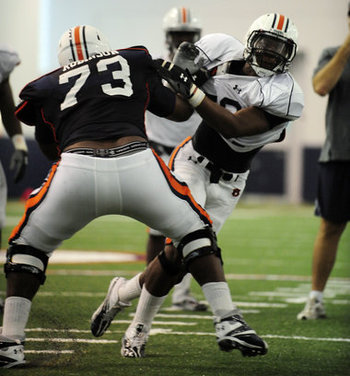 Photo via al.com
Greg Robinson is a big-bodied offensive tackle that pushed for playing time as a true freshman a season ago.
At this point, Robinson appears to be firmly entrenched at the left tackle position for the Tigers.
Auburn offensive line coach Jeff Grimes is not afraid to start freshmen. He proved that a year ago when Reese Dismukes got every start at the center position as a true freshman.
Robinson has the benefit of being in the program for a full season, so he understands the expectations at the SEC level. He will be baptized by fire early when the Tigers take on Clemson on Sept. 1.
Kris Frost: LB, Rs. Fr.
Photo via Opelika-Auburn News
When Auburn opens the season on Sept. 1 in Atlanta, I would be surprised if Kris Frost is not the starter for the Tigers at one of the outside linebacker positions.
With senior Jonathan Evans out with injury this spring, Frost was able to make a lot of headway in the defense. Frost was heading toward playing time as a true freshman before a weight lifting shoulder injury forced a redshirt season.
The intangibles that Frost carries will push him into the starting role for good before the season begins. Evans will play consistently, but Frost is the future and has the talent to play now.
Christian Westerman: OG, Rs. Fr.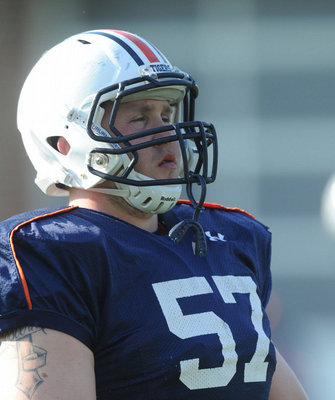 Photo by Hal Yeager | The Birmingham News
When looking at possible starters on the offensive line, Christian Westerman looks like a shoe-in. As spring ended and the Tigers head into the summer, Westerman is in a battle with Erick Mack for the starting nod.
Westerman had a great spring and continued to build on the frame that made him physically ready for the SEC from day one.
When fall camp settles in and a line is finalized, I expect Westerman to be a part of the final set of five on the starting front. Westerman's overall athleticism should be the tipping point in his favor this fall.
Sammie Coates: WR, Rs. Fr.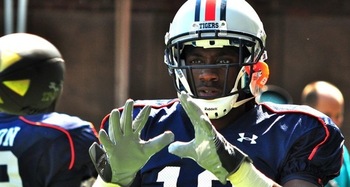 Photo via al.com
Sammie Coates is currently listed behind Emory Blake on the depth chart. It is going to be tough for Coates to earn a start from that position.
I would expect that by season's end, Coates may be starting opposite Blake in some formations for the Tigers.
Coates is a unique talent for the Tigers passing attack. He has blazing speed and great size, giving him the ability to outperform the competition consistently.
In the spring game, Coates showed flashes of his talent. He also showed inconsistency by dropping a few passes. If Coates continues to progress and can put together a complete package performance during the fall, he will earn a start somewhere in the receiving corps.
Keep Reading

Auburn Football: Like this team?